7 Ways to Keep Your Kids Happy and Beat the Winter Blues
Now I know there are people out there who love winter. Unfortunately I am not one of those people. I prefer the sun shining on my face and swimming in a refreshing pool.
I think my kids feel the same way.
On the way to school the other day my daughter said "Mom I want winter to be over." In my head I thought "It's just started! But me too sweetie, me too!."
It could be a LONG winter.
When my kids whine "I'm bored," it's only 9 AM and they've already played with all their toys, I'm sometimes at a loss.
How can I keep my kids happy without screens and not lose my sanity stuck inside all winter!? 
First, you aren't alone if you feel this way!
Second, I've found a few things one the years to make winter more bearable.
So here it is! 7 Ways to Keep Your Kids Happy & Beat the Winter Blues This Year!
Have a PLAN:
The first step to dealing with any problem is admitting you have one. It's okay if you don't LOVE winter, but be aware of your feelings and come up with a plan.
Find out what brings you and your family joy. For us, it's interaction with the outside world.
So during the winter I try to be proactive about making play dates. It's wonderful to have adult interaction and as stay at home moms we need it.
My kids need it too. When my kids were in preschool, we scheduled a playdate at least once a week.
I've found I'm better able to beat the winter blues when I plan out our week ahead of time. Sunday night I look at my planner and try to organize our days. If I have a few days "at home" I brainstorm some simple activities (see more below) to do with my toddler on those days.
Get Creative:
Pinterest can sometimes overwhelm me. How do people have time to do all these wonderful crafts?
It really doesn't have to be that complicated! Sure there are wonderful printables and easy projects online.
A quick search will give you many ideas. But don't feel pressure to create the best craft ever. My kids love to build forts with our couch cushions. Sometimes the most simple things bring the greatest joy.
Mix up your routine, think outside the box. (Coloring and playing in Amazon boxes are always another winter hit in our house).
I also have a few lists of fun kid's activities that don't take a lot of prep work.
10 Activities for your Baby & Toddler to Play Together
15 Brilliant Things to Do Together as a Family
20+ Activities for Siblings to Play Together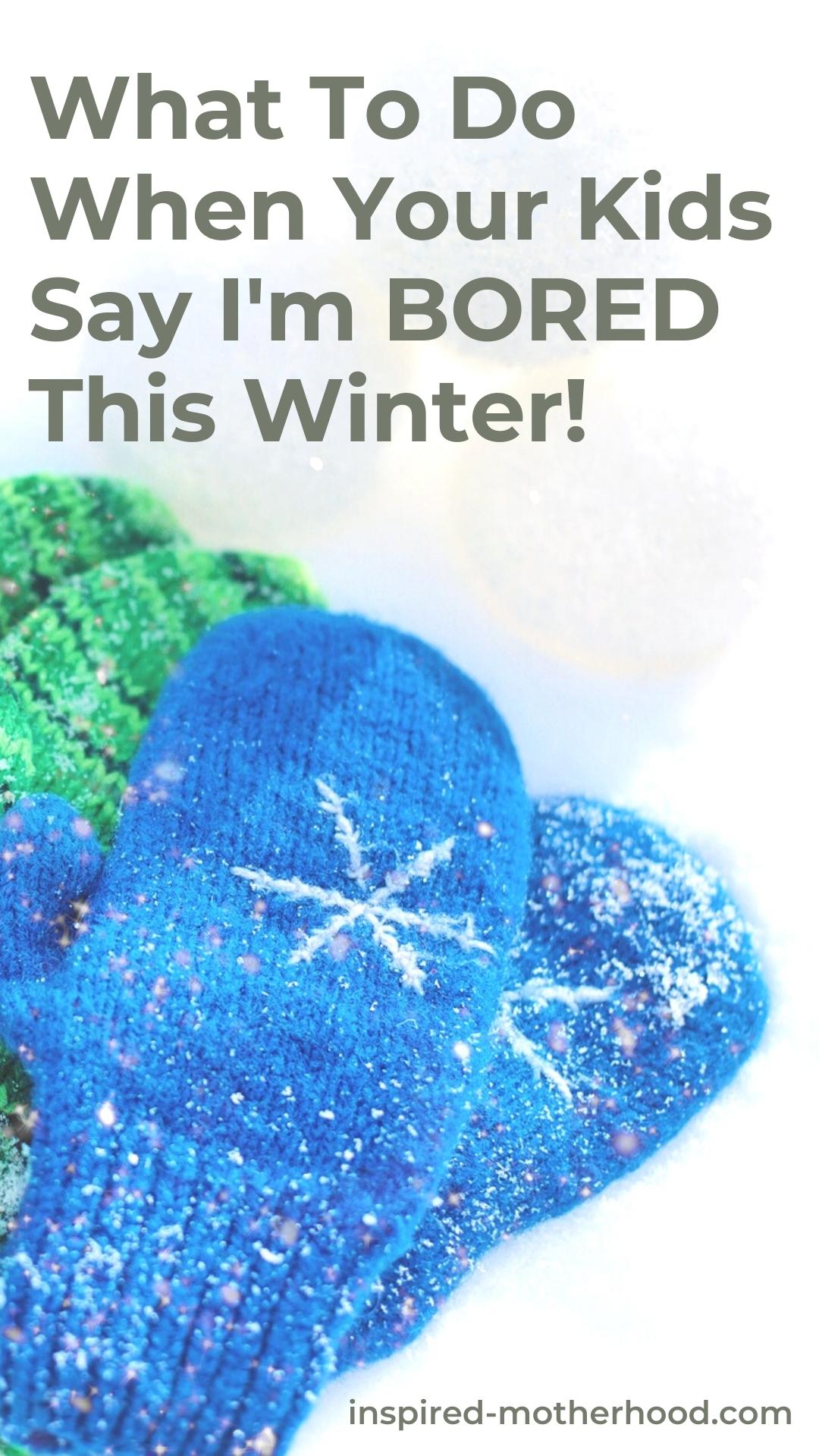 Get up and move:
When it's cold it's always a struggle for me to exercise. I'd rather cozy up with a warm blanket and watch Netflix. BUT the days when I exercise I feel so much better.
My kids also love to be a part of this routine. They love doing the workout videos with me at home. I've also found some fun kid's exercise videos on YouTube. It's a good way to get the energy out and release some good endorphins.
It's healthy for the whole family!
Get out of the house:
I know this isn't easy especially when you have multiple kids, it's freezing outside and you are afraid of germs. I definitely worry about sickness.
Be careful and make smart decisions (wash hands, limit exposure to a few times a week, eat a healthy balanced diet, etc.) and then get out of the house.
I always forget how much my kids enjoy going to the store or library until we stay in for a few days. Both of our moods are boosted when we get out of the house for a little bit, even if it's just to go to the Chik-fil-a drive thru!
Go outside to beat the winter blues:
Some people say enjoying winter is all about having the appropriate snow gear. Fresh air does wonders for your mood and soul. If it's above 36 degrees try to get outside even if it's only for 10 minutes.
It's good to get some fresh air and it's worth the time it takes to get your kids dressed. Our daughter and son thrive on these short breaks where they can run freely.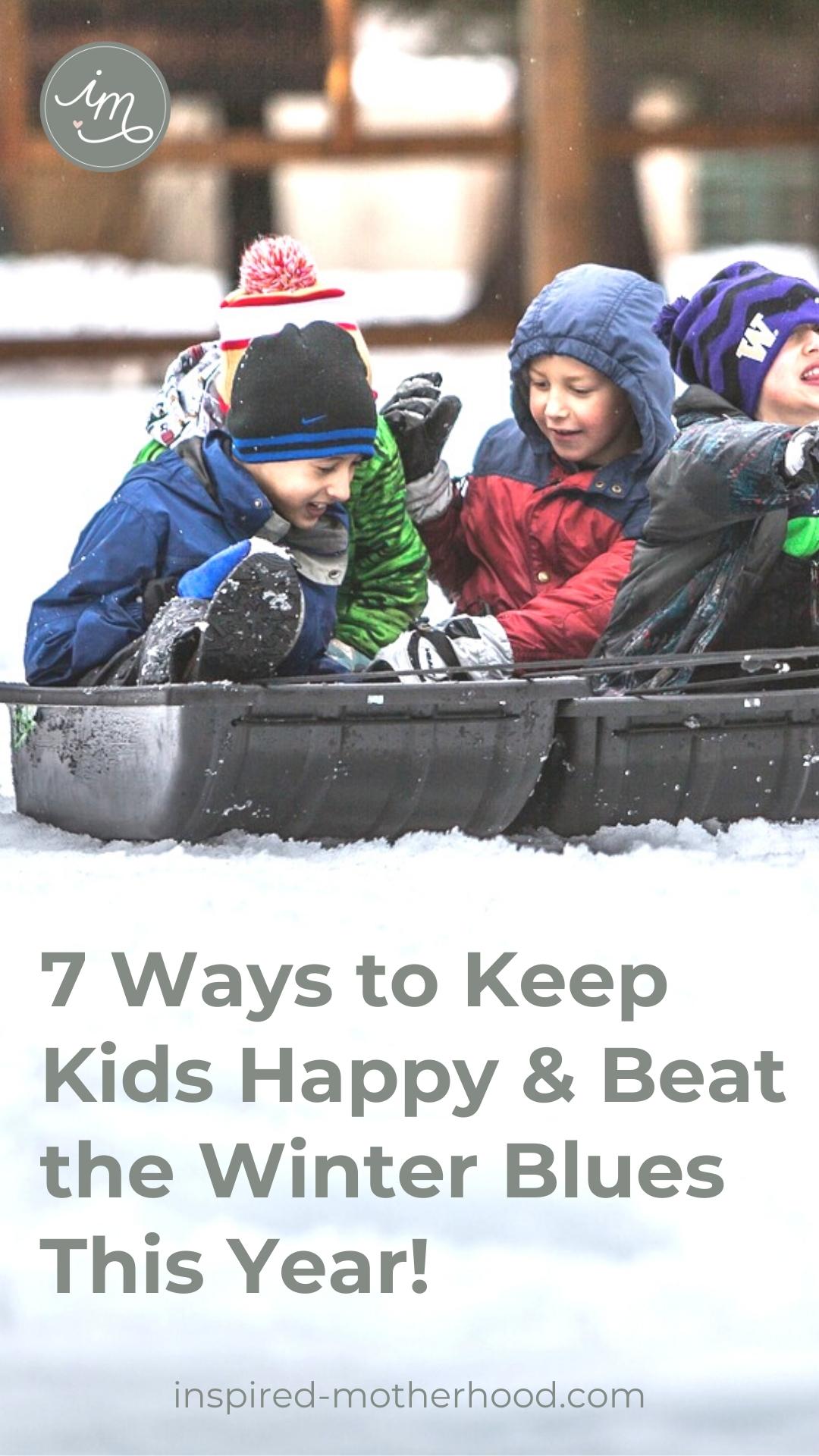 Play in a different room:
This sounds so silly and simple, but seriously it works. When we switch it up and play in our master bedroom or basement, the room changes the mood.
It's a different place to explore and all kinds of new things for the kids to explore. Even if it only lasts for 15-20 minutes it can provide a nice break for both of you.
Pray and spend time in God's word:
Last, but certainly not least we need to have a Heavenly focus. Reading God's word refreshes my soul and gives me a different outlook on the day. I am reminded of His love and mercy whenever I read His word.
We also try to have family worship time once a week. Our kids love to dance, clap and sing. Don't discount praise and worship time. It's amazing how much it will change the atmosphere of your home.
How about you? Do you love winter? Do you dislike it? What do you do to keep your spirits lifted when stuck inside?
What helps you and your children beat the winter blues? Share with us in the comments below!
Be sure to follow Inspired Motherhood on Instagram for daily encouragement in motherhood.
Read This Next: