Sibling Play: Baby and Toddler Activities
Thank you Burt's Bees Baby for sponsoring this conversation. All opinions are 100% my own.
Before our son was born we talked about the new baby arriving with our toddler daily. We wanted her to feel involved and for her to understand the precious gift of siblings. After IJ was born, we also encouraged our kids to play together. So we had to find baby and toddler activities they could do together!
Whether it was choosing his outfit or reading to him I think it really helped them build a special bond early on.
That being said sibling play can be difficult especially with a baby and a toddler. They may not always play on the same level, but I've found 10 activities they can do together.
I love seeing our children's relationship blossom and I look forward to seeing their relationship grow over the years.
10 Baby and Toddler Activities for Sibling Play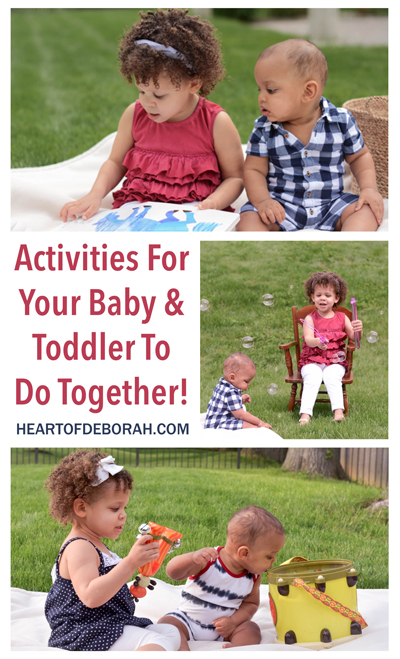 This post contains some affiliate links.
Play Music Together: Our son is 8 months old and he recently discovered the shaky egg. He loves hearing it rattle and shaking it up and down. Our daughter also loves music so this is a perfect activity for them to do together. We have a drum filled with instruments and we turn on some kid's songs and they make their own music. Our daughter also loves singing patty cake to her brother and doing the hand motions.
Help Each Other Out: When our son was first born I was worried about the transition. I didn't want our daughter to feel left out. We made an effort to involve her in the baby's daily routine and I think it helped her bond with him. She felt so proud when she could get him a new diaper and now she loves feeding him puffs!
Izzy also enjoys choosing outfits for IJ. We recently received coordinating outfits from Burt's Bees Baby and I love how cute they look together. Although it may take extra time, try giving your toddler the opportunity to help.
Sensory Play: We recently turned our favorite board book into a sensory book and our toddler loves reading it to her baby brother. Your toddler can help you create a sensory play item and then give it to the baby.
So far we've made a sensory book, bagged bottle. Izzy had fun making them and giving them to her brother. They both play with the toys and it's a fun craft to do with your toddler.
Blow Bubbles: Our toddler loves her bubble wand! She is very active, but she will sit outside and blow bubbles for at least 20 minutes. I recently brought out a blanket for our son to sit on and he liked watching the bubbles fly by. It's so cute to hear Izzy exclaim "Watch baby brother, watch! BUBBLES!"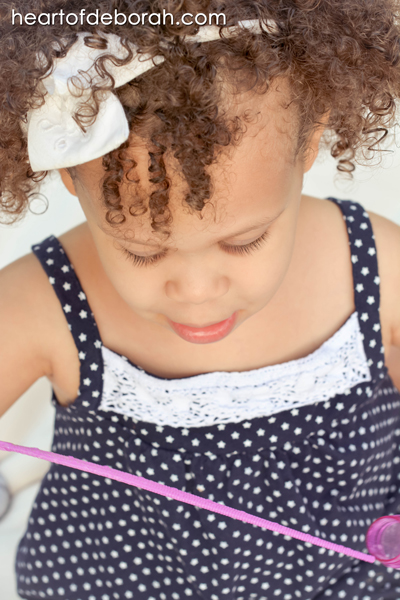 Tunnel and Tent Play: We have a play tunnel and circus tent from IKEA and both our kids love it. Our son just recently learned to crawl and our children have played with both of these toys together. We provide some supervision as our toddler can get wild in the tent, but she is learning to be gentle with her brother and to give him turns to crawl through the tunnel.
Read Together: Our daughter is getting to the point where she can recite words from a book by looking at the pictures. We try to encourage her to read to her brother so they can build their relationship and both fall in love with reading. Reading before bed is part of our bedtime routine and I hope our kids continue to enjoy this together!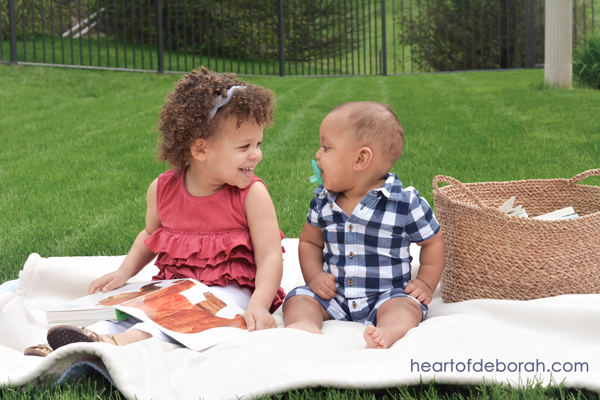 Pretend Play: Our baby doesn't quite understand what "pretend play" is yet but isn't it true that most kids like toys that aren't really toys? Our son is 8 months old and a lot of his favorite "play" items are household items. He helps his sister cook in her play kitchen by banging pots together and testing all the play food.
Our daughter has a tough time sharing, but when we show her how they can play together she is more willing to engage in sharing.
Take Pictures: Does your child enjoy looking at pictures of himself or herself? Izzy likes watching videos and looking at pictures on my phone. We've done a few family photo sessions since IJ was born and although our daughter barely sat still, she got so excited to be doing this together as a family.
We recently dressed Izzy and IJ in our favorite Burt's Bees Baby summer clothes and experimented with different poses. Izzy also helped us get baby brother to smile! Now our daughter looks at the pictures and points out "Izzy" and "IJ." After you take pictures of your siblings put them around your house and talk about the fun memories you made together.

Go to the Park: Our family enjoys getting outside and going to the park! Have your older children show your baby how to go down the slide and encourage them to share their experiences with the baby.
You can also have your older children push your baby in the swing. It's a bonding experience and a way for them to participate in an activity at the park together. Whenever our daughter pushes IJ they both squeal with delight.
Puzzles: Wooden puzzles with chunky handles are great for babies around the age of one. Our son mostly puts the pieces in his mouth, but slowly over the next few months he will begin to develop better fine motor skills and hand-eye coordination to put the puzzle together.
Our daughter has some more advanced puzzles and they like to sit next to each other on the floor and put the puzzles together. Puzzles are a great activity for your older children to teach your younger child some new skills.
So I'd love to hear from you! Do you have more brilliant baby and toddler activities? What are your favorite ways to encourage siblings to play together? I'd love to hear how you established a great relationship between your children!