We love flavorful food in our family and this BBQ chicken gouda melt is a hit with everyone even our toddler! I was first introduced to a BBQ chicken flatbread at Panera. I made my own version about a year ago and I finally decided to write it down. This is a quick and easy dinner! We've paired it with the tortilla soup in the past and it's like your own gourmet sandwich and soup meal at home.
BBQ Chicken Gouda Melt
Ingredients:
1 lb cooked shredded chicken
1/4 lb gouda cheese
1 red onion (medium size)
1-2 cups of spinach
4 whole grain pitas
BBQ sauce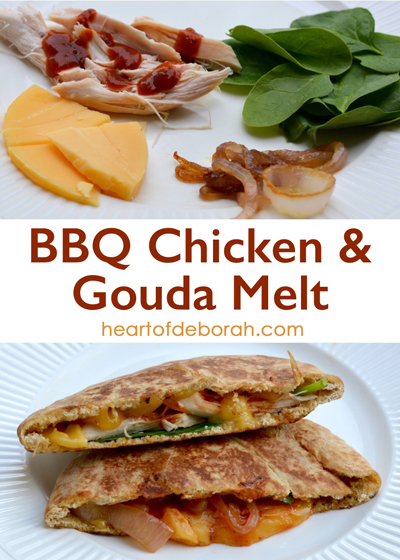 Directions:
There are a lot of options for the shredded chicken. If you are pressed for time you can buy a rotisserie chicken and use that. If you have more time sauté chicken breast in a large skillet over medium heat. I typically use 1-2 tablespoons of oil and sprinkle the chicken with salt and pepper. Then I cook for 4-5 minutes on each side or until the chicken is golden brown and cooked through. I've also cooked chicken breast in the crockpot with oil, salt and pepper. After the chicken is cooked you simply shred it with two forks. It is easiest to shred when warm.
Next, I caramelize the onion. I coat the pan with olive oil and turn the heat to medium/high. Then I add the onions and make sure each one is coated in oil. I also add a sprinkle of salt and sugar for extra flavor. Stir occasionally for about 15 minutes or until the onions are golden brown. If you make the whole onion you may have some leftover. Our family loves onions so this is never a problem!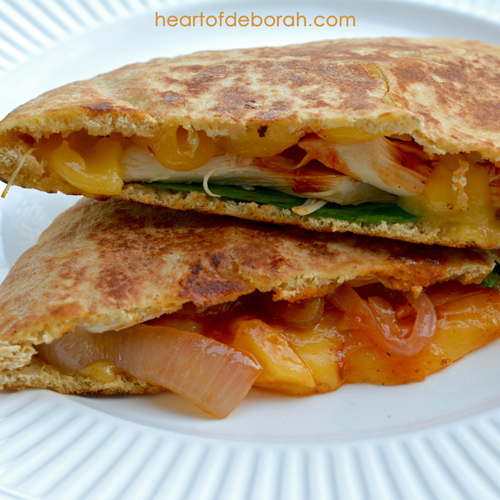 After your chicken and onions are cooked fill the pitas. I typically add 3-4 pieces of chicken, a slice of gouda cheese, onions, a handful of spinach and top it with BBQ sauce. Then I melt it in our cast iron pan on low/medium heat. I cook for about 3 minutes per side or until the cheese is melted. Enjoy it with your favorite soup, salad or sweet potato fries!