Strawberry Oatmeal Pancakes
Thank you Plum Organics for sponsoring this conversation. All opinions are 100% my own.
My daughter has shown an interest in cooking and we've had so much fun exploring this new interest in the kitchen together. We recently made these strawberry oatmeal pancakes and they were so delicious! Pancakes are a great breakfast food to cook with your kids.
The inspiration for this recipe actually came from my toddler's favorite oatmeal. She loves Plum Organics mighty mealtime oatmeal! Have you tried it? We love the ancient grains and the fact that it won't cause a sugar overload. My daughter also loves Daniel Tiger and has been bugging to make strawberry pancakes just like Daniel Tiger. So one morning when I was making her oatmeal I thought why not use these oats in a strawberry oatmeal pancake recipe?
It turned out to be delicious! I love oatmeal pancakes because they are a bit thicker and they have a unique flavor. Izzy and I had so much fun making this together. I hope your family enjoys them as much as we did.
Strawberry Oatmeal Pancakes Recipe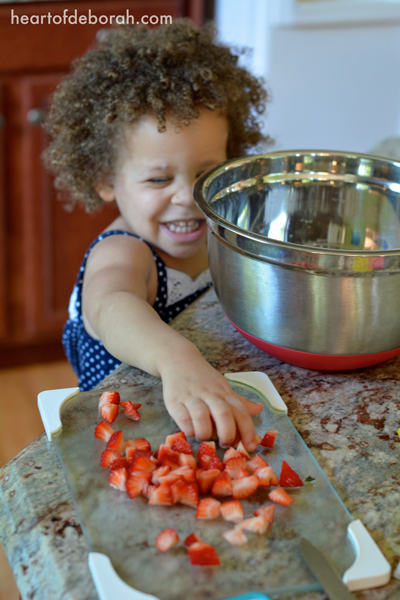 Ingredients
1 cup all purpose flour
2 packs of Plum Organics Banana Strawberry Oatmeal or 3/4 cup rolled oats
2 teaspoons baking powder
1/4 teaspoon salt
1 1/2 cup buttermilk
1 egg
1 tablespoon sunflower oil
dash of cinnamon
1/2 cup fresh strawberries, diced
Directions
Combine the flour, Plum Organics oatmeal (or rolled oats), baking powder, salt and cinnamon in a large bowl. In a medium bowl, combine the buttermilk, egg and oil. Next, add the wet ingredients to the dry ingredients and stir until combined. Then stir in the diced strawberries.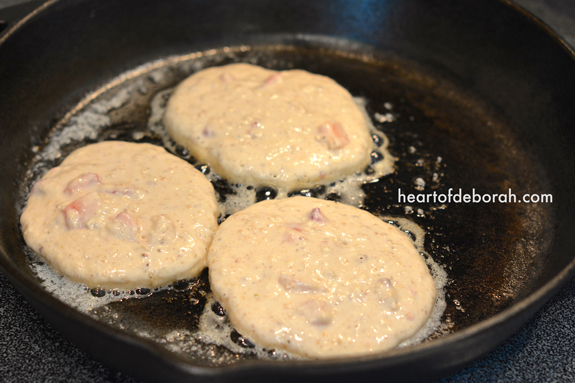 Heat the lightly greased skillet or cast iron pan over medium heat. Pour about 1/4 cup of batter into skillet. Flip when the tops are covered with bubbles. This recipe makes 12-15 pancakes. We enjoyed it with a little bit of maple syrup and fresh strawberries on top. It would also be delicious with fresh whipped cream.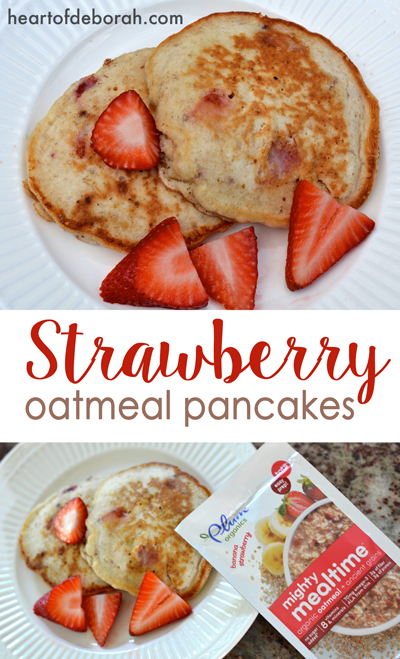 Thank you Plum Organics for this yummy oatmeal! Our family loves finding brands that nurture children and provide healthy products for kids.