Before we watched Forks Over Knives and went partially vegan we loved this Paula Deen Taco Soup Recipe. During football season and in the winter there is something comforting about a warm bowl of chili, right?
I knew I couldn't give up this tradition so I was determined to create my version of a vegan taco soup recipe. Personally I found being vegan difficult. Mostly because I missed the flavors and spices of "normal" food. Meals that included meat.
Though in this journey, I've found it's all about the spices and finding the right recipe! When you can find the right ingredients you don't even realize you aren't eating meat.
I made this vegan taco soup for our family the other night and I didn't tell my husband it wasn't beef until he finished a big bowl. He said didn't even realize!
This post may contain affiliate links.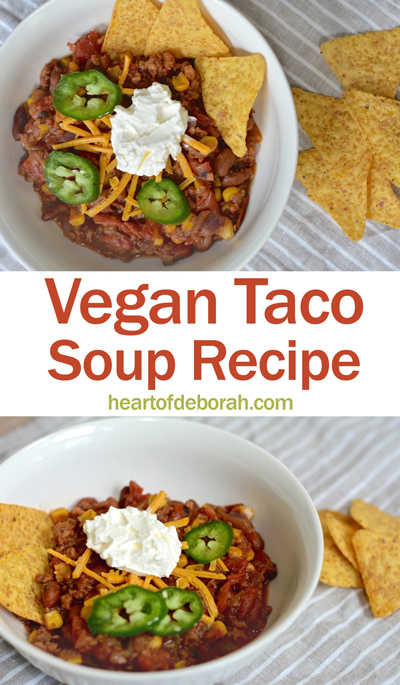 Ingredients for Vegan Taco Soup
1 package of beefless grounds (13 oz; I used gardein)
1 cup diced onion
1 can (15.5 oz) pinto beans
1 can (15.5 oz) kidney beans
1 can (15.5 oz) whole kernel corn, drained
1 jar (28 oz) diced tomatoes, fire roasted
1 can (4 oz) diced green chiles
1/2 package taco seasoning mix
1/2 package ranch salad dressing mix

For serving & garnish:

Vegan Sour cream
Vegan Shredded cheese (We like Daiya Cheddar)
Green onions
Jalapeños
Diced avocado
Note: It isn't easy to find a dry ranch mix without some trace of milk. If you don't mind a small trace (not 100% vegan) you can use this southwest ranch mix. Another option is to follow this recipe to make your own vegan dry ranch mix.
Directions
First, dice your onion and sauté it with the beefless grounds. Warm the meat and brown the onions over medium heat. Add the beans, corn, diced tomatoes, green chiles, taco seasoning and ranch mix. Simmer over low heat for 45-60 minutes, stirring occasionally.
Serve with your favorite vegan toppings: cheese, vegan sour cream, green onions, jalapeños, avocados and chips.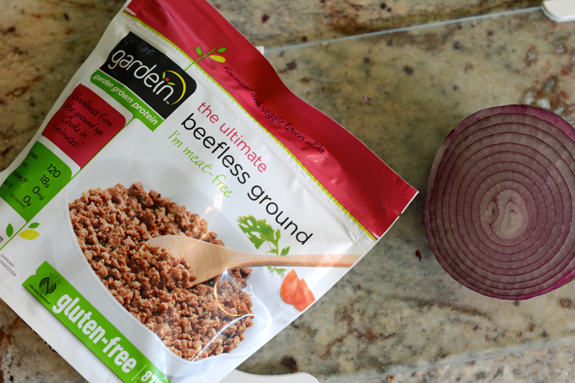 We love this soup because it is savory, flavorful and perfect for the cool crisp days of fall. Do you eat vegan? What is your favorite vegan recipe? I'd love to hear from you in the comments below!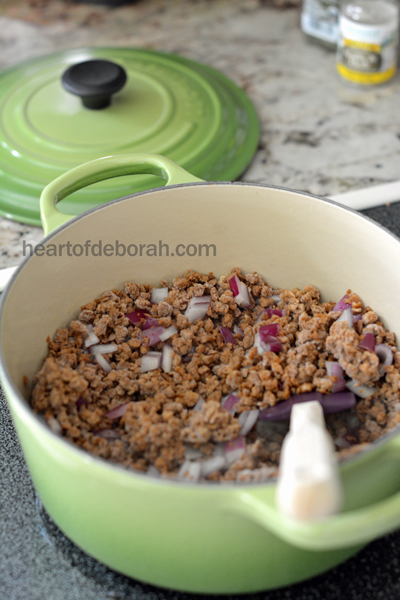 *This recipe was modified from Paula Deen's Taco Soup.