Brilliant! Best Unisex Toys and Gift Ideas for Young Children
Our kids really love to play together, which I am so thankful for! Our son and daughter are 25 months apart in age and they have totally different interests. My daughter is obsessed with princesses, crafting, unicorns and Fancy Nancy. On the other hand, my son loves all things trains, cars and balls.
Even though they have different interests, they still manage to play together! I've definitely prayed about their relationship and I've encouraged sibling play throughout the years (see 10 activities babies and toddlers can do together). But I think another huge part of this is finding unisex toys our kids love.
So with the holidays coming up and parents scrambling to decide what toys to get for their kids I decided to share some of our favorite unisex toys and gift ideas for young children.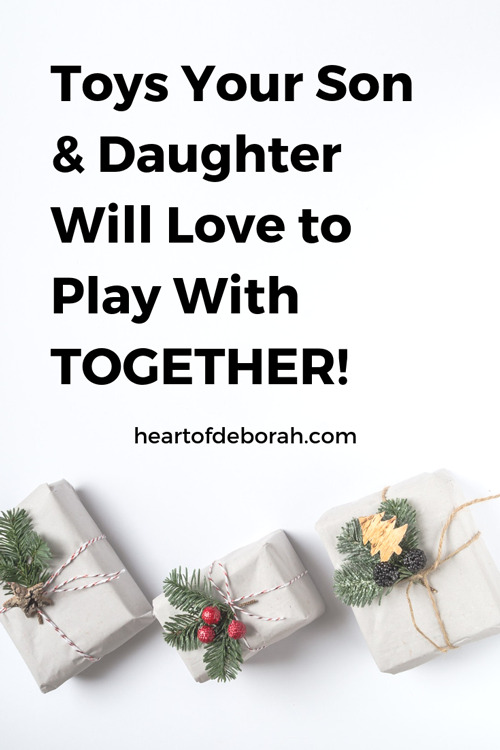 Almost all of these toys are items we own and personally love. There are a few items listed with a ** that we haven't tested out, but are on our own personal gift idea list for this year! Affiliate links are included in this post.
Also be sure to scroll down and leave your favorite toys for siblings of different sexes in the comments below.
Building Toys
Our kids love to build forts and obstacle courses all over our house. They also love to build marble sets and castles or forts out of wooden blocks. These toys are perfect to build everything their little minds can imagine!
Tegu Magnetic Wooden Block Set
Hape Wooden Marble Run Construction System
Fort Magic Fort Building & Construction Toy Kit**
Melissa & Doug Jumbo Extra-Thick Cardboard Building Blocks
Pretend Play
Pretend play is for everyone! It doesn't matter what age or sex, you can always fall in love with homemade coffee shops or food trucks! We've used the toys listed in multiple pretend play scenarios. See a list of our favorite dramatic play centers for your playroom here.
Learning Resources Pretend and Play Calculator Cash Register
Little Tikes 2-in-1 Food Truck
Fisher-Price Wooden Toys, Early Bird Barista Set
Melissa & Doug Top and Bake Wooden Pizza Counter Play Food Set**
Outdoor Play
Our kids love to explore outside. It's an easy activity they can always do together. Here are some of our favorite outdoor toys.
Step2 Rain Showers Splash Pond Water Table**
GIANT Bubbles Wand with GIANT Bubble Solution**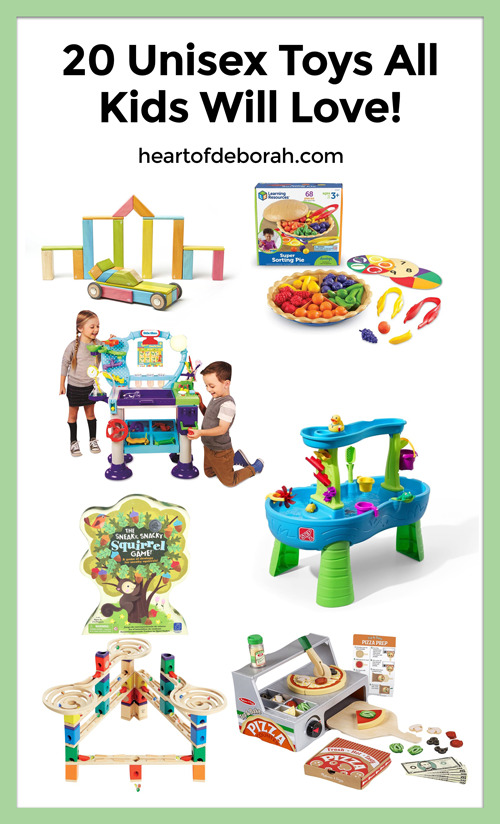 Brain Building Toys
I'm a firm believer that kids learn through play, but I also love finding educational games or toys. The kind where they don't even realize they are learning while playing!
Learning Resources Gears! Gears! Gears! Starter Building Set
Learning Resources Super Sorting Pie (goes perfect with the fine motor tool set in the next section)
Melissa & Doug Children of the World Jumbo Jigsaw Floor Puzzle
Little Tikes STEM Jr. Wonder Lab Toy with Experiments for Kids
Fine Motor Toys
Learning Resources Helping Hands Fine Motor Tool Set
Educational Insights The Sneaky, Snacky Squirrel Game
LEGO Juniors/4+ The Incredibles 2 The Great Home Escape 10761 Building Kit**
So there it is! 20 unisex toys for your toddler or preschooler to love. Do your children of different sexes play together? What are their favorite activities? I'd love to hear from you in the comments below.
This year I've joined some of my favorite kid bloggers to share unique and interesting gift guides. Be sure to visit them below!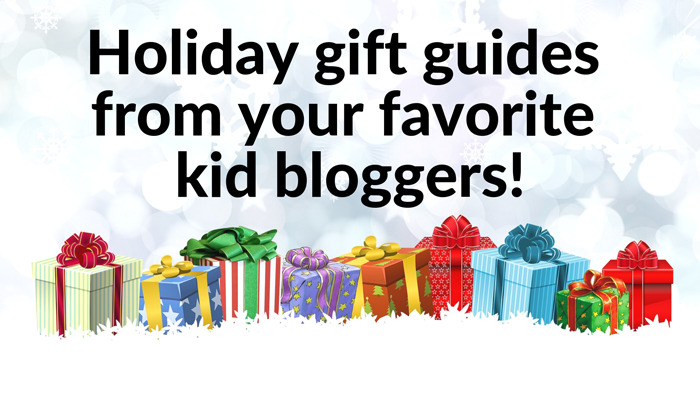 Kid Blogger Network Holiday Gift Guides 2018
Rad Gifts for Tween Girls from The Moments at Home
Gifts for Teen Girls from KimspiredDIY
Best Train Sets for Toddlers from Play Trains!
Best Board Games for Kids and Families from All Done Monkey
Gifts for Kids Who Love Outside Adventures from Bambini Travel
10 Gifts for Kids to Encourage New Reading Skills from My Storytime Corner
Best Games for Teens/Tweens from Nouveau Soccer Mom
The Best Toys and Games for Kids to Play Together from Mosswood Connections
Creative Books for Kids that Inspire from Thimble and Twig
15 of The Most Magical Unicorn Gift Ideas for Kids from Projects with Kids
Gift Ideas for Teenage Boys from EverydaySavvy
Gifts for Messy Play from In Our Pond
15 Best Arts and Crafts Gifts for Kids from The Joy of Sharing
Girl Power Gifts for Girls of all ages from Seaside Sundays
Brilliant! Best Unisex Toys and Gift Ideas for Young Children from Heart of Deborah
Inquisitive Detective Gifts for Kids from Castleview Academy
Gifts for Kids that will Inspire Creativity from Creative K Kids
Robots, Rockets, & Tech Toys for Kids that ROCK! from Our Family Code
Seriously FUN Sensory Toys and Games from B-Inspired Mama
Gender Neutral Frozen-themed Gift Ideas from Fab Working Mom Life
Gifts for 8 Year Old Girls from What's Up Fagans?
Best Outdoor Gifts to get Kids Outside from Creative Little Explorers
40+ Magical Gifts for your Harry Potter Wizards from Coffee and Carpool
Absolutely Amazing Gifts for Future Fashion Designers from The Gifty Girl