How to Take Good Holiday Photos: 5 EASY Photography Tips
It's the most wonderful time of the year and that means plenty of opportunities for holiday photos. You may be like my husband and dread the family photos. There is so much pressure to get the perfect shot. And the kids usually lose it after 5 minutes of trying.
But you don't have to dread holiday photos! There are easy photography tips to help you take good holiday photos without all the stress and tears.
I remember growing up our Christmas card picture was always a big production. With three kids in the family one of us was bound to be in tears by the end of the photo shoot. Looking back it now makes us laugh, but in the moment we were not happy.
Now that we have a family of our own I understand why my mom wanted the perfect Christmas picture.
Each year we try something a bit different and try to have fun with the experience. I hope we can pass on the holiday cheer to your family this year!
So here it goes, my best photography tips for taking your children's holiday photos.
Don't miss an awesome Christmas Giveaway for $500 at the end of the post.
5 Easy Photography Tips to Take Good Holiday Photos!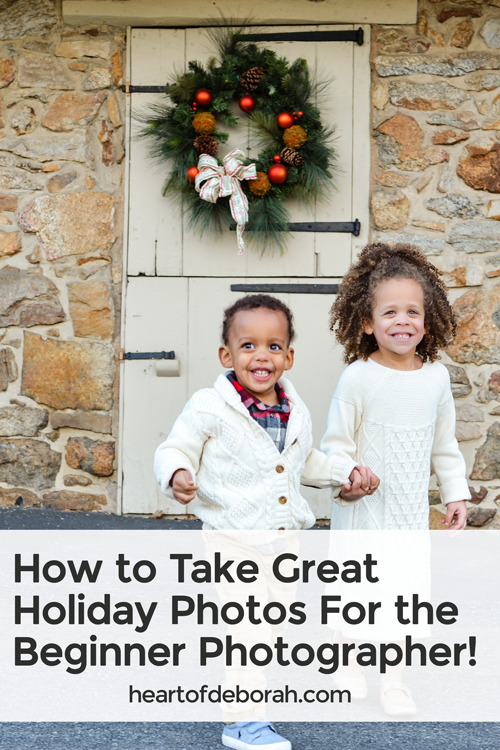 This post contains affiliate links.
First, find natural light.
One of the easiest things to do is find a space with plenty of natural light. I'm not a big fan of flashes. At ALL. They gives off an artificial feel to your photos and it can also give you the dreaded red eye. Have you heard of the golden hour? It's the hour or so right before sunset when the light is softer. You don't get any of those harsh shadows, no squinty eyes and no need for a flash.
So find a space and time of day with the best natural light.
Second, consider your camera.
If you hire a professional photographer you won't have to worry about this, but if you want to start taking better photos I'd consider investing in a nice camera. Sure there are ways to get great photos with an iPhone. Though it makes it so much easier when you have a camera that does the work for you.
I currently use a Nikon D7100. It was an investment for our family. Though to save a bit of money I bought a refurbished one and it's been perfect. I also have a nice lens where I can lower F-Stop to 1.8. Which leads me to my next point.
Third, freshen up on your photography knowledge.
There are so many videos and articles out there to boost your photography skills. Take one afternoon and educate yourself on the difference between aperture and F-Stop. You will be on your way to using manual mode in no time.
I also shoot in RAW. I used to be scared of this, thinking "I have no idea what that means or what I'm doing."
Essentially, when you shoot in RAW it saves a lot more information on your camera. You get more data per pixels which means if you need to do some major editing on the photo, it won't completely lose the resolution. The RAW setting gives you the highest level of quality and gives you the most flexibility when editing. Though it will increase the size of your files.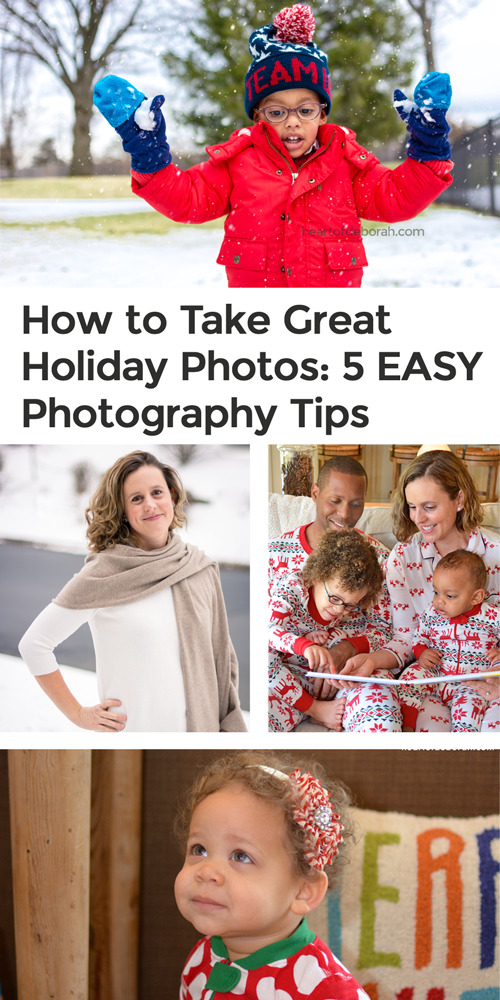 I use mostly Adobe Photoshop and Lightroom to edit my photos. You can get a subscription through the Creative Cloud for only $9.99 a month. There are also a ton of editing apps. I like using Snapseed on my iPhone.
Fourth, consider the image you want to capture.
Good holiday photos are so much more than just a crystal clear photo. Before you take holiday photos, consider what you are going to wear and where you are going to take the photos. So often there are so many distractions in photos that take away from the important aspects. I've found simple backgrounds to be the least distracting.
I'm going to be honest and tell you it took us about two years to get a family photo of the four of us where we were all looking and smiling at the camera!
Remember, good holiday photos don't have the be perfect. Sometimes the best photos are candid. They look more natural and aren't as staged looking. Be flexible and if you need to take a break, for everyone's sanity take a break!
You may also want to consider props. When our daughter was one we used dried potato flakes as "snow" in a few images. As you can see the photos weren't take in the best light (it wasn't the golden hour and there were a few harsh shadows). But she loved it and it created a fun dynamic in the photos.
Lastly, take a lot of photos.
Chances are, you aren't going to get the perfect shot right away. I try to take as many photos as possible increasing the chances of capturing smiles. Sometimes it takes 20 or even 50 photos to get 1 or 2 good ones. Don't be discouraged. Many cameras have burst mode where you can take multiple photos quickly.
So there it is, 5 easy ways to make your holiday photos better this year!
Now A SUPER AMAZING GIVEAWAY!
I'm also excited to share with you!!! I've gotten together with some pretty awesome bloggers to give TWO families some CASH in the 5th annual Christmas Blessings Giveaway – $500 cash (delivered via Paypal).
We hope that the prize will be a blessing to the winning families and help them to fulfill their kids' Christmas wishes, pay off some bills, or to save for a rainy day. Whatever the money ends up being used for, our prayer is that it helps to lessen any financial burden and/or fills a specific need.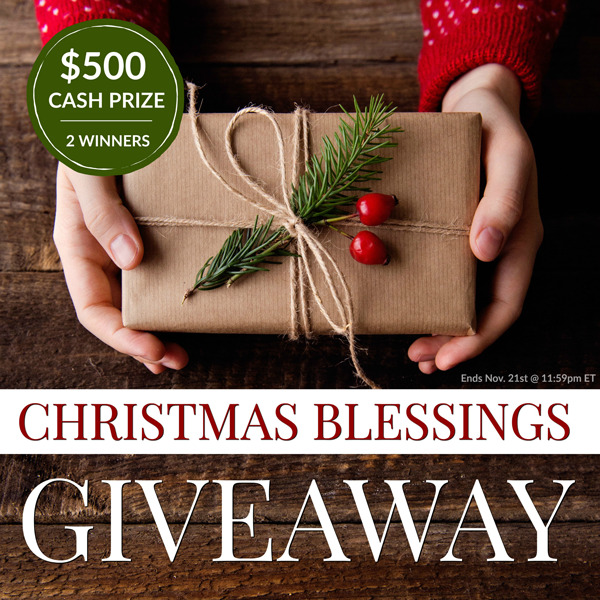 There are lots of entry options in the Rafflecopter form below – the more you enter, the better your chance of winning! I know it can seem tedious and time consuming to go through all the entries, but isn't a chance at $500 worth it? I think it is! Plus, all of these generous bloggers donated their own money toward the cash prizes and this giveaway wouldn't be possible without them. So I hope you'll take the time to check out each one. Who knows, maybe you will find your new favorite blog.
The giveaway will run from Monday, November 12th through Wednesday, November 21st (ends at 11:59pm EST). Winner will be notified by email shortly after the giveaway ends and will have 48 hours to respond to claim the prize or another winner will be drawn. You must have a Paypal account to win. Please be sure to read the Rafflecopter terms and conditions upon entering.