Are toys taking over your house? This year instead of buying even more toys consider one of these unique non-toy gift ideas! Toys are fun, but when they aren't used every day it can get frustrating when you see them scattered all over your house. Am I only the one? Another reason to consider a non-toy gift is the loss of interest. Some toys my daughter plays with for only a few days before she is done with them. I'm excited to share some of my favorite non-toy gift ideas with you this holiday season! I broke up the gift ideas into three sections: practical gifts, experience gifts and Christmas related gifts.
Fun Non-Toy Gift Ideas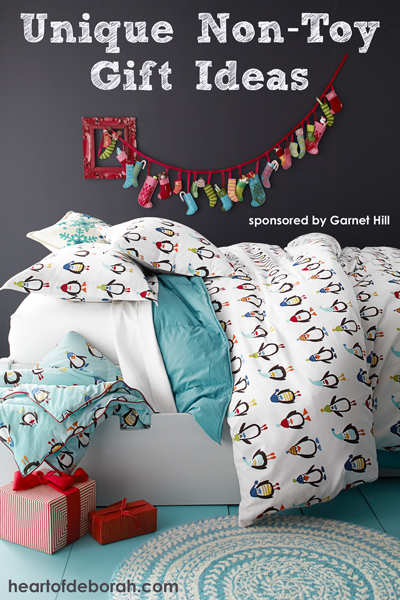 Gifts for Practical Use
Fun Winter Slippers: Now that the weather is getting colder my daughter can no longer run around barefoot (although this is her preference). We have mostly hardwood floors in our downstairs and it's chilly on your feet! When our daughter was a baby we had the baby boiled wool slippers from Garnet Hill and they were so cozy. This year we couldn't wait to get the fox boiled wool slipper boots for Izzy. She always talks about her fox shoes and I love that it is a practical gift she can use every day.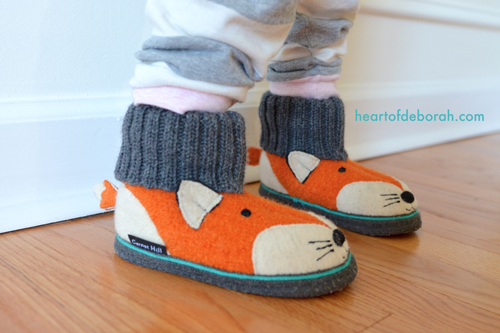 Bedding & Cozy Festive Blankets: I enjoy adding festive touches to our holiday decor with blankets, pillows and sheets. How fun is it to decorate your child's room for the holidays? I think it adds more cheer and warm poufy throws are something your kids will use everyday. It's practical, cozy and adorable! Your children can use them all winter long.
Winter Character Hats: How fun are these hand-crocheted character hats from Garnet Hill? They are so unique and beautifully crafted. As a parent I always worry about our kids getting sick when they go out in the cold. I still need to get Izzy a winter hat and I think she would love this braided superhero hat.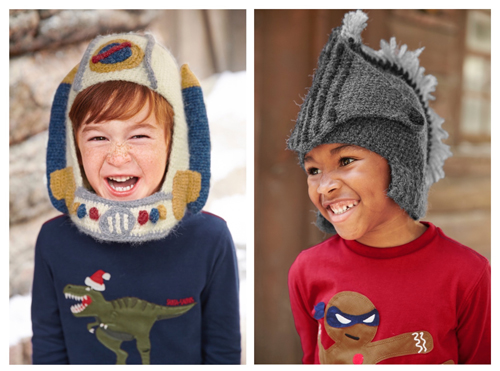 Advent Calendar: One of the best ways to count down to Christmas is with an advent calendar. I am obsessed with this hat and mittens advent calendar because it doubles as adorable holiday decor! This piece would stay in your family forever and it is a gift that will last years. Since it is hand knit and made of high quality wool you can even pass it down to the next generation!
Holiday Pajamas: If you read Heart of Deborah you know how much I LOVE holiday and Christmas pajamas. We start wearing them in November and continue after Christmas. It's tradition for our family to give each other pajamas on Christmas Eve. These adorable organic cotton long john pajamas are another practical gift for your kids that will use every day.
Gift of Experience
Classes: For Izzy's birthday present this year we signed her up for swim lessons. She loves being in the water and it's a great bonding experience for us. Starting in the new year we will also participate in a music class. I can't wait because Izzy loves music!
One-on-One Dates: I remember having a daddy-daughter date every so often with my dad. It was wonderful! We would get ice cream, walk around the mall or head to the park. This is a simple gift that means a lot to kids. Print out coupons with date ideas and let your children redeem them throughout the year. The best part is it won't clutter your house and it can be inexpensive.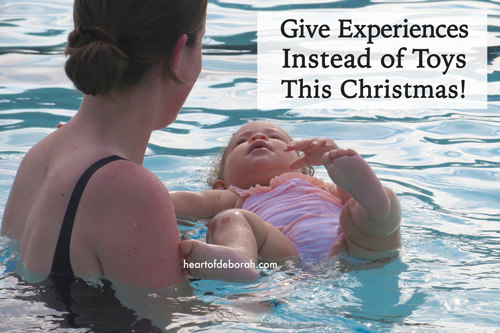 Library Read-a-loud with Grandparents: In the fall my mom took Izzy to the local library every Monday for a read-a-loud. Izzy loved it and always talked about her time with Mia at the library. This is a great way to bond with your child or grandchildren and they think it's amazing. The best part, most libraries have free programs!
Subscriptions: The gift that keeps giving. There are so many unique subscription boxes now that are educational, craft oriented or focused on travel and experiencing other cultures. Doing the craft or activity with your child is a great experience and will create lasting memories.
Memberships: We loved when we had our membership to the local botanical gardens. Izzy enjoyed the children's garden and it was a great outing we could engage in all year long. Find museums, gardens, YMCAs, learning factories, zoos or amusement park and get a membership as a gift.
Gifts Related to Christmas
Stockings: When our son was born this year we couldn't wait to get him a Christmas stocking. I think it's a special and memorial gift for baby's first Christmas. My mom got Izzy a fair isle woolen stocking was she was born and it's beautiful. It will be a gift we use every year and it has special meaning.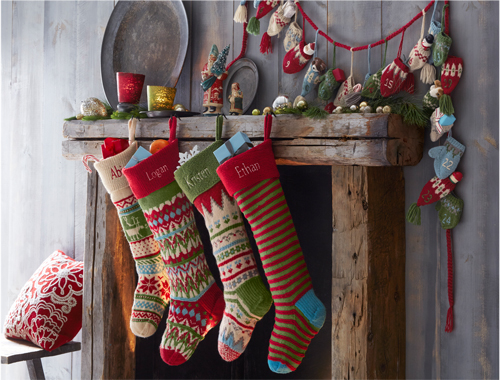 Holiday Books: We love adding new books to our children's library. This year Izzy understands more about Christmas and it's so fun reading her books about the nativity, Christmas cookies and Jesus' birth. Books are another gift that will last for a long time and can be used for multiple kids.
Arts & Crafts: Crafting is one of my favorite activities! Izzy is really starting to get into crafting and she loves using a glue stick. Find some great craft kits to give as gifts. Your children will love the activity and it will be a fun family memory. If you want to make a unique gift for someone else why not craft a sesame street character ornament with your children? It would be a great gift from one kid to another.
What is your favorite non-toy gift?
Disclosure: Although I received a pair of boiled wool slippers to review from Garnet Hill, I was not required to write a positive review. The opinions of this post are 100% my own and Garnet Hill is a company where I enjoy shopping!