Mixed Media Collage For Kids
This post contains affiliate links.
My daughter has always loved Christmas trees! A few years ago a family friend gifted her the book, Merry Christmas Curious George, and this year it's been a big hit in our house. She loves seeing George swing from tree to tree and hearing about his adventures at the tree farm. If you've been following Heart of Deborah for a few years you know we love crafting ornaments around Christmas time. Especially after our favorite children's books.
This year we partnered with Mama Miss to share our craft and over 40 other kid made ornaments inspired by children's books. Find out more at the end of this post.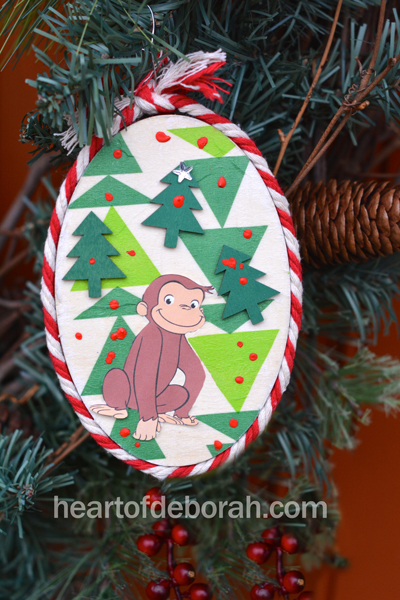 To make this ornament first, gather all of your supplies. Mixed media is awesome because you can gather whatever materials you have around your house! I found these paper napkins at Target and I love how it looks decoupaged as the background. Our goal was to make an ornament of George at the Christmas tree farm so we wanted a lot of trees. You could also choose a wooden Christmas tree shape and decorate that instead of an oval. I found all of my supplies in the dollar bins at Target. See what they have and get creative.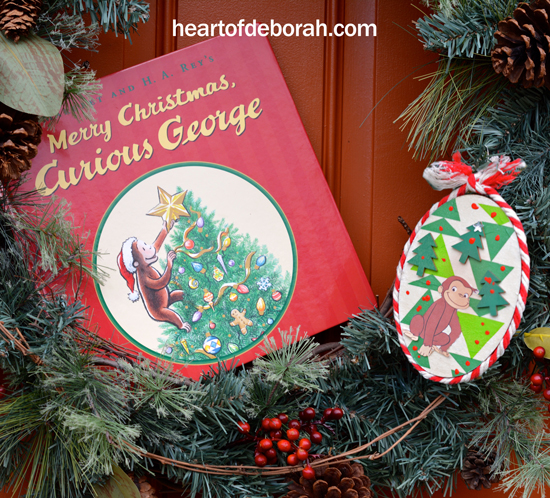 Curious George Mixed Media Collage For Kids
Here are the supplies we used, but remember take creative liberty and decorate with what you have!
After you gather your supplies put down the first layer of your mixed media collage. To decoupage the napkin, first separate the layers (see below). Use to top layer with the design.
Then coat the wooden cutout with Mod Podge. Lay down your napkin and cover with another layer of Mod Podge. Don't worry if it has wrinkles, it's supposed to look shabby chic!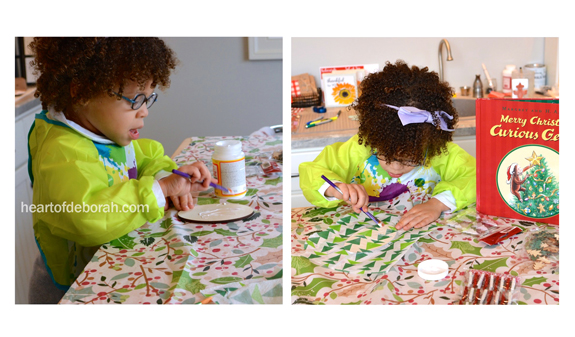 Next, print your downloaded Curious George clipart on rice paper. You can use photo paper as well, but the rice paper will give the layer a translucent effect. After you cut the monkey out, Mod Podge the back and place on ornament.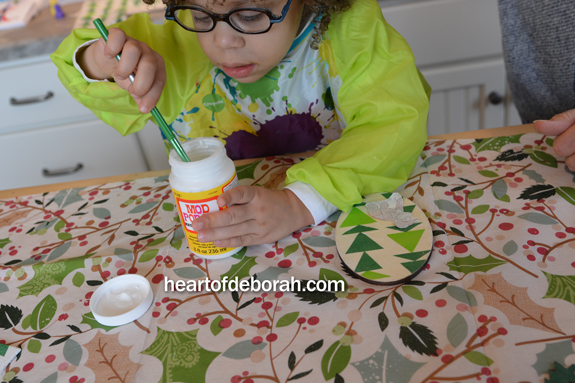 Finish George with a coat of Mod Podge. Next, we used UHU glue to put down the green tree cutouts. I think star cutouts or snowflake cutouts would look adorable as well!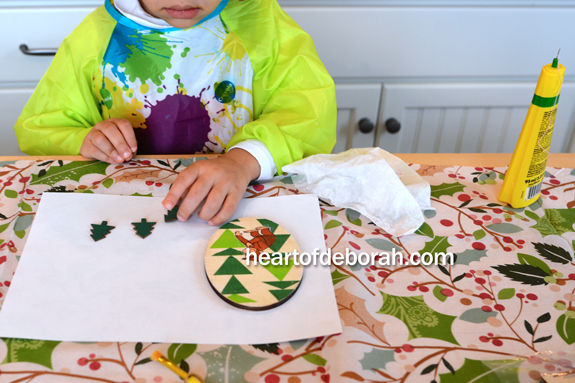 To finish it off my daughter used a ball point and dipped it into the red paint. She dotted the tip of the point and made red ball shapes on the trees.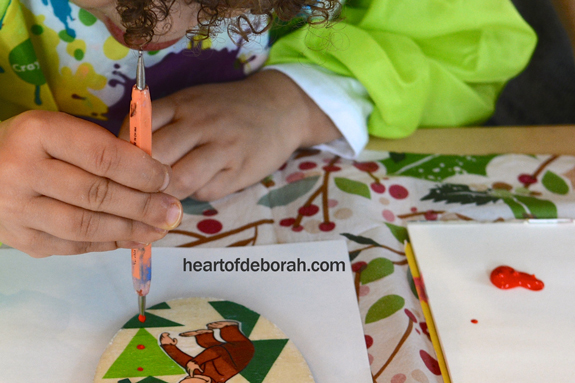 If you want to add a little extra decoration you can glue string, yarn or twine around the edge of the wooden ornament. We found this awesome red and white twine in the Target dollar bins! The UHU glue is best for keeping it secure. Apply glue and let the ornament sit for a few hours before moving. And that is it. We love mixed media art because it always turns out different and you don't have to be artistic to create this type of art.
Finally, don't forget to check out some of my favorite bloggers who are also sharing their book inspired ornaments today! Also follow #KidMadeChristmas on social media for more inspired crafts.
Castle View Academy |Mama Miss | Adventures in Wunderland | Preschool Powol Packets