Fall is almost here and at our house that makes us excited. I haven't officially started any formal homeschooling with Izzy, but I like to find play activities that also promote learning. I recently looked at the Pennsylvania Learning Standards for Early Childhood to get some idea of what Izzy should be learning and exploring in her early toddler years.
One of the math standards emphasizes sorting and organizing objects by common mathematical characteristics such as circles and squares or big and little. I thought a fall sensory bin would be the perfect way to expose her to this standard of learning.
This post contains affiliate links for products we use and love.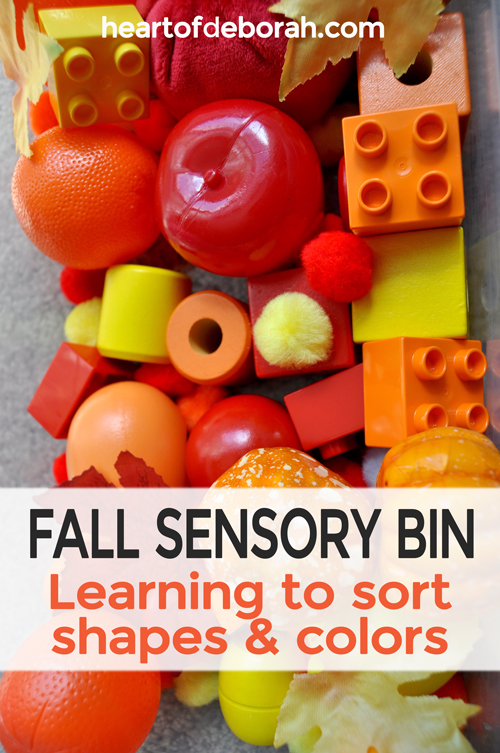 In our fall sensory bin we included:
Again, this isn't something I am pressuring Izzy to learn, but it's a fun way to introduce a mathematical concept. We sorted the objects by circles and squares as well as by color. For example, "Izzy take out all of the yellow toys" or "Find all the objects that are small" or "Let's find all the toys that are circles."
Overall I think it is important to make it fun and not put too much pressure on a two year old. After I did some guided sorting with her I let her explore and touch all the objects by herself. As with any sensory bin I love putting it in tupperware
that comes with a lid. It makes it so much easier to clean up and store.
What are your favorite fall activities? We can't wait to go apple picking and collect fall leaves outside. If you are looking for simple fall crafts be sure to check out these 7 fall crafts for kids.