Best Toddler Learning Toys
This post contains affiliate links for products we love.
There are so many great gifts and toys for kids these days. So how do you know which toys to buy? In this gift guide I'm sharing some of our favorite toys for learning. Please notice all of the items listed are non electronic toys. It can be difficult to find toys that don't include flashing lights and loud music. Sometimes it seems best to unplug and go with the simple wooden toys.
In our house, we love finding toys that promote problem solving, imagination, creativity and pretend play. We believe non electronic toys are just as engaging and they won't overstimulate your kids! So here it goes, the list of our favorite non electronic toys for toddlers by learning category.
Motor & Dexterity
Melissa & Doug First Shapes Puzzle: This puzzle is perfect for small hands. The large knobs make it easier for our daughter to manipulate the pieces. As our child gets older and has improved dexterity we upgrade to small peg puzzles.
Djeco 10 Stacking Blocks: Increase coordination and motor skills when building a tower with these nesting and stacking blocks. Your children will love making their own creation and knocking it down, over and over again.
ALEX® Toys – Early Learning String A Farm: Stringing these farm animals may improve fine motor skills and dexterity. The farm animals are adorable and your children can play with them when they aren't stringing them together.
Step2 All Around Easel for Two: Your children will love creating their own masterpiece on this easel. When they paint or draw with crayons they build their motor and writing skills without even realizing it.
Imagination & Pretend Play
B. Toys Drum Set: Our daughter loves the shaky egg, drum, and tambourine included in this set. We pretend we are in our own band and we play our instruments to her favorite tunes. This drum set promotes imagination and gives sensory input through touch and sound.
Step2 LifeStyle Kitchen: Even as an adult I find myself feeling giddy over play kitchens. This play kitchen is perfect for your growing child as it also multiple buttons and drawers to push and pull. Your little one can help you make dinner with his or her own play kitchen.
Thinking & Problem Solving
Hape Shake and Match Shape Sorter: Toddlers love to take things in and out of containers. This wooden shape sorter is the perfect toy to promote coordination and problem solving skills.
Haba Rainbow House Pegging Game: Our daughter loves taking the blocks on and off this peg toy. She problem solves whenever she makes patterns and tries to place the blocks on the pegs. It's a wonderful wooden toy with endless configurations.
Hape Pyramid of Play: This is an awesome combination toy featuring nesting blocks and shape sorters all in one. Children use problem solving skills when they build the tower without it falling over. They also have to figure out which shapes go through which holes.
Melissa & Doug Shape Sequence Sorting Set: Another great wooden toy to add to your playroom. Children can sort the objects into groups and begin to identify the different shapes. There are many different ways to play with this toy and for $15 it's not a bad deal!
Educational
TOMY Little Chirpers Sorting Eggs Learning Toy: As your toddler cracks open these eggs he or she will begin to learn

shapes and matching through sorting. It's a fun learning toy that won't take up too much space in your play room.
First 100 Words Board Book: Books are a great way to connect and teach your child new things. This book has 100 colorful photographs to look at and learn about. It includes 100 simple first words.
Melissa & Doug Alphabet Puzzle Book: Your child will love placing the letters and matching figures in the right spaces in this puzzle book. This toy exposes them to the alphabet. If you'd like you can use it to talk about letters of the alphabet in a fun way.
ALEX® Toys – Early Learning First Scribble: This is the perfect first coloring book for your toddler. It includes 50 scribble pages and 70 stickers. I know our daughter loves to place stickers all over the house. This scribble pad is durable and includes outlines of pictures so your child can add his or her special touch to the page.
This gift guide is a part of 75+ unique lists created by moms! Be sure to check out other fellow moms gift guides for the perfect holiday presents! Want even more? Check out this gift guide board on Pinterest:
Follow Erica • What Do We Do All Day?'s board Gift Guides for Kids on Pinterest.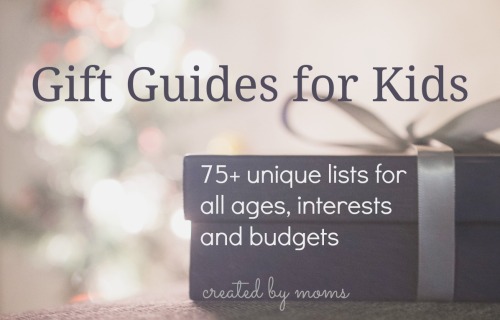 In the interest of full disclosure, some of the links in this post are affiliate links. They are all for products I truly believe in and buy for myself. If you decide to purchase any of these products through these links, I will earn a small commission. All prices are the same if you decide to purchase through my links. Thank you for supporting Heart of Deborah!