Essentials for My 6 Month Old Baby
Now that our third child is getting older I've gotten pretty good at figuring out what a 6 month old needs! There are so many baby items on the market, sometimes it's overwhelming trying to figure out what you really need. With three kids in our house, I'm on a mission to declutter and only buy the essentials. So in this post I'm sharing my favorite essential items for a 6 month old baby.
To make it easier I've broken this down into categories: eat, sleep, play.
This post contains affiliate links.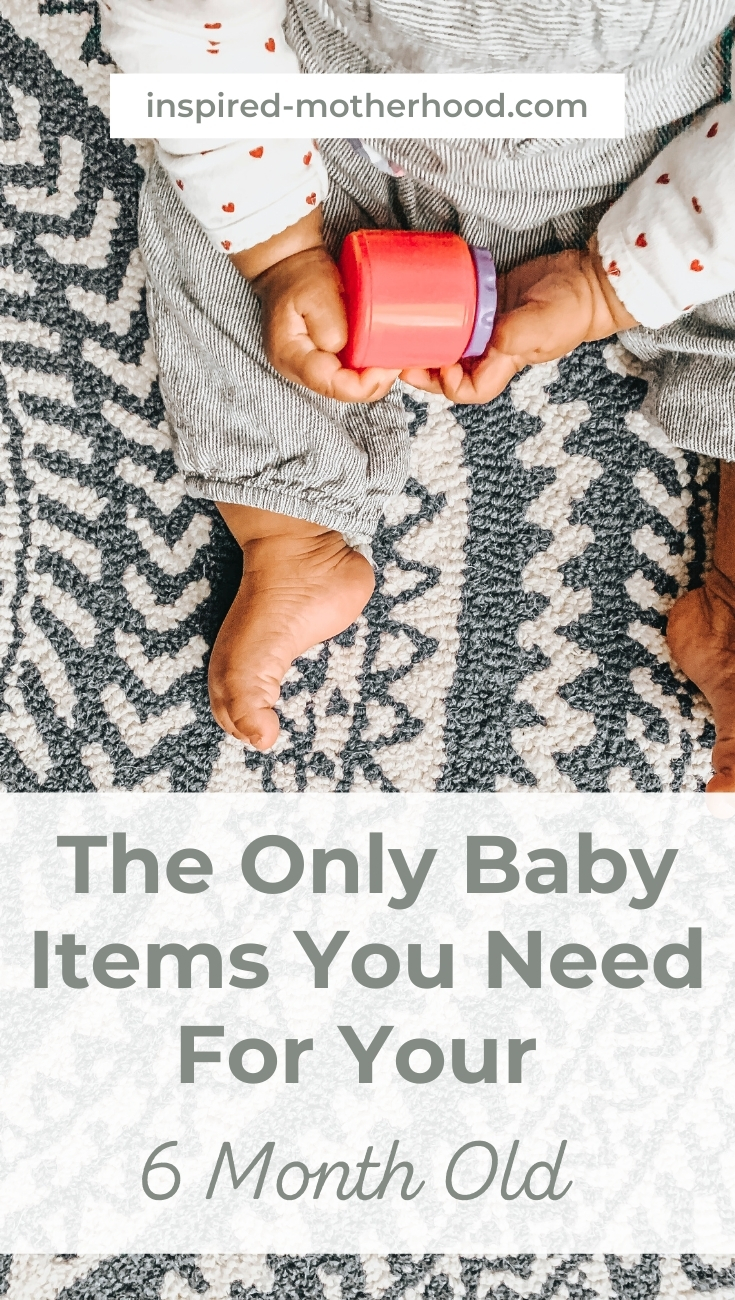 EAT!
Around 6 months old, babies start to eat solid food in addition to breastmilk or formula. We've always used a mix of homemade and store bought baby food. When life is crazy, it's nice to have something easy on hand. Though I like to make baby food for our kids, I don't want to spend hours doing so.
WHAT TO BUY: The Baby Food Feeder and the Mash & Serve Bowl are the two essentials for eating. If I'm cutting strawberries up for our older kids, I take a few and mash them up with this tool. A perfect baby lunch! Use the Mash & Serve Bowl to mash up any soft food like banana, avocado, baked sweet potato, etc.
To store leftover food, we used glass storage containers or these silicone food trays.
With the food feeder you can add frozen or fresh avocado, banana, sweet potato, etc. I froze breastmilk with the other foods and placed it in the feeder. All our kids held it themselves and chomped on it for at least 20 minutes. Perfect at dinner time or for a teething baby.
Other essentials for eating include: a highchair, baby spoons, bibs (we love these!),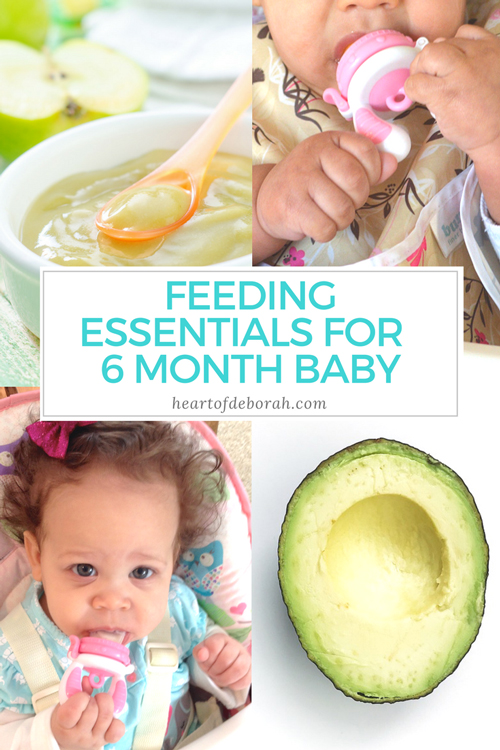 PLAY!
Babies learn how to sit up and engage in "play" around this age. Six months is the perfect time to introduce stimulating toys.
For whatever reason, all of our kids LOVED the crinkle sound. They also liked to bite rings or rattles and explore sound. So here are a few ideas for play at 6 months old:
#1 Sense: Our youngest loved this unicorn toy. It has areas she can chew, crinkle, rattle, etc. All of our kids also enjoyed these crinkle blocks. We've also used this sensory cube with all three kids. Stacking rings are another great toy to introduce, but your baby might not get the hang of it for a few months.
#2 Music: One of my favorite baby toys that grows with your child is the Hape Pound and Tap Bench. The Little Tikes Piano is another classic.
#3 Chew: Chew toys were essential for my son at this age. All our kids enjoyed wooden chew toys and these teething rings.
Finally, our kids always seemed to like household items better than toys! My daughter loved playing with a mixing bowl, bamboo spatula and whisk.
You may also want to consider baby gates or a baby play area. Our two older kids love to play with little LEGO sets, but with a baby rolling around the playroom it made me nervous. So we plan to use a baby play area so our youngest won't get in too much trouble.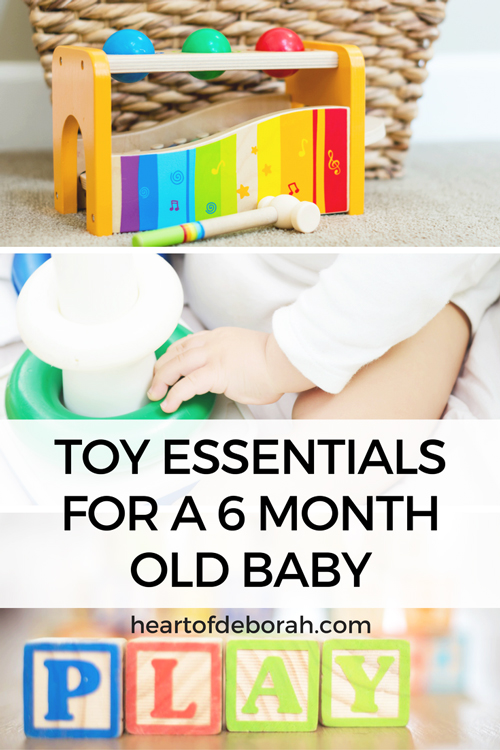 Sleep!
Sleep is so important for baby and parents. Here are our sleep essentials for 6 months old.
Sleepsacks: We dressed our babies in pajamas and then placed them in a sleep sack for bed. Here is a warmer sleepsack we used for winter (but technically you can use it year round). We use the HALO SleepSack for the summer because it is a lighter fabric.
Mesh Crib Liner: We used the breathable baby bumper when our daughter started to roll around in her crib. I didn't want her to get her arms and legs caught between the slats. I think the media made me paranoid of regular bumpers so a mesh crib liner was the perfect solution!
Noise Maker or Fan: Sleep is essential in our house and with two kids we knew we needed some kind of white noise to help them during naps and nighttime. All of us have these amazing noise makers in our rooms. It's a natural soothing sound. For our last baby we got the Hatch Sound Machine With Time to Rise. So far we really like that we can adjust the volume on the sound machine from our phones.
Video Monitor: When we first registered for our baby shower, I thought I don't need a video monitor, that's just a waste of money. Boy was I wrong! Our video monitor has been such a blessing to us and something I would definitely recommend to every parent. We still use it with our 4 year old.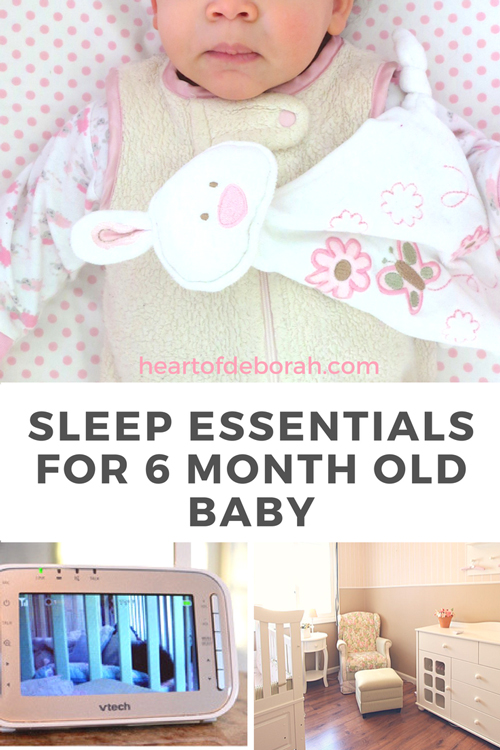 Other:
If I had to pick one essential item for a new mom I would say a good baby carrier (we've used the Ergo baby carrier with all our kids). Especially with two older kids, I use this thing all the time so I have free hands. If the baby is fussy and I need to make dinner, I pop her in here. It's a game changer.
You may already have these essentials, but things to consider for the future are a good sippy cup, a stroller, items for a sick baby (see a complete list here), a potty chair, portable high chair and shopping cart cover.
BONUS: Book Resources For Your 6 Month Old Baby
My doctor recommended reading as the #1 thing to do with our baby! Start as early as newborn.
It's a great way to expose children to rich vocabulary and a way to connect with your kids. One of our all time favorite books is
Brown Bear, Brown Bear, What Do You See?
All three of our kids have LOVED this book. Another new favorite is
Let's Find Momo!: A Hide and Seek Board Book
.
If you don't want to stock up on MORE things, consider joining your local library to find books there to borrow.
I love hearing from readers in our comments. Please feel free to share your favorite tips and advice!
Lastly, it's important to remember that every child is different and what works for one child may not work for the other. I'm slowly learning to become more flexible, take bits of wisdom when I can, and trust my mommy instincts. I hope you find some of these posts on Heart of Deborah helpful.
What are your favorite 6 month old baby essentials?
Follow Heart of Deborah on Pinterest for my baby essentials and parenting tips!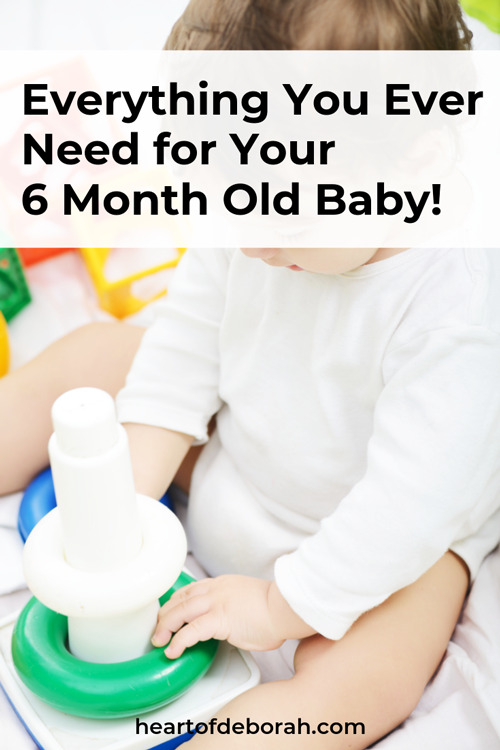 I prayed for this child, and the Lord has granted me what I asked of him. 1 Samuel 1:27
Please note some affiliate links are provided for your convenience. If you decide to purchase, I earn a small commission. All prices are the same if purchase through my links. Thank you for supporting Heart of Deborah!