Designing Our Baby Girl Nursery
Before baby Izzy arrived I spent many hours crafting and decorating her nursery. Like many other first time mommies, I was really excited (maybe too excited) about creating the perfect baby girl nursery. I also knew I needed to do this on an affordable budget. I wanted to share some of the inexpensive ways I decorated.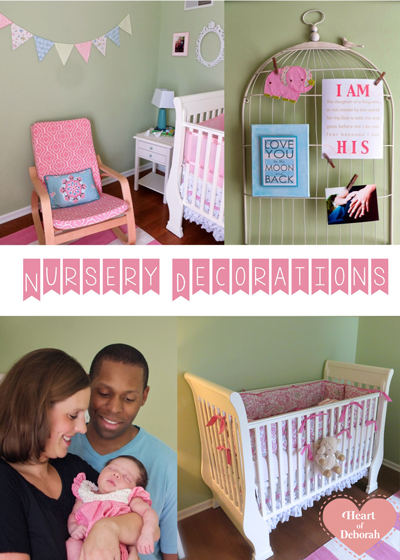 Before we found out if we were having a girl or boy we painted the nursery. I wanted to pick a color that could be accented with either blue or pink. When I found Benjamin Moore's Apple Blossom I was in love! It is the perfect soothing color for a baby nursery.
I wanted to create a unique space for our baby girl and I loved this saying. We have this canvas artwork hanging on her bedroom door. We used the clear command hooks instead of a nail to hang the canvas. It works great because it doesn't leave a hole in the wall or door and it can easily hold up a medium sized canvas. The curtains seen in the background are from Ikea and were an inexpensive $20 (Matilda Sheer Curtain)
This birdcage is from home decorators (Birdcage). You can almost always find coupon codes or discounts to get it at a reasonable price. I didn't like the dark brown color for the nursery so I simply spray painted it. We have some of our custom artwork (Check out our Etsy shop) hanging on the birdcage. We also decided to get vinyl word wall art from an etsy vendor. She made this custom piece for under $40. You can find so many great inexpensive crafts on etsy.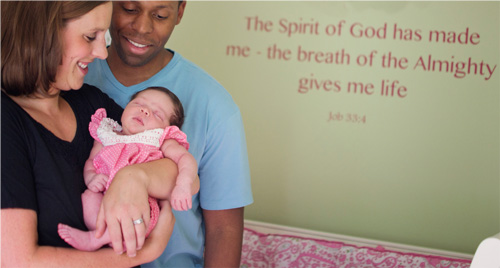 We found Izzy's crib at the Pottery Barn Kids outlet. It was still somewhat expensive, but discounted compared to the Pottery Barn Kids store. They also have almost all of the same bedding sets as seen on their website, but at a discounted price!
Lastly, we wanted a rocking chair for the nursery, but we didn't want to spend a fortune. We bought this rocker from Ikea and had a friend make a slip cover with fabric we picked up at Jo-Anns. I also picked out some fabric to make the flags hanging above the rocker. This is a super easy project to do yourself. Pick our your favorite fabric, cut out triangles using pinking shears, and glue onto ribbon or string.
What inspiration did you use to create your baby's nursery?