Recipe Easy Bean Burritos
With a little one in the house I found I have less time to make delicious healthy dinners. I typically try to nap while she naps, but I also don't want to eat take-out every night. So when I do make dinner I try to make something that is quick, somewhat healthy, and yummy! Here is a great recipe for bean burritos.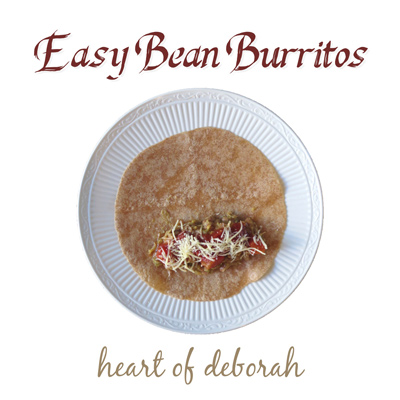 Ingredients:
1/2 cup onion, chopped
1 clove garlic, minced
1 can pinto beans, drained and rinsed
2 tablespoons green chilies, mild (canned)
1/4 teaspoon ground cumin
1 teaspoon cayenne pepper
1 cup monterey jack cheese (or your favorite variety)
1/2 cup salsa
1/2 cup rice (I like the Seeds of Change instant rice, just pop it in the microwave for 90 seconds)
4 large tortillas (I typically use whole wheat, any tortillas will do)
Directions:
In a medium sauce pan, saute onion & garlic. Next, add the beans, chilies, rice, & seasonings. Mix and mash to desired consistency. Spread beans mixture, cheese, and salsa in the middle of the tortillas. Roll up the tortilla and place in casserole dish. Bake for 15 minutes at 350 degrees.
Prep time = 10-15 minutes, Bake time = 15 minutes. An easy meal in under 30 minutes!