Finger Foods – Comparing Baby Puffs
Finger foods are a great way to build your child's fine motor skills. But what finger foods are best for your growing baby? Small slices of banana or avocado are great nutritionally, but they can be difficult for your baby to grab since they are slippery. Have you heard of puffs? The natural market seems to have created better options than cheerios when it comes to puff finger foods. But is it really better? I looked at multiple brands and their ingredient lists. I was surprised at what I found!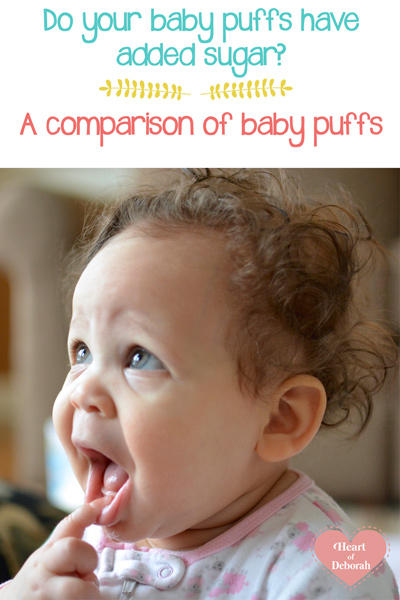 Happy Family – Organic Apple Puffs
Pros: Melt in your baby's mouth, taste, contains no wheat
Cons: More than 5 ingredients, added nutrients (isn't it best to get vitamins & calcium from whole foods?)
Plum Organics Baby Super Puffs
Pros: Taste, BPA-free packaging
Cons: Sugar is the 3rd ingredient (organic dried cane syrup), added nutrients
Earth's Best Organic Yogurt Puffs
Pros: Taste, BPA-free packaging, meltaway texture
Cons: Sugar is the 5th ingredient (organic powdered dried can sugar), contains milk and soy
Little Duck Organics Tiny Fruits
Pros: Simple ingredients (dried fruits), no added sugars, salts, or colors
Cons: Best for babies 1 year+, expensive for the small amount you purchase
Nature's Path Organic Millet Puffs Cereal
Pros: Zero fat, zero sugar, sodium free, one ingredient
Cons: Bland, very small to pick up
The winner for me is Nature's Path Organic Millet Puffs. They also have organic corn puffs that are larger if your baby has trouble picking up the millet puffs. As I've said before I don't like to obsess over eating. Is it okay to eat sugar once in a while? I believe yes, but overall I want to limit sugar intake and make an informed decision when feeding my baby new foods.
What finger foods or puffs have you found to work best for your children?
Many links on this site are affiliate links. Should you click on these links and purchase something, the price is no different for you and I earn a small commission. Thank you for supporting Heart of Deborah!