My Favorite 5 Month Old Toys & Lessons Learned
Time is surely flying! I can't believe Izzy is already 5 months old. Looking back, she was a fussy newborn baby. I remember my mom telling me that things would get better around 6-8 weeks. I remember thinking "That is going to take forever, 2 months!" Now I feel like time is going too fast and I want to cherish every minute of every day with our little Izzy.
I've posted some of my favorite baby products before. Today I wanted to share my new favorite toys (tested and approved by our 5 month old baby) and lessons I've learned along the way.
Disclosure: This post contains affiliate links for products we use and love.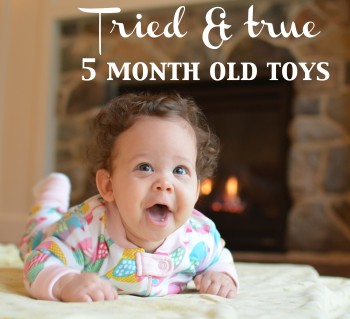 5 Month Old Toys
Little Tikes Little Tikes Play Cube = This was a Christmas present that Izzy received and it is a great toy to work on her fine motor skills. It's also not too big and bulky, which helps with controlling the toy explosion all over the living room. We love it!
Bright Starts Grab and Stack Blocks = Izzy got these for Christmas and they can hold her attention for hours! Just kidding, but a good 10-15 minutes. Two of the blocks make crinkle sounds and she constantly squeezes and grabs them to hear the noise.
Vulli Sophie the Giraffe Teether = I'm not sure what it is about this giraffe, but it seems most babies love it. I like that it is made from 100% natural rubber and food paint. She likes it because she can easily grab on to it and put it in her mouth.
On the Night You Were Born Book = This book is adorable. I love the message the book sends to kids and the pictures are bright and cheery. Izzy just started to get interested in books and this is one that I would recommend to anyone.
Fisher Price Rainforest Jumperoo = Izzy has been using this for a month or so and she loves it. If you are concerned about all the flashy lights and music, it has a switch to turn the music/lights on or off. She loves looking out the window so we have hers by the glass patio doors. I also love that the chair swivels so she can turn to look at different things.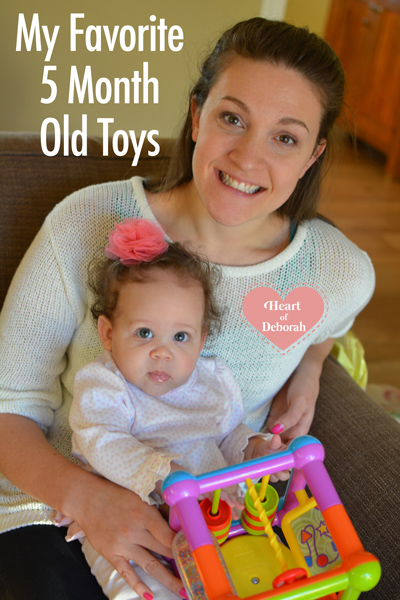 Lessons Learned
When our baby was about 4 months old I noticed what I thought was a rash on her leg. Turns out she has baby eczema. The doctor suggested putting vaseline on her body 2x a day and investing in a humidifier. I wanted to find a more natural alternative to vaseline so I tried raw shea butter. Within days Izzy's leg was completely healed! We use large amounts of shea butter on her body and it seems to help.
Izzy went through a phase where she refused the bottle. I tried every bottle out there! It wasn't until we started heating up the nipple (as well as the milk) that she took the bottle without any fuss. My husband discovered this trick one day after I sanitized a bottle by boiling it. The entire bottle, nipple included, was warm when she drank from it and she took it right away.
Don't compare your baby to other babies! It will make you crazy and there is no point. Each baby develops at his/her own perfect pace.
Lastly, some of the best toys are things you can't buy! Our baby girl LOVES when you talk and smile at her. I've read and believe it is true, that human interaction is best toy there is! Babies learn so much by observing others and exploring their world with you at their side. Proverbs 31:26 says "When she speaks, her words are wise, and she gives instructions with kindness." This is what I am striving to do with Izzy.
Understandably, you need some time away from your baby to get some things done. That's when it's best to know which toys your baby loves 🙂
What are your favorite baby toys and/or activities?