7 Brilliant Ways to Celebrate Baby's First Christmas!
It's the MOST wonderful time of the year… This is our son's first Christmas and we want to make it memorable! You only get a baby's first Christmas once, right!? We wanted to find ways to make it special so here are 7 brilliant ways to celebrate Christmas with your newborn.
This post contains affiliate links.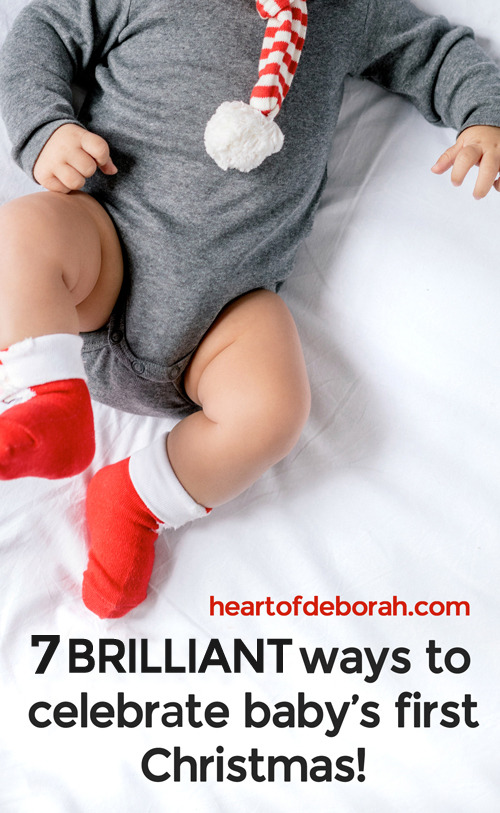 Make a Keepsake Ornament: For Izzy's first Christmas we made a salt dough ornament with her handprint. For years to come we will to look at her tiny little hands when we hang the ornament on our tree. If you aren't feeling crafty, you can buy a special ornament to commemorate baby's first Christmas.
Take Holiday Photos: Any photography lovers out there? Christmas is a great time to set up a scene and bring out props to jazz up your baby's first Christmas photos. Here are some practical tips to take great holiday photos. Fun holiday themed props include: candy canes, baby Santa hats, red & white striped pajamas, chalkboard signs, ornaments. Obviously you don't want to choose anything that is a choking hazard, but it can be fun to create a scene like this: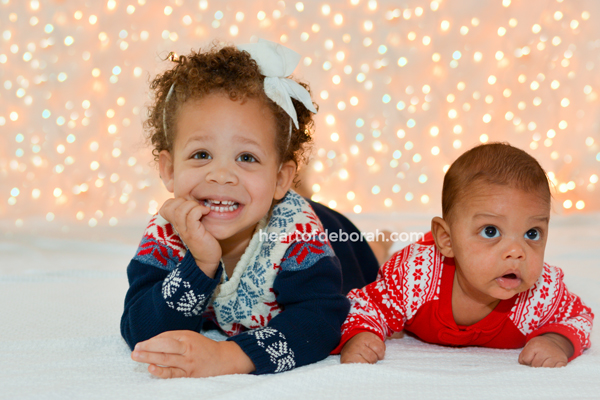 First Pair of Christmas Pajamas: I think this is such a fun way to get into the spirit! There are so many adorable baby Christmas pajamas out there. We love these Burt's Bees Baby pajamas and these Hanna Andersson festive jammies. If you can convince your husband 😉 why not try some family holiday jammies?
Start a New Family Tradition: When you have children it's a great time to think about what family traditions you want to carry on. Here are 10 family fun traditions you need to start this Christmas! Some ideas include: A hot chocolate bar on Christmas and building gingerbread houses.
Buy or Craft Baby's First Stocking: Our family hangs stockings on our mantle as part of our Christmas decorations. Find your baby a personalized stocking to include him or her in the celebration. Although I love crafting, there are many DIY stockings on Pinterest. This year I decided to buy matching stockings for our family.
Read Festive Books: Reading is great for children of all ages, even newborn babies! Celebrate the holidays by reading holiday books with your kids. Write in the front of the book cover to commemorate the special event, baby's first Christmas! We love adding new books to our library and we often write notes on the inside sleeve to remember why and when we purchased the book.
Decorate the Nursery!: I love adorable Christmas pillows and prints, but how cute would it be to make a holiday themed mobile for your baby. There are so many great ideas on Pinterest. I adore this felt garland and this baby it's cold outside throw pillow..
How do you celebrate baby's first Christmas?