Get Cozy: Kid's Winter Essentials
As the holiday season is right around the corner it's time to start thinking about shopping for gifts! Today I wanted to share with you my 10 favorite kid's winter essentials. Although our daughter loves getting new toys to play with she also needs practical items like a winter coat and warm pajamas. This gift guide is centered around the theme get cozy. Because who doesn't love snuggling by the fire with a warm blanket and a hot cup of pumpkin coffee!
My Top 10 Kid's Winter Essentials
This post contains some affiliate links for products we use and love.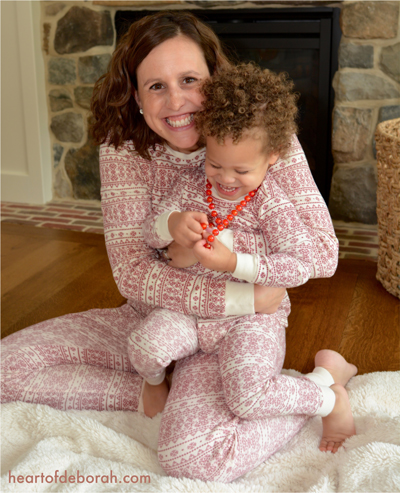 Burt's Bees Baby Pajamas:

Our daughter has been wearing Burt's Bees Baby pajamas since she was born over two years ago. I remember telling my husband I wish they made adult pajamas because they are so cozy. My wish came true this holiday season! The holiday family jammies are adorable and made of the softest 100% organic cotton. What's not to love?
Car Seat Cover: Car seat covers are essential in the cold winter. Since it isn't safe to put babies in puffy jackets while riding in the car, this JJ Cole Bundleme Car Seat Cover is the perfect way to keep your baby warm. We use it every time we take our car seat out of the car into the cold, windy winter air. This is a newborn essential in my opinion!
Garnet Hill Winter Coat: Cooler weather means you need to pull out the winter jackets. We could not keep our eyes off Garnet Hill's Jubilee Pea Coat. This jacket is very warm and soft to touch. I know I am be biased, but I think it looks adorable on our daughter. She loves the bright pink color. It is made extremely well and I'm hoping it will last us two winters.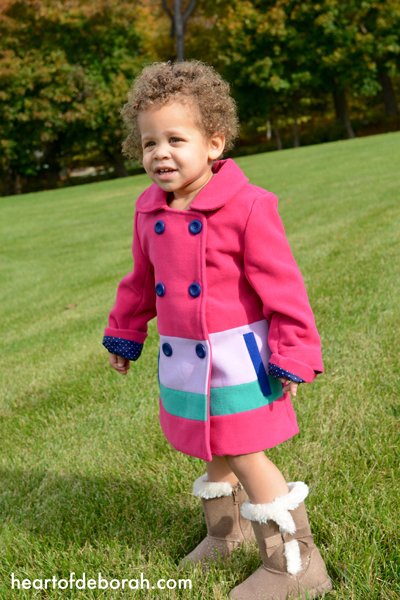 Cozy Sleep Sacks: We try our best to find organic sleepwear for our children. Our toddler and baby spend over half their day in their beds so it is important to us to find safe and non-toxic products for sleep. We love our HALO Organic Cotton Sleep Sack in the winter. They kept our daughter warm through two winters and we will continue to use them with our newborn son. We have also paired the sleep sack with 100% Organic Merino Wool Coveralls when it goes below freezing outside.
Winter Bear Suit: I think babies look so snuggly and cozy wearing baby buntings. We purchased a Columbia Baby Bear Bunting for our daughter's first winter and we will use it with IJ this winter. I love how warm it kept Izzy and it was perfect for all outdoor activities.
Pottery Barn Throw: This faux sheepskin blanket is the softest thing I've ever felt. We love wrapping up with this throw in the winter and sitting by the fire. Since it is adult size, you can wrap you and your children up in it.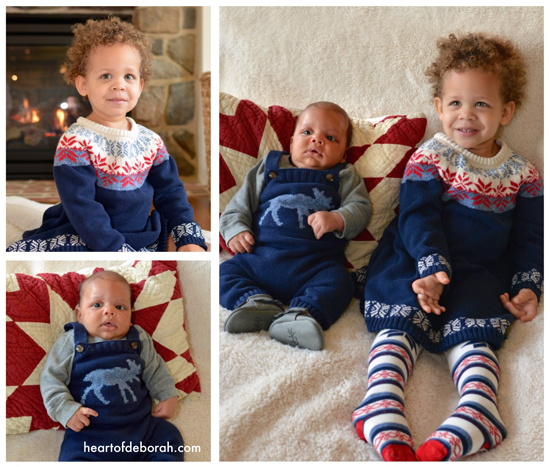 Hanna Andersson's Holiday Collection: As you may know my family loves taking pictures. I remember sitting through many Christmas card photo shoots when I was younger and I can't wait to start this tradition with Izzy and IJ. I love the North Star winter collection by Hanna Andersson. The reindeer sweater overalls are so soft and cozy and the sweater dress for Izzy is adorable. I love their holiday collection because it is well made and classic. These pieces are definitely going to be passed down to future generations.
Adorable Stuffed Animals: I love finding soft stuffed animals for our kids to snuggle. I recently discovered these organic farm buddies from Apple Park. I was attracted to the company because their stuffed animals are organic and made eco-friendly materials. The dog and the cow are my favorite.
Winter Hat: How cute are winter hats that look like animals? It's important to keep our babies warm in the cold weather and animal hats are my favorite way to do this! I love this snuggle lamb fleece trapper and this pink bunny hat.
Moonlight Slumber Mattress & Mattress Cover: If you read Heart of Deborah frequently you know that we try to find eco-friendly and non-toxic products for our family. We were initially drawn to Moonlight Slumber's latex crib mattress (read review here) because it is fully chemical additive free and made in the USA. We were excited to hear they are adding an organic mattress cover to their product line. We were able to test the mattress cover and we found it to be soft, comfortable and effective for midnight spit-ups. The top side is organic cotton fabric while the back side is a non-toxic, BabySafe hypoallergenic waterproofing. Again it is made in the USA and it is washable.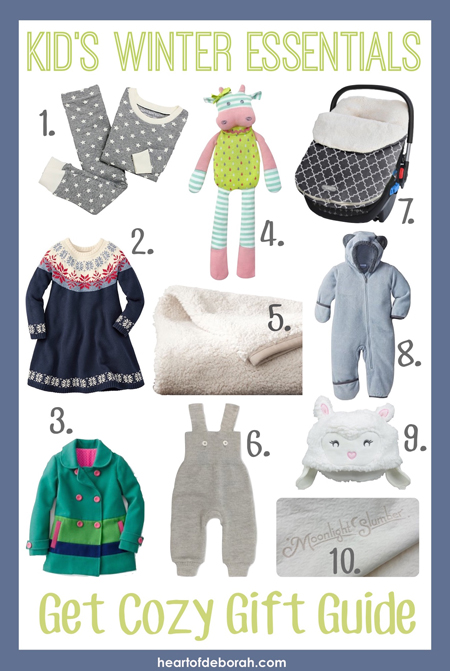 Short Reference List of Items:
Apple Park Farm Buddies
JJ Cole Bundleme Car Seat Cover
Columbia Baby Bear Bunting
Snuggle lamb fleece trapper
This year I joined with other parents and educators to share our recommendations for the best gifts for toddlers, preschoolers, older kids and family! Our goal is to do the research for you so you can spend more time enjoying the holidays. Check out over 75 other awesome gift guides here.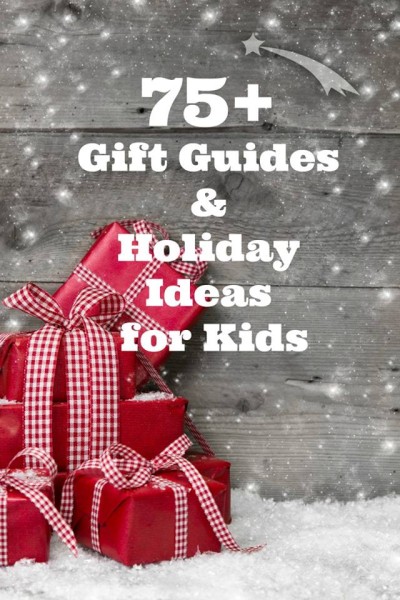 I am so thankful to Burt's Bees Baby, Garnet Hill, Hanna Andersson, and Moonlight Slumber for providing me with products for this gift guide. As always, all opinions are 100% my own. This post also contains some affiliate links. Full disclosure here.