Baby Food Hacks to Save Money and Time
When your baby eats solid food 3 times a day it can start to feel like all you do is make meals for other people. I've discovered a few baby food hacks along the way that save me time and money. I enjoy cooking and making homemade baby food, but if I'm being honest I don't always have the time or energy to make every meal from scratch. So here are my tips and tricks to save time.
5 Baby Food Hacks to Save Money and Time
This post contains some affiliate links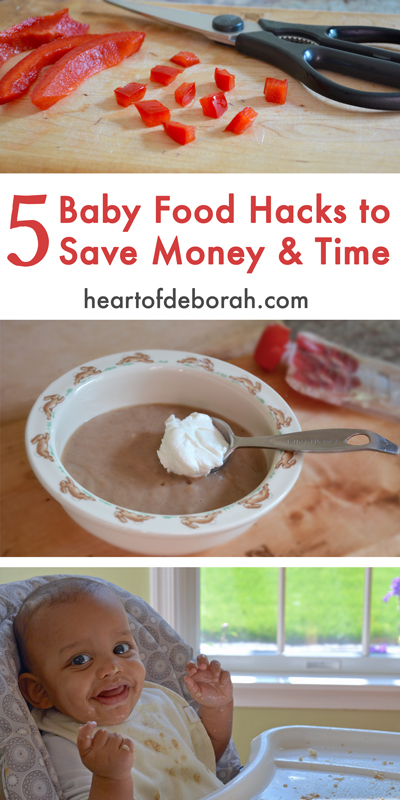 Use add-ins: I occasionally buy baby food pouches and jars because it's convenient and easy. Now that my son is getting older he wants more than just one pouch of baby food per meal. Those pouches are expensive! So to make them go further I squeeze it out into a bowl and add a heaping tablespoon of plain yogurt or nut butter. It adds more calories and protein without adding too many extra steps.
Buy Adult Apple Sauce: Did you ever notice that "baby" applesauce has the same exact ingredients as the apple sauce found in the regular isle? It's unfortunate that things marketed toward babies cost more plus they are in smaller jars upping the price per ounce. Find a jar of adult applesauce that says no sugar added and save money!
Use Kitchen Scissors: Our son wants to feed himself more but it's tedious cutting everything into extremely small pieces with a knife. Kitchen scissors have changed the feeding game in our house! Cut apples, peppers even peanut butter and jelly sandwiches into small bite sizes with kitchen scissors. It seriously saves so much time and frustration.
Buy Frozen Fruit & Veggies: During the winter months a variety of fruit and vegetables are harder to find and they tend to be more expensive. Use frozen fruit and vegetables to save money and still eat healthy. Many frozen vegetables are packaged during their peak ripeness. Instead of having to wash, clean and peel fresh fruit you can simply defrost a bag of already diced mango.
Make Smoothies: We love smoothies in our house and I realized I can make it for my baby and toddler at the same time. When I blend frozen mango, papaya, yogurt and cinnamon it becomes a puree for my baby and a smoothie for my toddler. It saves me time because I am only making one snack instead of two and I can drink any leftovers. Many fruit smoothies have ingredients that are perfect for small babies. We avoid any added sugar and milk instead using dates and yogurt.
I've also found it helpful to have quick meals on hand such as avocado and banana. If you don't want to carry around jars of baby food in your diaper bag simply put an avocado and spoon. Our son will it eat it as we scoop it out with a spoon. We also couldn't live without our masher. It takes time to create a sustainable meal schedule. When I feel overwhelmed and exhausted I don't feel guilty about pulling out a baby food pouch or giving him puffs! What about you? How do you create a sustainable meal plan for your kids?
What helps you make quick and healthy baby food?