Pins I Love – Family, Faith, Food, & Baby
My Favorite Pins of February
I love finding new things on Pinterest. So I decided to share some of my favorite recent pins.
I've tried both of these recipes and immediately fell in love with them. I ended up printing them out to save for later! I also included some baby activities I tried, family fun, and a link to a free printable.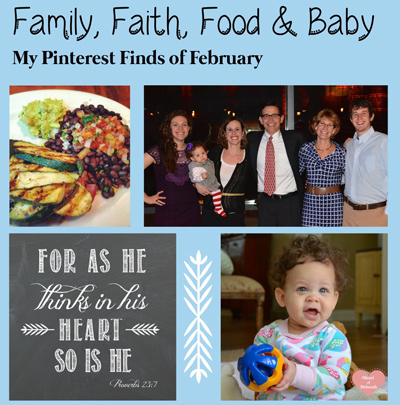 Food
Spinach Artichoke Soup – A healthy version of spinach artichoke soup. It tasted so delicious and my husband couldn't believe there wasn't cheese in the recipe. You need to try this!
Baby
Exploring Sounds with Baby – A great activity to do with your baby while stuck inside. I am so over this snow! In the mean time, we've been trying new inside activities.
No Mess Painting – Maybe you've seen this on Pinterest (or elsewhere), but I love the idea. Use a ziplock bag and fill with paint. A no mess way to let baby explore with her hands.
Family
The Newlywed Game for Families – I was blessed to write a guest post for Mom it Forward and I shared my Newlywed Game for Families. I've used this while working in the public school system with families and it was always a hit.
DIY Rotating Goal List – This is super easy and a great way to stay organized. Use it yourself or have it be a family goal list for the week. I can't wait to try this one.
Faith
Stunned, Seared, Sent – Have you ever followed Living Proof's blog? It is uplifting and refreshing. Check out the latest post!
Tried any new recipes? Share some of your favorite Pinterest finds in the comments below!
For behold, the winter is past; the rain is over and gone. The flowers appear on the earth, the time of singing has come, and the voice of the turtledove is heard in our land. Song of Solomon 2:11-12