How to Make a Smooth Transition From Bottle To Cup
When our son turned one, I began questioning when to start the transition from bottle to cup. I wasn't sure where or when to begin. Should I be the one to decide when to stop the bottle? Or do babies just know when it's time to make the transition? When should you stop giving baby a bottle?
To give you some background I was able to breastfeed both our babies. Unfortunately our first baby, Izzy, never took a bottle. So for her the transition, was from breast to cup. Our son took a bottle and thankfully it saved our breastfeeding relationship. But at his 1 year appointment our pediatrician suggested we start weaning the bottle. I was nervous and I still kind of wanted to have a "baby" in the family. But at 15 months I decided it was time. I was done heating up the bottle every day and I knew he could drink from a cup at this point. So we tried to make the switch.
I know many kids who successfully make the transition from bottle to cup with little issues and no prompting from the parents. Is your 2 year old still on the bottle? If your child is resistant, like my two kids were I want to encourage you! They won't drink from a bottle forever. In the meantime here a few things to help you when your child refuses to drink milk from a cup (see number three).
This post contains some affiliate links.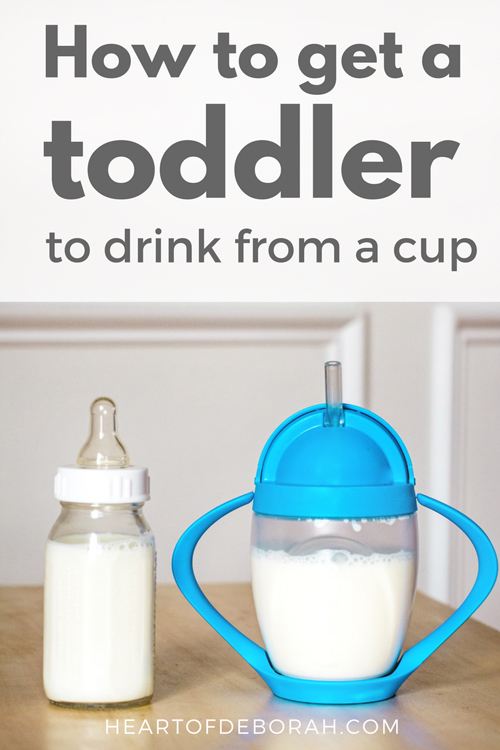 How to Make a Smooth Transition From Bottle To Cup
Teach Your Child to Drink From a Straw: I knew I wanted to transition straight to a straw up. I didn't want to have to make three transitions (bottle – sippy cup – straw cup). We used this bear cup to teach our kids how to drink from a straw.
Introduce Straw Cup Before 1st Birthday: Transitioning takes time. It won't happen overnight. Though I have heard of people going cold turkey and having some success. There will most likely be crying involved with that method. I wanted to ensure our children knew how to drink from the cup before we made the switch. I started the bear cup with breastmilk and water around 9 months. Then we slowly transitioned to a regular straw cup.
Add Kefir to Milk Or Blend Strawberries in Milk: Our kids were smart. They easily drank water from the straw cup. But if they looked down and saw white (milk) they immediately threw the cup. They just didn't want to drink milk from a straw cup. With my daughter, I knew she loved smoothies so I blended 2-3 strawberries into her whole milk. Instead of white she saw pink. So she thought it was a treat and starting drinking from the cup! I slowly reduced the ratio of strawberries and she eventually went to straight milk within 1-2 weeks. The same thing happened with my son, but I used strawberry kefir instead.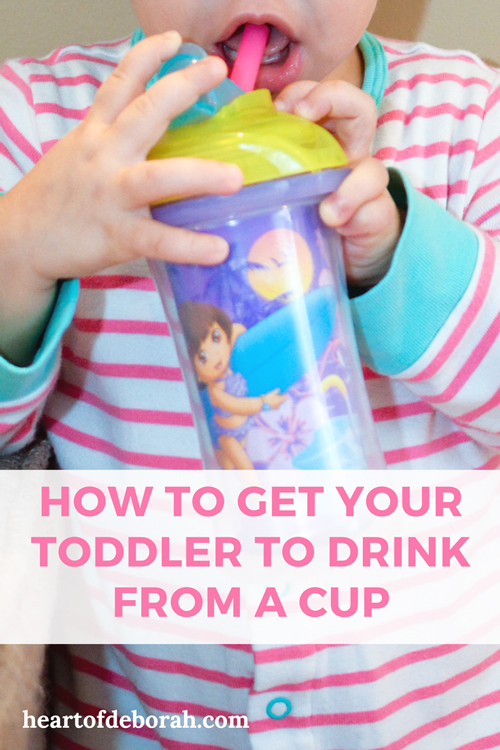 Work in Stages: Ana from mommysbundle.com suggests starting slowly: "One tip we've used for transitioning from bottle (or breast) to sippy cup is to introduce the cup gradually once baby starts solids. During each meal, we fill the cup with a couple ounces of water or breast milk throughout the day as we begin the weaning process. We work in stages so that the cup becomes a natural extension of breast or bottle."
How did you make the transition? Was it difficult or easy? I'd love to hear your suggestions in the comments below!