Freshly Picked Gifts for Mom
I am in disbelief that it is almost May. This spring has flown by. That means Mother's Day is right around the corner. I thought I would share some of my favorite freshly picked gifts for mom this year.
In this gift guide, I focused on three categories: home, beauty and leisure. Motherhood is hard work and sometimes it's nice to indulge and treat yourself. Whether you are treating a special woman in your life, your grandmother or your sister you will find something to love in here.
As a busy mom I don't always find time to do things for myself because I'm busy looking after two young kids. A little hint dads, women love to be pampered and I created this gift guide with the idea of relaxation on my mind! Along with a gift give mom a few hours by herself. I know I love a little me time 🙂
This post contains some affiliate links for products I love.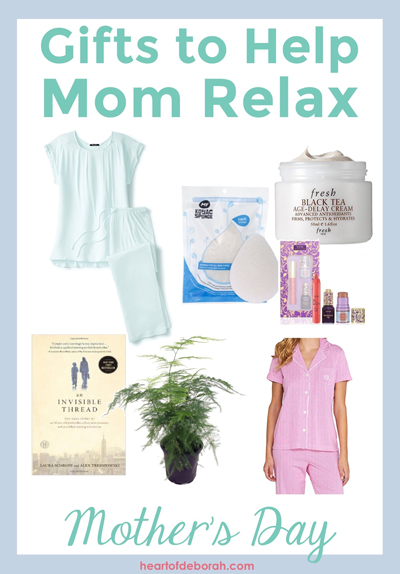 Home
Floral Robe:

Moms need some indulgence once and a while! After a busy day, I love taking a shower in the peace and quiet and wrapping up in a soft robe. I don't know what it is, but when I wear a robe I feel like I'm at a spa! Check out these beautiful floral robes for your mom.
Throw Blanket:

Who doesn't love a soft blanket to cuddle with on the couch? I love this eco-friendly and affordable Herringbone throw. Super soft and beautiful to drape over your couch. I'm also obsessed with this faux sheepskin throw from Pottery Barn. It's a luxurious throw. Your mom will love sitting down with it and reading or drinking a cup of coffee.
Plants:

Did you know plants can actually improve the air quality of your home? They remove toxins from the air such as formaldehyde! Instead of a bouquet flowers that will eventually wilt and die why not invest in a beautiful plant to add life to your home? Moms will love the greenery and it will add a freshness to the home.
9 Freshly Picked Gifts For Mom
Beauty
Konjac Sponge:

I've recently discovered the Konjac Sponge. Have you ever heard of it? This brand of sponge is made from 100% food grade konjac powder and it gently exfoliates your skin without any added chemicals or toxins. I use it everyday and it seems to soften my skin. If you want to pamper your mom with spa products definitely add this to the list.
Renewal Cream:

I love the refreshing smell of Avalon Organics Vitamin C Renewal Creme. It gives you a burst of orange and citrus while gently moisturizing your skin. It's made with 100% vegetarian ingredients, it's affordable and I love what it does to my skin. If you want to splurge on face cream I also recommend Fresh Black Tea Age-Delay Cream. This stuff is amazing and I noticed a difference in the firmness of my face within days. I know any mom would enjoy a little pampering with either of these face creams.
Tarte Makeup:

Most of my makeup is from Tarte. I love their brand because it is formulated without parabens, mineral oil, phthalates or sodium laurel sulfate and it works great. These Tarte Makeup Kits are a fun way to test their products and try different essentials. Their deluxe lights, camera, lashes mascara is my favorite.
Leisure
Infusion Water Bottle:

When I attended a favorite things party I received an infusion water bottle. I'd never heard of it before, but I found it's a great way to liven up your water. Add fresh fruit to the bottle and create your own infused detox drink at home. A simple way for mom to spice up her day and make her feel like she is getting a treat! Dads maybe you can make her the first drink?
Books:

If you follow my blog you know I love reading and finding new books. Here are a few of my all time favorite books that would be perfect for your mom. An Invisible Thread (Leisure), Battlefield of the Mind (Christian living) and Anne Frank: The Biography (Biography).
Pajamas:

I love soft and cozy pajamas. I don't know what it is, but when I see a soft pair of pjs with a fun pattern I feel the urge to buy them. A busy mom would love a pair of comfy pajamas to help her get peaceful sleep.
I hope you have a wonderful Mother's Day and get some rest and relaxation.