My Natural Beauty Routine
My journey to health and wellness has been just that, a journey. Every day I learn something new I can incorporate into my diet or beauty routine. Over the years, I've had to find a balance between worrying about every little thing I touch or eat and making educated and informed decisions about my health. Today I want to share my natural beauty routine with you and I hope you learn something new!
The first step to finding a natural beauty routine is reading labels and learning which chemicals to avoid.
I knew about the Environmental Working Group's Skin Deep Database for a few years, but I have to admit I didn't always use it. If I found a lotion, hair mousse or tinted moisturizer that said "natural" or "organic" I just trusted it was safe. A few weeks ago I decided to take an inventory of all of my beauty products (you should too!) and I was shocked to find out how many contained known carcinogens! A few of the products even contained USDA certified organic ingredients in addition to the toxic ingredients.
Scroll below for a special Beautycounter offer for Heart of Deborah readers!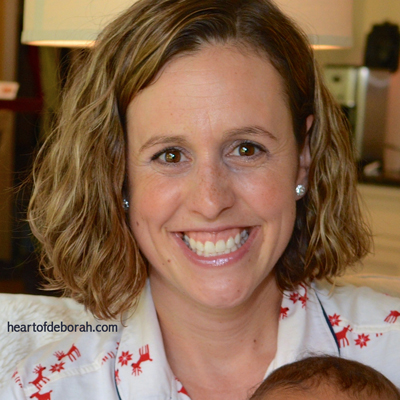 My Natural Beauty Routine
Bronzer: Tarte Smooth Operator Bronze (older product)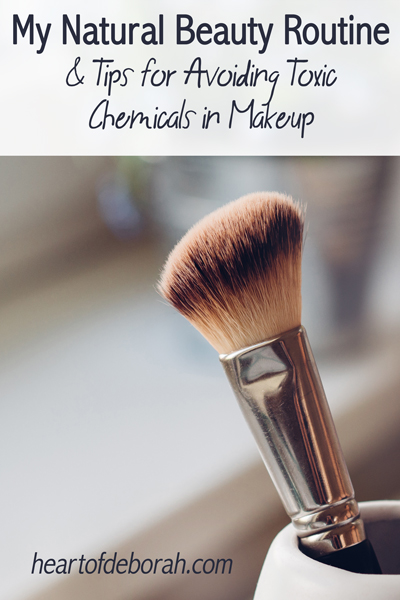 To be honest I am still looking for a natural and safe eye shadow and eye liner. Beautycounter has great options, but I haven't tried them yet! I have used Tarte makeup products in the past and I enjoyed many of them. However, you have to be careful with the ingredients. I only want to share with you beauty products I've tried and enjoyed. So every item in the list above is something I use.
Another tip: Find what works for you and is safe and nourishing to your beauty!
I enjoy learning about the best products to nourish our bodies and in my health journey I recently discovered Beautycounter. One of the things I love most about Beautycounter is the education and transparency of the company. They want women to make informed decisions about their beauty and they aren't afraid to share the source of all ingredients. I've teamed up with my friend Carly to offer Heart of Deborah readers a special Beautycounter experience! If you spend $100 you can get a free lip conditioner (see here, $20 product).
How to Order:
Finally, to take advantage of the Heart of Deborah special please order through this link. At the top of the website click "Shop My Socials" and click on Heart of Deborah. Next, place your order! If you have specific questions about products or ingredients please reach out to me and I can connect with you my Beautycounter expert!
I hope you found this post helpful! I'd love to hear about your journey in health and wellness. Do you have a natural beauty routine? If you do I'd love to hear about it in the comments below.