We've been trying to take advantage of the warm summer days, as this season always seems to go by so quickly. We were recently inspired to take a picnic date night. I never realized until after kids just how important date nights were for our marriage! If I'm being honest, I didn't love the idea of hiring a babysitter in order to get a date night. Thankfully we found two other options!
The first option is to swap date nights. We were so excited to find another couple to do this with who also has two small children. We babysit their kids one night while they go out and then they babysit our kids while we head out for a date. It's been working out wonderfully! We trust them and we don't have to pay money for a babysitter.
A second option is to go on a date at home. When we can't get out of the house, we plan something special for when the kids are in bed. This month we decided to have a picnic date night. We planned to make a special dessert with the blueberries we picked and eat it outside on our picnic blanket. I'm so thankful for baby monitors because we are able to enjoy time outside while the kids are inside safely sleeping.
Picnic Date Night Idea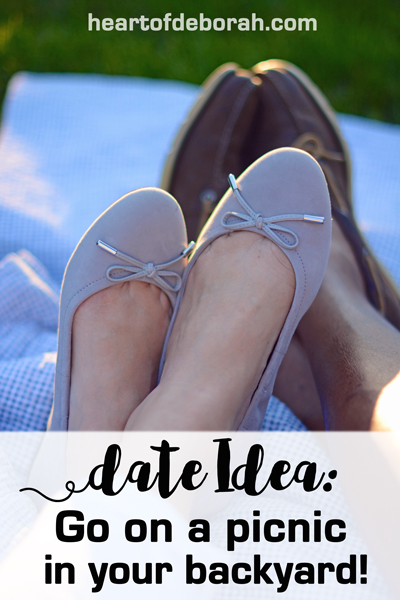 I have to be honest because I find it is so easy to look online at people's blogs or instagram accounts and feel as if their lives are perfect. We made our blueberry crisps for two and as we were setting up our picnic we dropped one in the grass. It splattered all over the yard and it wasn't salvageable. Of course we were disappointed, but then we just kind of laughed because life isn't perfect. Even when you do your best to plan it to be.
Thankfully we still had one dessert and we were able to spend some quality time together. When we were dating we went on a few dates and we loved to bring question books with us. Have you heard of them? Here is one of our favorites: The Complete Book of Questions: 1001 Conversation Starters for Any Occasion. I like these books because I find they provide great conversation starters and it's just fun to ask silly questions!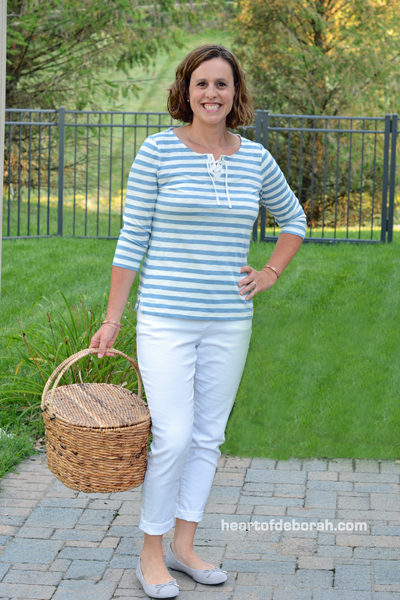 Even when we have a date night at home I try to get dressed up and do my hair and make-up. I don't know what it is, but it makes it feel more like a real date. What do you think? For our picnic date I was excited to wear my new Rockport hidden wedge ballet shoes. How cute are they!? I am also loving how comfortable the shoes are. As a busy mom, I am all about comfort and they have the best cushioning. Be sure to check out more of Rockport's women collection online and don't forget to follow them on Instagram.
So that was our picnic date night to enjoy the warm nights of summer! Do you have a summer bucket list? I'd love to hear how you celebrate the warm days with your significant other!
What is your favorite summer date night?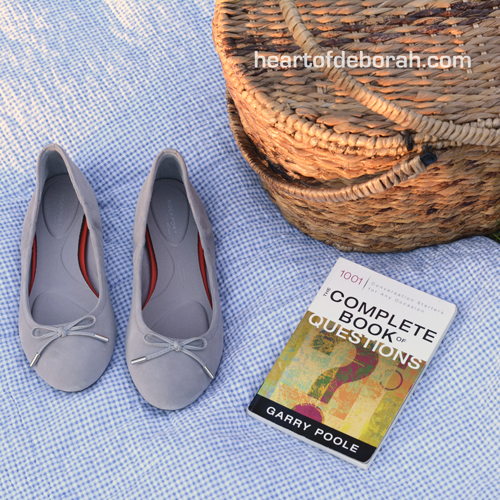 Disclosure: Although I received a pair of Rockport shoes to review I was not required to write a positive review. As always the opinions expressed are 100% my own and this is a product I can stand behind.