Best Gifts for Kids Who Love Arts and Crafts
Our daughter is really into arts and crafts and it's been so much fun watching her explore this creative side. We love making crafts together like these Sesame Street Ornaments or this Watercolor American Flag. Around this time of year I start thinking about gifts and the thought of more toys makes me cringe. I'm sure many parents can relate to the idea that you have too many toys! So for Christmas this year I thought it would be fun to find gifts for kids who love arts and crafts. Instead of buying more toys, I thought we could build up our art supplies and hopefully continue to use many of these items for years to come!
15 Best Gifts for Kids Who Love Arts and Crafts
This post contains affiliate links. Thank you for supporting Heart of Deborah!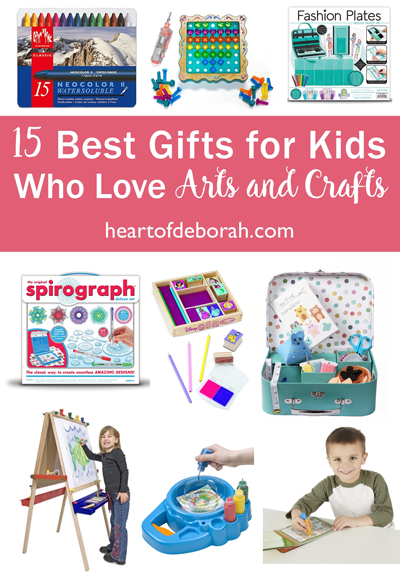 Basic Supplies For Your Little Artist:
Watercolor Crayons: I also recently learned about these watercolor crayons. I have to preface it by saying it's an investment, but I had a chance to use them myself and they are AMAZING. You simply dip the tip of the brush into the water and it creates a creamy paint without the mess. Another option is to let the child color the whole paper with different color crayons then use clear water with a brush to bring out the watercolor effect.
Water Wow: My daughter recently tried these Melissa and Doug water paint kits and she was hooked. It's mess free and by simply rubbing water over the picture you create a beautiful photo underneath. She will sit there and play with these water kits for 20-30 minutes!
Smock: Every little artist needs a smock! I prefer long sleeved smocks because it provides the best coverage. This protects her clothing and is super easy to use.
Reusable Sticker Pad: I know stickers aren't considered traditional arts and crafts, but my daughter absolutely loves her sticker books. She can express her creativity by designing different scenes and engaging in pretend play at the same time. The best part, it's reusable!
Melissa & Doug Deluxe Standing Easel: An easel is a great place for a child to paint, color and practice letters. This easel comes with a dry-erase board, chalkboard and locking paper-roll holder.
Paint Kit: When you are first building your arts and crafts supply you need to invest in some watercolor paint, poster paint and glitter glue. This Crayola kit comes with it all and is perfect for a preschooler who has an interest in arts and crafts.
KidKraft Art Table with Drying Rack and Storage: This is definitely an investment piece, but I love all the storage and accessories on this table. It's perfect for multiple children and it's crafted of wood not plastic. You could use this table for years to come!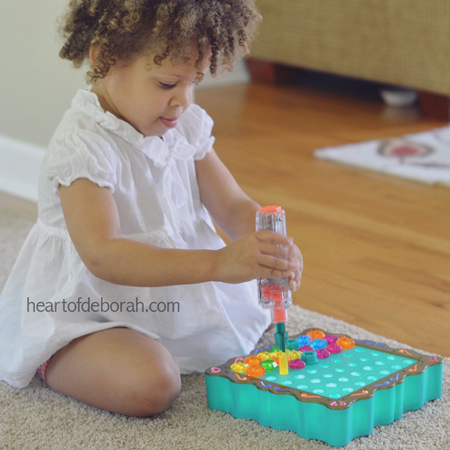 Unique Crafting Kits:
Fashion Plates Super Star Deluxe Kit: Did you have these growing up? They are so much fun! Your child will love creating different sketches and mixing and matching the design plates.
Beginner Sewing Kit For Kids: I love that this sewing kit comes with a great storage container. The kit is for kid's slightly older than preschool age. The craft case comes with 4 simply shaped animals to create with your child.
Spirograph Deluxe Design Set: Another childhood toy I can't wait to introduce my daughter to. Your preschooler will love making different spiraling designs by interlocking the gears and wheels. Each tike you play you make a new design.
ALEX Toys Artist Studio Fantastic Spinner: For some parents this toy may be too messy, but used properly the paint should stay contained. Kids will love creating different spin art paintings. Use the finished product as greeting cards or decorations.
Play-Doh: I'm all about letting our daughter explore her crafting abilities, but I don't like really complicated projects. Play-Doh is a great way for children to mold and create on their own terms. You can go with basic mold and shape tools or fun kits like this Play-Doh Cookie set.
Stamp Sets: My daughter is obsessed with Disney Princesses and she is going to love this princess wooden stamp set. Your little artist will enjoy stamping everything, but don't worry it's washable ink!
Design & Drill: We got this toy for my daughter's 3rd birthday and she still plays with it. You can create numerous patterns by drilling different beads into the peg board. They have a boy and girl version.
Looking for more creative gift ideas?