Best Musical Toys for Toddlers
Our kids LOVE music and there is nothing cuter than watching a baby bopping to the beat, right? Music has so many benefits in childhood development. Since this is already an interest for our kids, we thought we would capitalize on this and find the best musical toys for toddlers.
I don't want to pressure them into learning an instrument quite yet, but our goal is to expose them to different beats, melodies and musical instruments. Also note in this list, I did not include any toys with batteries! I want our kids to learn to make music themselves.
10 Best Musical Toys for Toddlers
This post contains affiliate links for products we love.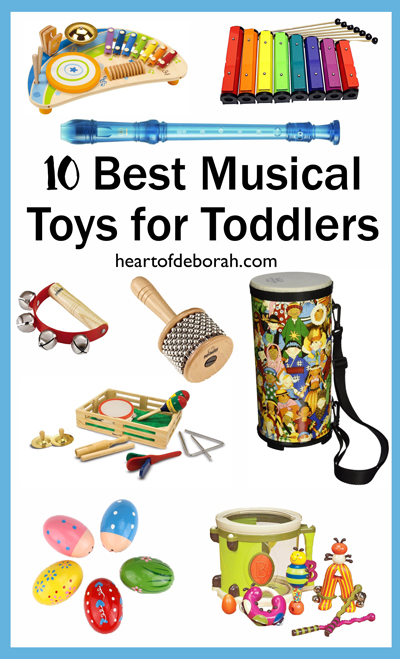 Remo Drums: These are the best drums in my opinion. Remo is the largest drumhead company in the world. Though they are a little pricey, they will last you for a very long time and your child won't outgrow it. I love the Multicultural-themed covering on this konga drum.
Egg shakers: Shaky eggs are a must in a child's first musical set! You can certainly make your own, but here are some other great egg shaker options. If you haven't heard the I Know A Chicken, Shaky Egg song, you must listen. It's a great song for your toddler to play along to.
Band in a Box: If you are looking for a great starter kit, this Melissa and Doug band in a box is perfect. Our daughter loves playing the different instruments and it comes with a nice wooden box to store all of the instruments in.
Sleigh bells: It doesn't need to be Christmas to have fun with sleigh bells. This is a great first instrument as it's easy to play. I don't know what it is, but I love the sound of steel sleigh bells.
B. Drum Set: This is another great starter set for young children. Our son loves playing with it and he isn't quite one yet. This B. Drum Set comes with a drum, egg shaker, and tambourine. One of the best parts is you can store all of the toys in the drum!
Wood Cabasa: This instrument is best for older toddlers because it is slightly more complicated to play. It makes such a fun sound! Once your kids understand how to play it they will love making sound with this wooden cabasa. Definitely a unique toy to add to your toddler's musical collection.
Hape Early Melodies: I love this all in one musical toy. It is a perfect starter set for your young musician. This brightly colored melody toy comes with a xylophone, a drum, a cymbal, a guiro, a clapper and drumsticks.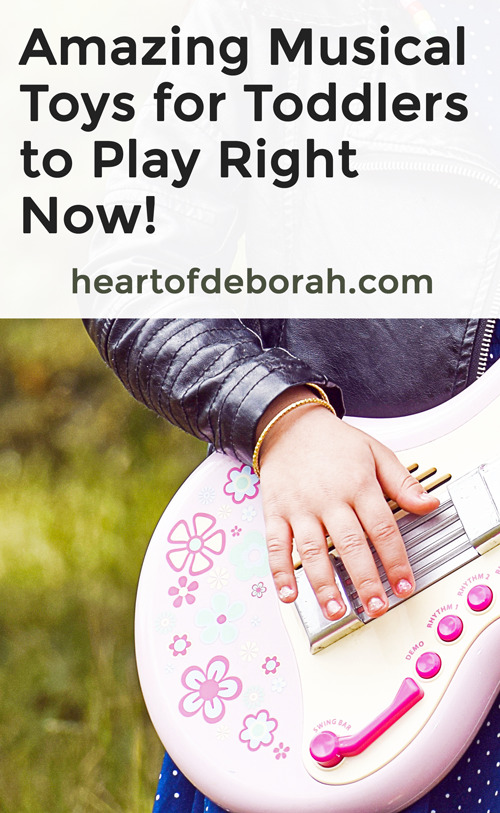 Hape Pound & Tap Bench With Xylophone: More of a toy than a musical instrument, but it definitely incorporates music and gives the child different ways to experiment with sound. Our son and daughter have both loved this toy since 9 months of age. Even though our daughter is 3 she still plays with this Hape toy.
Resonator bell: This instrument can grow with your child. At first, your child will have fun hitting the bell and listening to the sound. As they get older than will understand the different notes and may be able to play simple songs with resonator bells.
Recorders: Classic first musical instrument for young children. Most recorders recommend starting at age 5. If you want to expose your child to the concept you can try one of these fun water flutes to make music in the rub!
If you aren't up to purchasing musical instruments you can certainly make your own at home! Homemade toys are some of the best musical toys for toddlers. So many young children find beats and make their own music with whatever is around them. Our son loves to pound on pots and pans. He will also pick up two wooden balls and smash them together to hear the sound. Children also love listening to music and singing songs with hand motions. When they are young it is more about exposure and helping them identify beats and melodies. Formalized lessons won't come until later in childhood!
What is your favorite musical instrument for kids?