Toys for Preschoolers: Ages 2 to 3
Izzy's grandparents have been asking me what they should get her for Christmas this year. At first I didn't know how to respond because she has a ton of toys! Then I started thinking. Surprisingly many of the toys she plays with are from her first birthday or Christmas last year. I think it's time to invest in some new educational toys for preschoolers. I did my best research and picked out my top toys for STEM, Literacy, Fine Motor, and Gross Motor. I hope you find this list helpful when buying toys for your preschooler.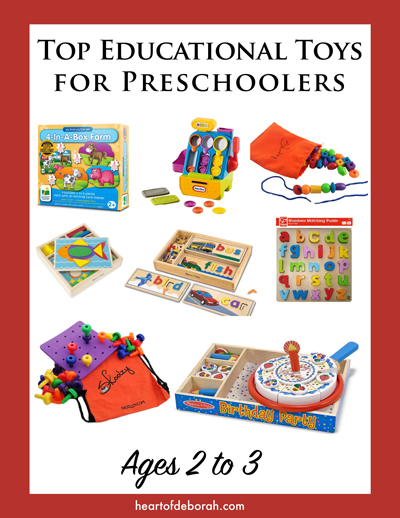 STEM
Puzzles: My daughter seems to have mastered peg puzzles. Although I love them and she still often uses them I wanted to find something a little more challenging for her. We recently discovered the puzzles by the Learning Station and they are great. Each box contains 4 puzzles with 2 to 8 pieces. I think it's a great next step from peg puzzles.
Tangrams: I remember playing with tangrams all the time when I was young. It's a great visual-spatial task and it helps with shape recognition. Izzy is probably too young for tangrams right now, but this Melissa & Doug Beginner Pattern Blocks is a perfect beginner set.
Marble Run: Growing up we were obsessed with our marble run. Looking back we developed our visual-spatial skills as well as our imagination every time we played with it. We would always commentate on the "races" and see which marble was the fastest. I can't wait to get a set for Izzy.
Alphabet & Literacy
Books: Reading books with your child is a great way to promote early literacy skills. You can point out different letters and ask your child to find all the letter Bs on the page. Lately Izzy has been really into Dr. Seuss books. I love the rhyming text and the repetition. Her favorites are Put Me in the Zoo and Dr. Seuss's ABC: An Amazing Alphabet Book! As she continues to learn and grow eventually she will be able to read these books by herself.
See & Spell: Another great way to promote early literacy skills is this Melissa & Doug See & Spell set. I believe it is a toy that will grow with my preschooler. Right now she can do the puzzle portion and I can help her identify the letters. As she gets older she can start to spell the words using the puzzle.
Pretend Play
Cash Register: Izzy got this Little Tikes Count 'n Play Cash Register for her birthday and she loves it. She enjoys sliding the credit card and pretending to pay. It also promotes number recognition and counting since the coins are labeled with numbers. We are slowly building her imagination and starting to play "store" with her!
Play House: Who doesn't love playing house? We recently got Izzy a play kitchen and she loves cooking steak or birthday cakes for her baby doll. Creative and imaginary play is so important for development. I love finding toys to promote pretend play. Check out this mop and broom set as well as this cleaning play set perfect for playing house.
Fine Motor Skills
Peg Board: I remember when I worked as a school psychologist the occupational therapist always promoted peg boards. Unfortunately because of choking hazards many kids no longer play with small toys anymore. It is important for them to learn how to manipulate small pieces because it helps with fine motors tasks such as handwriting. This peg board set is perfect to promote hand eye coordination as well as sorting and color recognition.
Fine Motor Tool Set: How cool are these hand tools? Your child will love scooping up cheerios or dried pieces of fruit with this tool set. It's a fun way to eat food and it promotes fine motor development.
Bead Lacing: Taking beads and lacing them on a string is a great fine motor task. The best part is our daughter thinks it's a game! Learning and building skills can be fun and many kids love the repetition of lacing beads.
Gross Motor Skills
Bike Riding: Our daughter has a Joovy Tricycle right now and I think it's a great way to teach her how to ride a bike. When she was younger she would place her feet on the stationary pedals and we pushed her around the block. Now she can peddle and when you push it gentles moves her feet. It is teaching her the motion of riding a bike. Eventually we can set her free and allow her to ride the tricycle without any assistance.
Spend Time Outdoors: You don't need fancy toys to develop gross motor skills such as running, skipping and hopping. Get outside and let your preschoolers run free. Izzy loves wandering around our yard and running up an down the big hill. It tires her out for nap time and helps with her coordination.
Golf Set: I am excited to get Izzy a golf set soon. Similar to a starter baseball set, your child can develop coordination and gross motor skills by taking hits and swings. You can also use it develop imagination.
What are your favorite toys for preschoolers?