Our baby boy is one month old! In the middle of the night when I'm sleep deprived and tired it seems like I've been doing this forever. During the day when I realize how quickly he is changing I think, how did a month go by already? This is why we have to treasure each moment.
I realized I never officially stated his name on Heart of Deborah. Before I get to the update I want to explain. With our daughter we started out by using her full name. I often wondered if this was a good idea for privacy reasons. Then one day another media outlet took her picture and used it in a promotion without my permission. I got nervous and upset! I decided to give her a nickname instead of using her full name on my blog to protect her privacy. After thought and consideration I am going to do the same with our baby boy. For Heart of Deborah's sake he will go by IJ.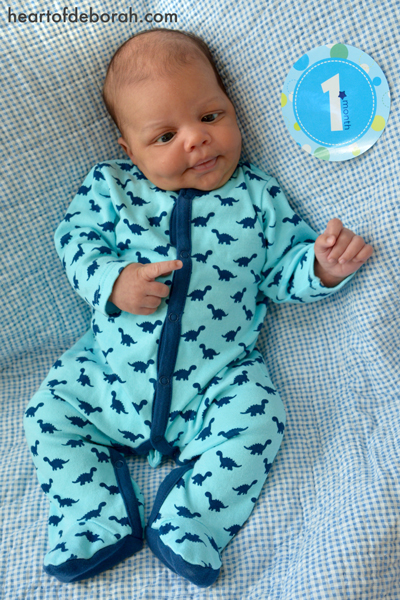 So here is his one month update. He is 23.5 inches long and 13 pounds 6 oz. He is huge! I know Carter's clothing runs big, but I put him in a 6 month old sleeper the other day and it fit. Crazy. He should be sleeping through the night at this weight, right? IJ usually wakes up 2 times a night and most of the time he goes back to sleep with only a little cuddling. Breastfeeding has been going great. I am loving it more this time around. For now. I unfortunately got Mastitis around 3 weeks and that was bad. I'm not used to being sick and having a fever and chills were terrible while trying to chase a toddler and feed a newborn. Please pray we don't experience this ever again!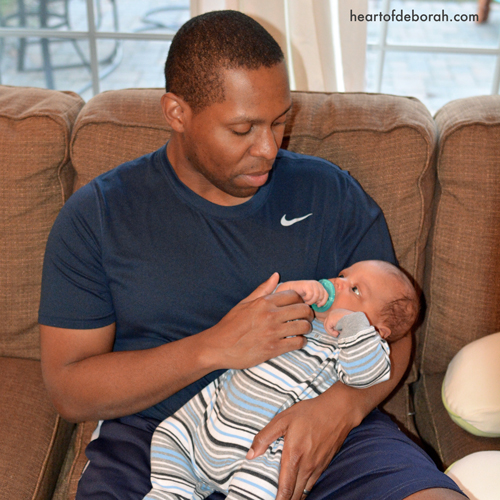 Overall, IJ is a very calm baby. Thank you Jesus! Surely he has his moments and he definitely cries, but I seem to be handling it better (most of the time). I'm not sure if I am more prepared this time or if I'm just used to the fact that babies cry. Either way it seems a little easier this time around. He is starting to discover his hands and I've gotten a few spontaneous smiles. I can't wait for even more smiles and cuddles in the months to come!