Ever since our daughter got her first pair of Minnie Mouse pajamas she has been obsessed. She loves Minnie Mouse. I thought it would be perfect to dress her as Minnie this year for trick or treat. We were thrilled when Little Tikes asked us if we wanted to transform a Cozy Coupe Wagon to fit our Halloween theme.
Although there are many DIY Minnie Mouse costumes out there on Pinterest, I've been a little busy with a newborn. This DIY tutorial is perfect for busy moms.
When I transformed the wagon I of course wanted it to look cute, but I also wanted to be efficient and simple in my design. I ordered Izzy's Disney Minnie Mouse Costume
on Amazon and I let her borrow my ears from Disneyland Paris.
This post contains some affiliate links for products we use and love.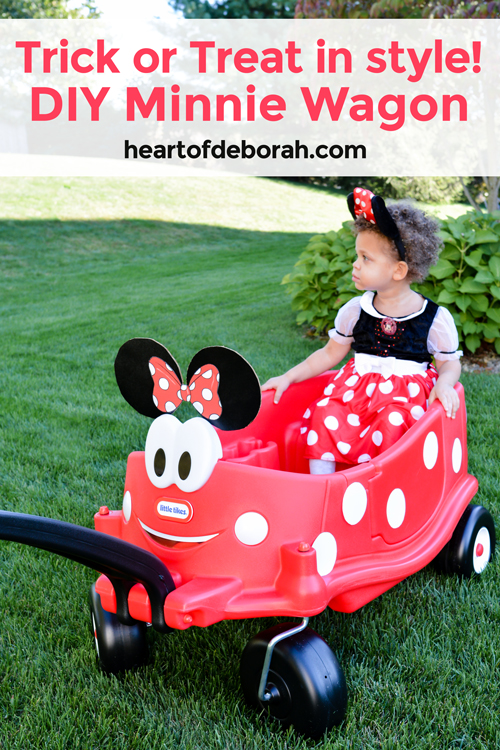 Then I got to work on the wagon. I found this awesome printable vinyl sticker paper
and decided to cut out my own circles for the polka dots. You can buy pre-made circles, but I thought I could save money by doing it myself. I traced one of our drinking glasses (approximately X inches) and made 12 circles on the vinyl paper. The vinyl sticker is best because it is durable and goes on smooth.
I placed the 12 circles around the wagon to create Minnie's polka dots. Then I used the lids from my pyrex dishes and traced two big circles on the cardboard from the wagon box. We used black spray paint to cover the cardboard. Next, I found a polka dot bow online and printed it out on the printable vinyl sticker paper
. Then I cut it out and pasted it on the two black cardboard circles.
I have to be honest, the backside of the ears isn't the prettiest. I used pencils to keep the ears sturdy and duck tape to secure it to the wagon. Only my toddler saw that not so pretty view and again I wanted something fast and efficient.
I'm not sure of a better way to secure the ears on the wagon without them falling off easily. Unless you want it on there for longer and use a heavy duty glue or glue gun.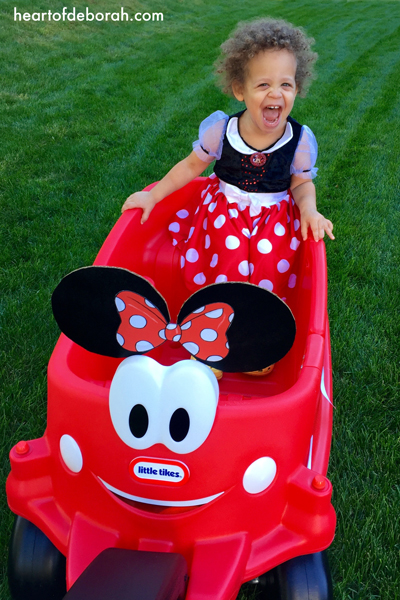 We can't wait to go around our neighborhood with Izzy this year in her wagon!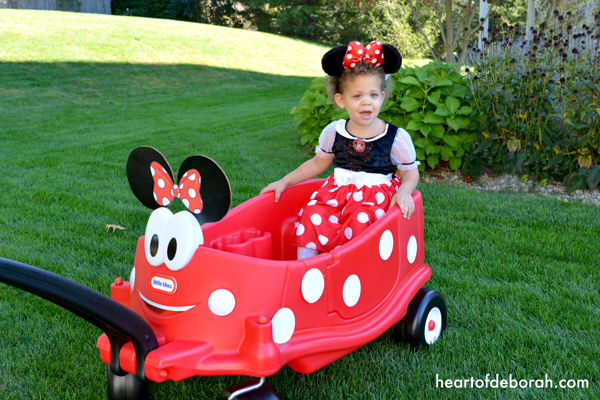 Disclosure: This post has been sponsored by Little Tikes. Although I received a cozy coupe wagon to review, all opinions expressed are 100% my own.