This post was sponsored by Armstrong Ceilings as part of an Influencer Activation for Influence Central and all opinions expressed in my post are my own.
We've lived in our new home for over a year, but we are just starting to redo some of the bedrooms. A few weeks ago I added some new touches to our master bedroom. Also now that our daughter is in a big girl bed, we are in the process of giving her room a big girl makeover. As part of her room's transformation, I've been eyeing wooden plank ceilings on Pinterest. I'm thinking it would look adorable in our daughter's room! Have you seen these Armstrong Ceilings Country Classic Planks?
I just recently learned about Armstrong Ceilings Easy Up installation and I was amazed at how easy it looks to install. You'd think it would take days to put up a plank ceiling, but you can totally do it in a day or two at the most with Armstrong Ceilings installation tracks.
I visited our local Lowe's to get more details and check out the samples. I personally like the WoodHaven Ceiling Planks Armstrong Ceilings offers. It's great that you can see how it would look in a room on their website. The Country Classic Planks and the Easy Up System are stocked in select stores and available for special order express. The WoodHaven collection with the weathered plank or beadboard plank, is available in 14 days or less. Just to clarify, the WoodHaven is a ceiling plank that can be installed via the Easy up clips, it not itself a track. I think both options would look great in a farmhouse style bedroom!
Transform Your Ceilings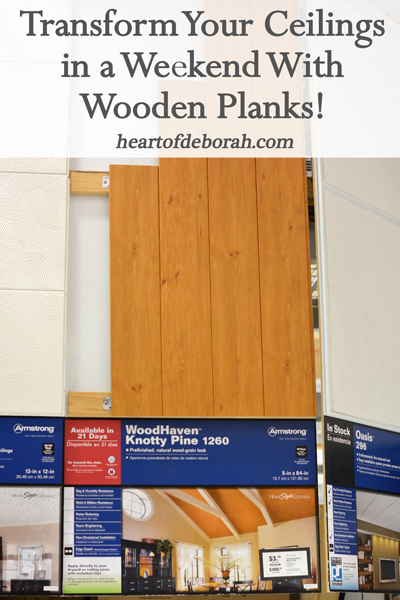 I know many homeowners want to get rid of popcorn ceilings, but it looks like a cumbersome removal process. With the Easy Up installation tracks you can easily cover up popcorn ceilings or damaged ceilings with little hassle. As I said before, even if you don't have popcorn ceilings, these planks add a unique feel to a room!
You can pick up the Armstrong Ceilings Country Classic Planks are avalible for in-store pickup at nearly 150 Lowe's locations across the United States. Select stores have the product stocked and ready to go. If it isn't available in a store near you, don't worry. You can still get it through special order express, which means you have the product in seven days or less.
What do you think of these ceiling planks? Would you add it to your home to transform your ceilings?