5 Brilliant Healthy Alternatives to Halloween Candy
Halloween is right around the corner and this year my daughter may actually understand what is happening! We let our daughter indulge in occasional sweets, but we also want to teach her balance and how to make smart food choices. This year I decided we need a plan. I brainstormed some ideas and today I'm sharing healthy alternatives to halloween candy.
I have to be honest (and people may not like this), but I was never really a fan of halloween. It wasn't really a big deal growing up and now as an adult I think it's kind of silly.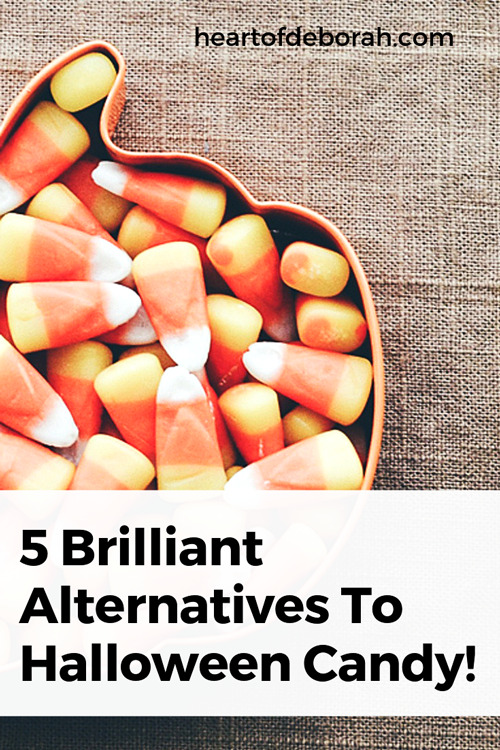 I'm definitely not in to all the witches, goblins and ghosts and I don't feel a need to go house to house to get treats. That being said I know my daughter likes playing dress up and celebrating fall is fun as a child. So I came up with some alternatives to trick or treating as well as healthier candy options.
Healthy Alternatives to Halloween Candy
This post contains some affiliate links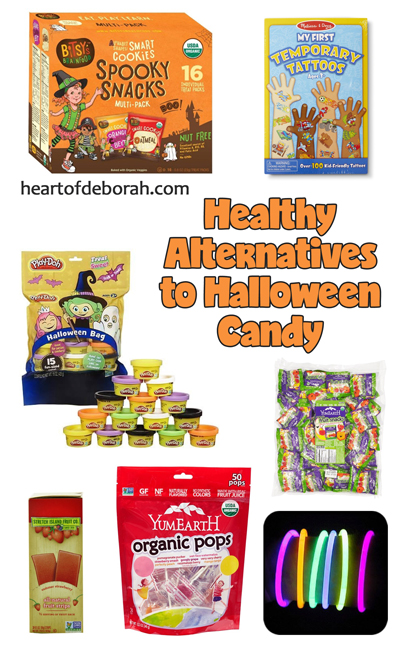 Enjoy a fall event:
Instead of trick or treating find a fall festival you can attend with your family. Search your local pumpkin patches, apple orchards and churches for fun events that include more than just candy.
Many events give kids an opportunity to dress up, play games or win prizes. You can still celebrate fall and have a great time without pounds and pounds of candy.
Get together with friends:
I also like the idea of planning a harvest party with friends. It could be as simple as planning a casual play date at the park and letting your kids dress up.
You could bring healthier treats and encourage the kids to go "trunk or treating." Instead of going door to door you walk trunk to trunk and get a treat at each car. If you do this with a few other families it would be plenty.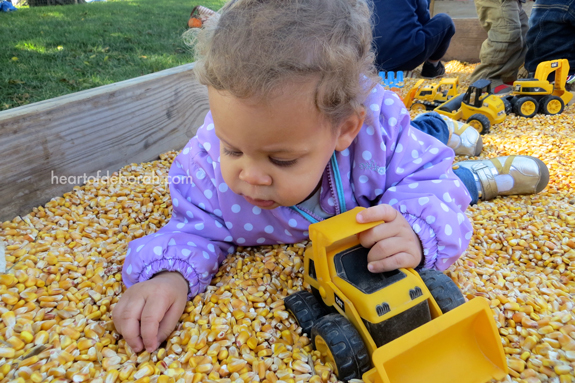 Consider Switch Witch:
I'm not big on the name so I would consider calling it something else, but I like the concept. Essentially your kids trade in all their halloween candy for a toy.
Talk to your kids about this ahead of time to avoid tantrums and to create a plan. It doesn't need to be an expensive toy, it could even be a new book. It removes the temptation of overdosing on sugar while still allowing the kids to go trick or treating.
Set Boundaries & Spread Out Consumption:
To avoid meltdowns have a conversation about your expectations before trick or treating. Many parents are successful at setting boundaries and limiting their child to 1 or 2 pieces of candy a day. If you start traditions like this when they are young, they will become used to the routine as the grow older. Your kids will understand how it works in your family and they will still have fun.
Hand Out Healthier Options:
There are plenty of healthy alternatives to halloween candy. Instead of candy you can hand out Play-Doh, temporary tattoos or glow sticks. You can buy in bulk from Amazon or Oriental Trading.
Other food options include fruit leather, fruit snacks, dried fruit, organic lollipops or brainfood smart cookies. If you have an Aldi's nearby they have some great fruit ropes and leather. You can buy a few boxes and hand out the individually wrapped pieces. I'm also a big fan of Amazon because it's easy! Buy in bulk to save money.
How do you handle all the candy? Do you celebrate Halloween or avoid trick or treating all together? I'd love to hear from you in the comments below!