Folate Rich Foods Chart for Pregnancy
Folate is an important nutrient for women and their babies before and during pregnancy. Many doctors along with the Center for Disease Control recommend women get 400 micrograms of folic acid everyday. Proper intake of folate reduces the risk of babies being born with serious neural tube defects. Prenatal vitamins often include folic acid in their formulas. I'm always a fan of getting nutrients from whole foods instead of synthetic sources. So I turned to food!
What are the most folate rich foods?
I wanted to ensure I was getting enough folate (the naturally occurring vitamin) versus folic acid (the synthetic form) so I created this chart when I was pregnant. I started measuring my folate intake a few months before I became pregnant and I continued to be aware of what I was eating throughout my pregnancy. I hope you find this information helpful in your journey to
motherhood
.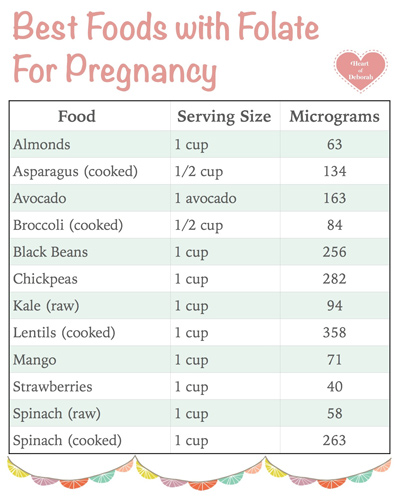 I tried to eat beans at least once a day since they are high in folate. I included beans on a salad, in soup, or in a quinoa dish!
Check out some of my favorite recipes when I was pregnant:
What is your favorite meal to support a healthy pregnancy?