15 Healthy Snacks for Kids
Lately, I've been running out of healthy snack ideas for our toddler. We've been in a rut when it comes to new recipes and she has been eating way too many peanut butter and jelly sandwiches. I decided to do a search and find some new and exciting snack ideas for our family. I came across so many awesome healthy ideas for kids that I needed to break them up into two sections. First I am sharing 15 snacks you can make ahead of time for your kids. Don't overwhelm yourself and try to make all of them at once. My plan is to pick one recipe a week and test it out.
Follow my healthy snacks for kids board on Pinterest for more delicious and healthy recipes!
Toward the end of this post I am also sharing 10 quick and healthy snacks that take 10 minutes or less to prepare for your kids. It's always good to try some new recipes, maybe you will find a new family favorite! Although these snacks are aimed toward kids with their bite sized servings adults can certainly enjoy them too!
15 Snacks to Make Ahead of Time
Apple Pie Oat Bliss Balls from Kidgredients
Frozen Banana Yoghurt Bites from Eats Amazing
Rainbow Peppers + Feta Quiche from Baby Foode
Broccoli and Cheese Mini Muffins from Kidgredients
Banana Oat Monster Cookies from Teach Beside Me
Frozen Yogurt Blueberries from Heart of Deborah
Spinach Zucchini Bites from Kara Carrero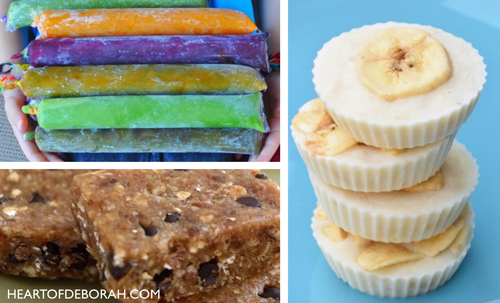 Nutty Chocolate Chip Bars from Hen Family
Sweet Potato Crackers from Syncopated Mama
Avocado Blueberry Muffins from Baby Foode
Cheesy Veggie Quinoa Bites from the Melrose Family
Veggie Popsicles from Kids Activities Blog
Mexican Grilled Avocado Eggs from Frugal Mom Eh!
Cranberry, Quinoa, and White Chocolate Granola Bars from Meaningful Mama
Raw Vanilla Coconut Macaroons from Heart of Deborah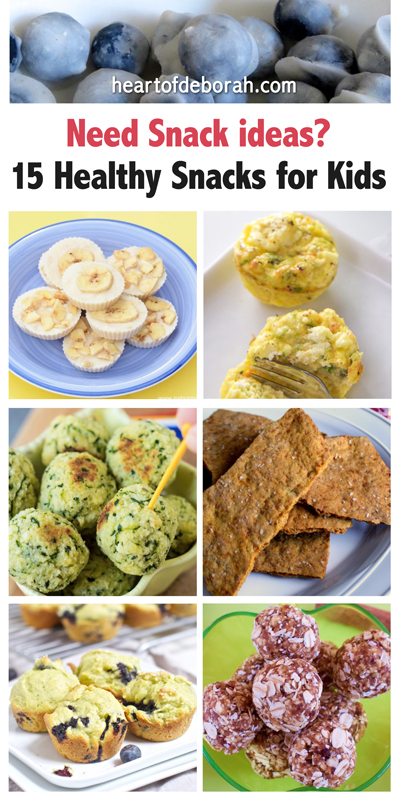 10 Quick Healthy Snacks
Carrot & Cucumber Coins from Eats Amazing
Raspberry + Lemon Steel-cut Oats from Baby Foods
Kid Friendly Green Smoothie from Heart of Deborah
Babyccino from Danya Banya
Healthy Peanut Butter Chocolate Smoothie from Heart of Deborah
Gluten Free Snack Mix from The Chaos and the Clutter
Lemon Blackberry Yogurt Parfait from Hen Family
Cucumbers or peppers with hummus
Dried fruit (we love dried mango)
Apple slices with almond butter
What are your favorite healthy snacks for kids?
Follow my healthy snacks for kids board on Pinterest for more delicious and healthy recipes!