Simple Farmhouse Kitchen Ideas
We moved to our new house in June and we have been busy unpacking, organizing and decorating. I have to admit this is one of the first times I have really cared about decorations. We never really had a "budget" for home decor and I was okay with that. I like doing DIY projects so a lot of our decor was handmade or from thrift stores.

I have always loved the style of a simple farmhouse kitchen. Although our budget has expanded recently we are still being careful about how we spend our money. I definitely didn't want to do a complete kitchen make-over, but I wanted to add some of our own touches to our new house.
This post contains some affiliate links for products we use and love.
Today I want to share some simple farmhouse kitchen ideas that won't break the bank.
First, we changed the light pendant shades above the kitchen island. We were able to keep the base and just switch out the pendant which made it a super affordable fix. We purchased the French bronze shades from Lowes. I also love how Edison light bulbs
look. Have you heard of them? It adds a vintage touch to the kitchen.
My grandfather has a barn on his property and we were able to salvage some old barn wood that was used as horse stables. This part was trickier and my family definitely needed to help me. My dad and uncle helped level the shelves with a plane saw then my husband stained the shelves a dark walnut. We
purchased simple brackets from Lowes to attach to the wood. On the same wall we added a rustic metal letter G for our last name. It adds a unique touch and it's super affordable from Hobby Lobby.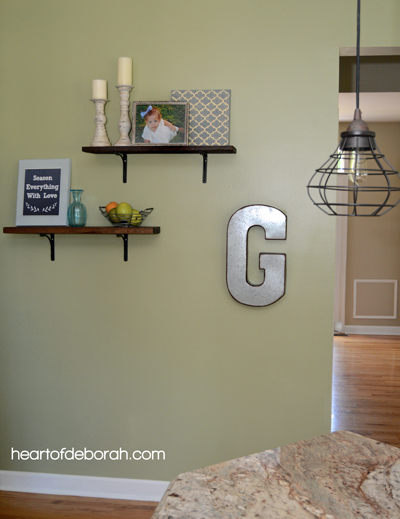 I also created this chalkboard printable to include on the shelves. I will be sharing it next week for all my readers to download. I love the canvas my mom made for the print. The best part: it is magnetic which makes it interchangeable! So I can easily switch out the pictures as the seasons go. Now for a shameless plug to our Etsy shop.
Lastly, I love these boxwood wreaths
. I think it adds a subtle touch to the windows. I also believe plants, flowers, and greenery in general add a great touch to a space. The glass jar vase
holding the sunflowers is made by Home Decorators and only $12!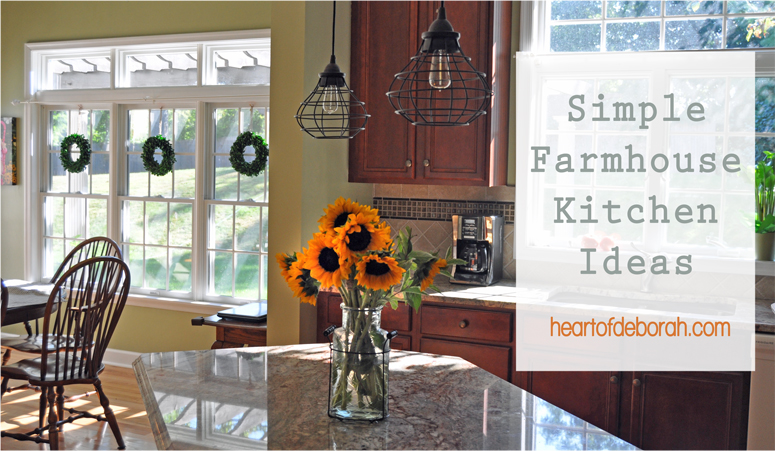 Do you love a farmhouse kitchen?
What is your favorite kitchen accessory?