Transition From Crib to Bed
A few months ago our daughter made the transition from crib to bed. It went better than I could have imagined! Now I must preface this with saying our daughter has always been a good napper and sleeper. Early on we practiced sleep training with her (read more here) and she always loved her crib. Around her third birthday we switched her to a big girl bed. Izzy never climbed out of her crib, but she was getting bigger and seemed ready. She was so excited to pick out her new bed and redecorate her room. Today I'm sharing 3 tips to ease your transition from crib to bed along with her room makeover!
Also as a side note, Izzy is her nickname for Heart of Deborah. You may see the letter E in her room and it is for her full name 🙂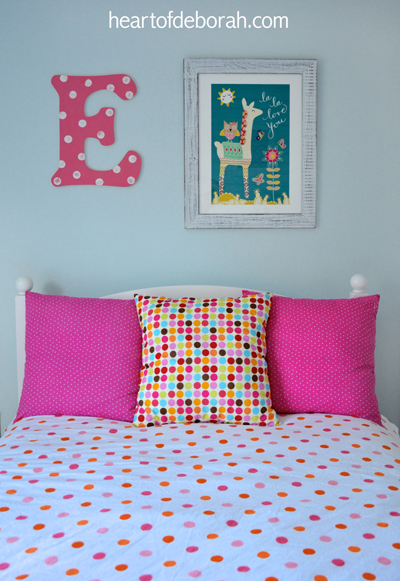 Sleep Transition Tip #1: Involve Your Child in the Process!
First, I'm a believer in involving kids in the process. When we found out Izzy needed glasses her doctor suggested involving Izzy in the process of choosing her new frames. He said the child is more likely to wear the glasses if she has a say. This same philosophy can be used in transitioning to a big girl bed. We showed Izzy the bed we ordered it and she was so excited. She had more of a say when it came to the bedding. We showed her a few different styles and she picked out her favorite from Garnet Hill. Make sure all of the choices you give your child, you are okay with!
Sleep Transition Tip #2: Set Boundaries
When we first moved Izzy to her bed we bought a green light alarm clock. You can set the time you want it to turn green and at that time it signals to the child it's time to wake up. Izzy knew she couldn't get out of her bed until the green light came on or until mommy or daddy came in her room. Honestly, this hasn't been an issue for her, but I know every child is different. Some children may struggle with getting out of bed. I'm always a fan of setting boundaries ahead of time so the child knows exactly what to expect. Before you make the transition decide with your spouse how you want to handle it. Then the most important and yet the most difficult part is sticking to your decision!
Sleep Transition Tip #3: Find the Right Timing
During potty training I realized we probably didn't start it at the best time. We were already half-way through it so we stuck it out, but I think it could have been better timed. Unfortunately I don't think there is any magic wand you can wave to tell you exactly when to make the transition. On the other hand, trust your mommy instincts. If your child is climbing out of the crib and you fear for his or her safety it may be time to switch to a bed. Some parents decide to make the transition after potty training or before a sibling is born so they don't have to buy two cribs. The school psychologist in me wants to tell you to make the transition when there aren't any other big life events happening (siblings being born, potty training or during a move). I understand this isn't always possible or practical, but it's something to consider before you try out the big kid bed.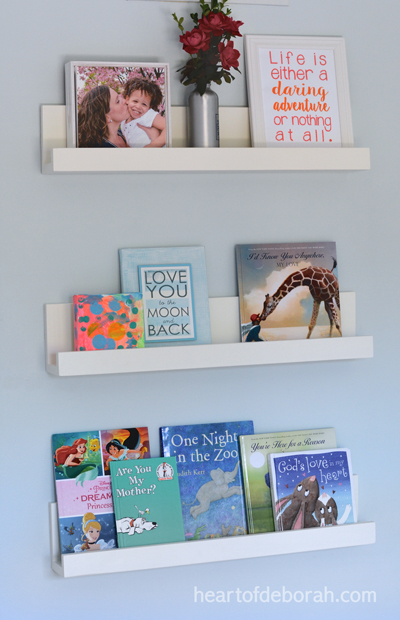 Lastly, I want to give you a short tour of our daughter's room. We love the fun, bright and playful bedding our daughter picked out from Garnet Hill. Polka dots are timeless and we can dress it up or down as she grows. I think it looks perfect with the Llama Love print from Minted.com. The print is hanging in a distressed white handcrafted wood frame. The print and frame are so charming and perfect for a child's room! We are waiting on the Little Artist Shelf from Minted.com to put over Izzy's dresser. She LOVES to create art and this shelf is the perfect place to showcase her original artwork.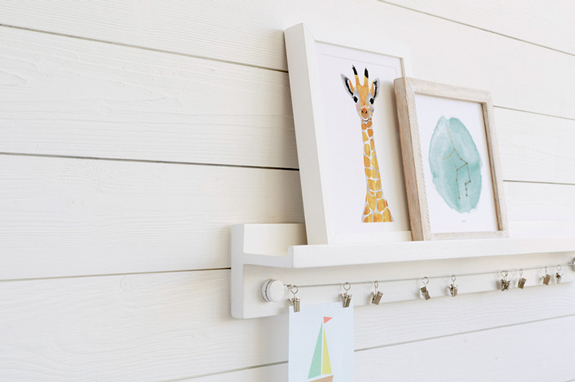 Her bed is from Pottery Barn Kids and it's the perfect size. Without a boxspring it's not too high off the ground so she hasn't needed any bumpers. One of my favorite parts of her new room are the 3 new bookshelves! My cousin built them for me using this ledge shelf tutorial from Christina's Adventures. I painted them white to match her bed. They turned out beautifully. My daughter loves choosing a book from her shelf and reading it in her cozy reading corner. We are searching for a child's chair, but for now she is happy to use fluffy pillows and her favorite Izzy blanket. I know the colors are BRIGHT. Isn't that what childhood is all about? Color, joy and happiness?
I hope you enjoyed her room makeover and learned something new about the transition from crib to bed. I'd love to hear your experiences in the comments below.
What Are Your Best Tips for the Transition From Crib to Bed?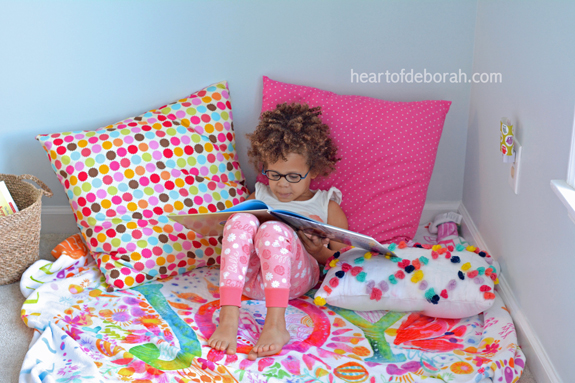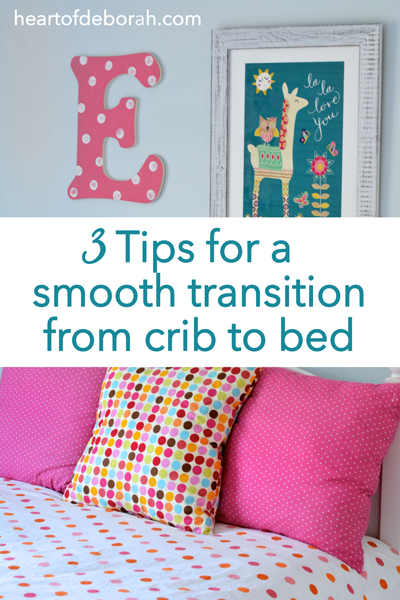 Disclosure: Thank you Garnet Hill and Minted.com for providing us with beautiful home decor to review on Heart of Deborah. Although we received product for free we were not required to write a positive review.