How to Stop Yelling at Your Kids: 3 Easy Steps!
I didn't realize how impatient I was until I had children. We'd enjoy our breakfast one minute, and the next, I'd yell at my kids because someone accidentally spilled the juice all over the floor. What happened!?
When I became a mom, my kids seemed to bring out all these hidden emotions inside me! I quickly realized I was not the most patient mom.
With 3 kids, there is always noise in our house. It's usually around dinner time I feel anger starting to boil inside my body. Here come the questions:
"I'm hungry! Can I have a snack? When is dinner ready? But I don't like that for dinner (whine whine whine)."
All while the baby is crying at my feet as I'm trying to put something safely into the oven. AHHHHH!!! Have you ever been there?
If the answer is yes, first, you must know nothing is wrong with you. As moms, there will be moments when we feel frustrated. That's inevitable.
Especially living in these times of uncertainty, stress levels are definitely heightened. So it's natural that when your toddler tests your patience or the baby is whining all day, you start to feel irritated.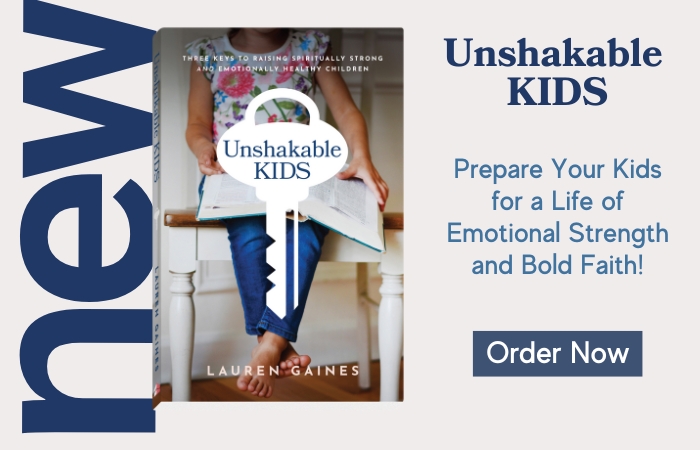 But the good news is we don't have to stay stuck in our frustration, and we can learn how to remain calm and not lose our temper. There are strategies we can use to be more patient moms with our babies, toddlers, and kids.
In this post, I share three ways to stop yelling at your kids. Keep reading to find out how YOU can be more patient with kids!
RELATED: Ways to find peace in our homes during this stressful time. READ: How to Create Peaceful Homes Families Want to Come Home to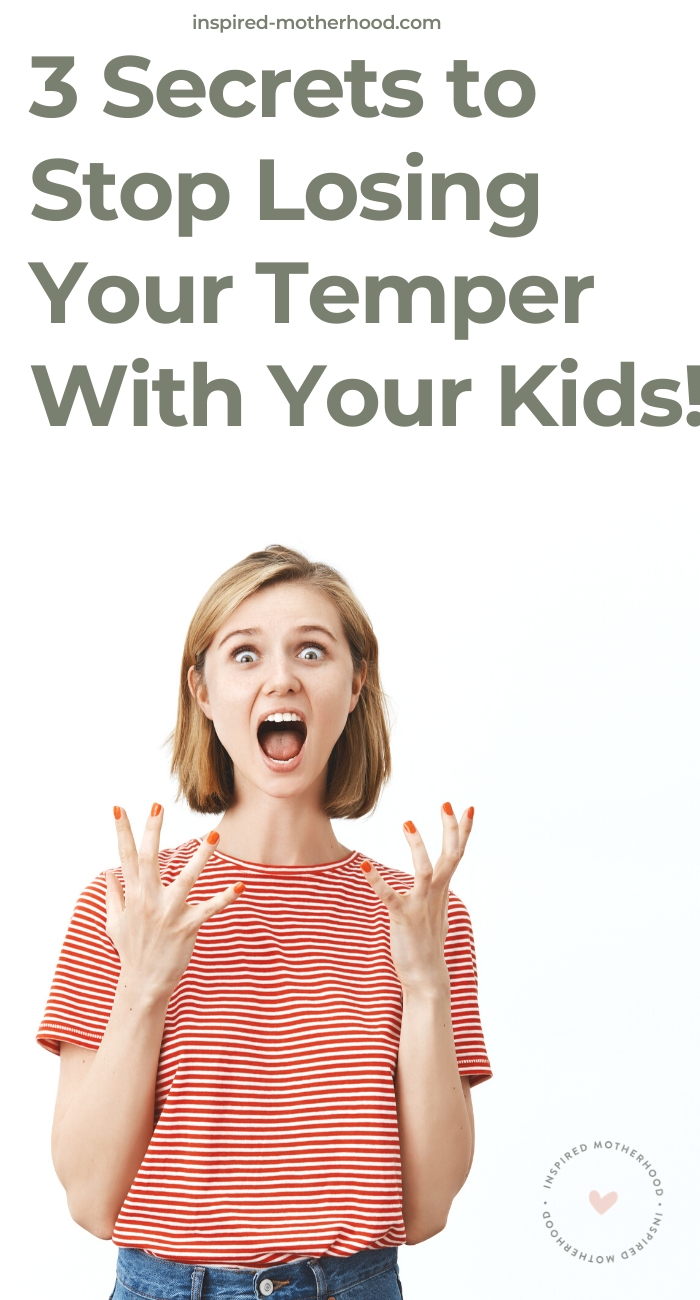 Losing Patience? Lost Your Temper? There is help!
Before you beat yourself up anymore for losing your cool, I want you to know it's natural to feel irritated. The tools I can offer won't stop you from ever feeling a negative emotion again. We can't expect to never feel frustrated as a mom. BUT we can find ways to positively cope with this frustration. It's possible to find ways to deal with life's difficulties without screaming at our kids all the time.
As a psychologist and mom, I've been working on this for years, and I'm here to tell you change is possible.
So what's the first step?
First, we have to take a look at our stress levels. When I feel overwhelmed with tasks, I'm likelier to lose my temper and yell at my kids. One day as I sat with my crying kid, I became tired of feeling angry. I realized something need to change. My trying harder each day wasn't doing anything to help the situation.
So I went to God in prayer, and I asked Him what needed to change. God pointed out some incorrect (and honestly ugly) thoughts I had about motherhood. I needed him to restore and rewire my mind. I prayed He would help me take every thought captive and reframe the ugly thoughts into helpful ones.
God also showed me that it's not a bad thing to take care of myself. For me, I feel best when I have some alone time in the morning. Where I can think without questions and pray without interruption. The trouble is I often used my kids as an alarm clock. I needed to make changes if I wanted to take care of my spirit and mind. And changes can be challenging.
But I started waking up early, and I realized doing something intentionally to nurture my emotional health, helps decrease my stress levels, which lessens the changes I'll lose it on my kids.
Another part of the process was learning to ask for help. Mamas, we can't do it all. And we need to face that fact. It's okay to ask for help in motherhood.
If you often feel pushed to the edge and like you could lose your cool at any moment on your family, look at your stress levels. How often are you doing something for you? To take care of your body, mind, and soul? Brainstorm a few action steps to add more self-care and soul-care into your daily life.
Step #2: We must identify our triggers.
If we want to stop yelling at our kids, we must be aware of our emotions and feelings. Are we at a boiling point? How are we feeling? Are there things we can do to stop ourselves before we get to this boiling point?
FIND YOUR TRIGGERS.
For me, it's feeling tired. I am much more likely to lose my temper when I'm not getting adequate sleep.
Baseline anxiety is another one. When I'm anxious, it impacts my entire house. Then I become less patient with my kids.
So what are your triggers?
If sleep is a priority for you, you need to start making it a priority. If making dinner without interruption is a trigger, then brainstorm ways to handle this time of day before it happens.
Can I put out a tray of fresh veggies for the kids to snack on? What about planning screen time during dinner prep?
Whatever your triggers are, take a step back and brainstorm solutions.
Do this to prevent getting to the boiling point; even if you do reach the boiling point, you have a concrete plan to help de-escalate.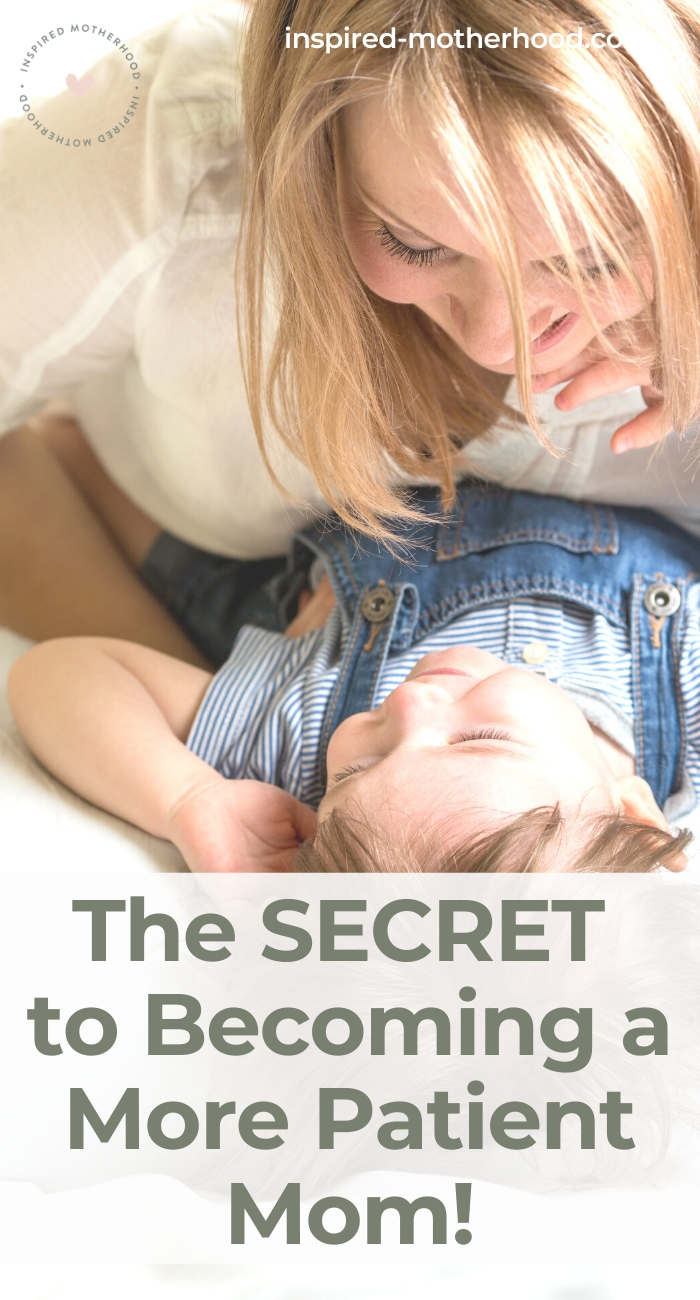 Ask yourself: How can I improve the situations that tend to stress me out the most?
Whether it's preventative measures or things you can do in the moment, think about it. Every now and then, it's good to take a self-analysis and see how you are doing. Don't let your big feelings reach a boiling point.
Take a few moments

before you reach your breaking point

to refresh and reset.
Motherhood is hard. We can't do this alone. If you need "me-time" to refresh, try to find ways to add this to your day. Whether it's asking your spouse for help, your family or friends for a few hours of babysitting. Do it. Do it for yourself and your family.
It's okay to ask for help or ask for a break. It doesn't make you a bad mother. It makes you human.
Step #3: Find Perspective
Another strategy that has helped me time and time again is to find perspective. This is so important when I find myself losing my patience and ready to scream at my kids.
I challenge my thoughts and tell myself this stage won't last forever.
There will be a time when I can cook dinner without interruption. A time when I sleep the whole night through. Whatever stage you are in, it won't always be like this.
Also, remember you are not alone in this. It's normal to have moments of confrontation. If you lose your temper, you are not a failure.
Dare I even say it's okay if your kids see you lose it once and a while? Our kids need to know we are human. Life is hard. Everyone gets frustrated.
It's how we deal with that frustration. If you have lost it on your children and said things you regret, talk to them about it. Apologize, and explain how you felt in the moment.
Sit down with your kids. Have an honest discussion about emotions, and apologize if you need to.
Then brainstorm together ways to improve the situation. What could you have done differently? Show your children how to problem solve by working through this together!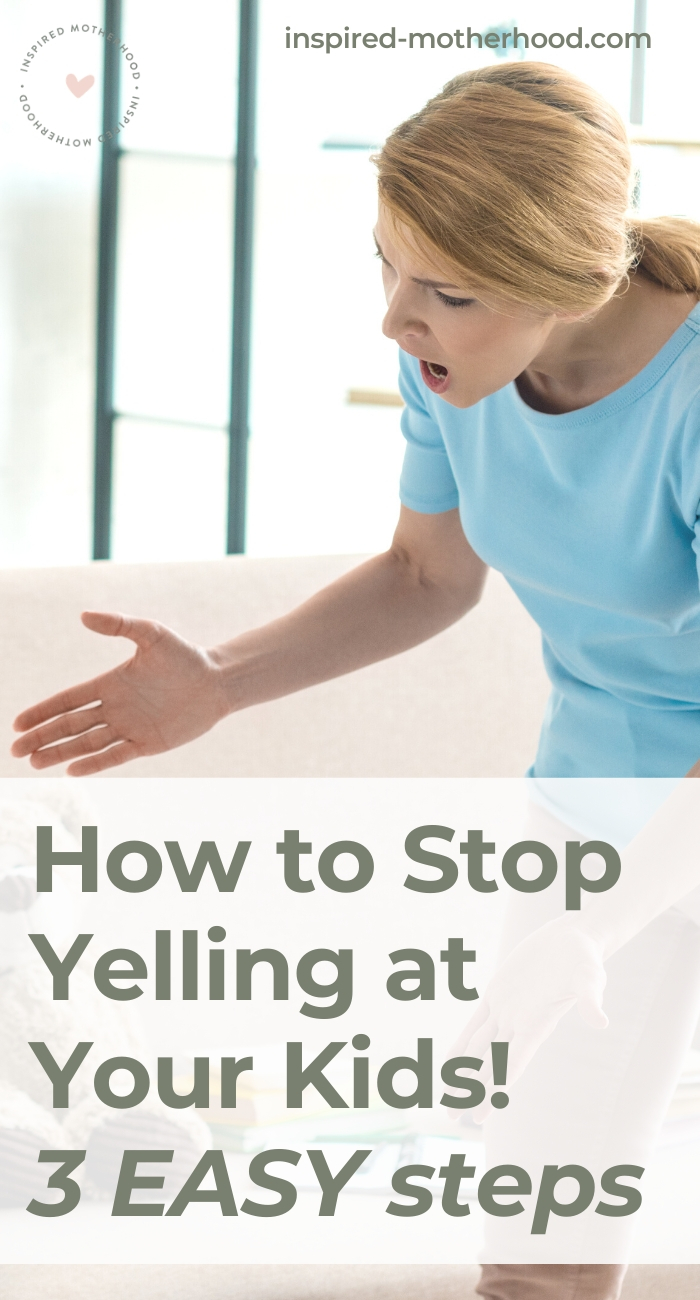 Kids have moments of anger and mommy can have them too.
It's unrealistic to think kids will never push back or annoy you. It's a normal part of life. But you can learn how to remain calm and parent your child joyfully
Finally, be honest with yourself. Talk to your spouse about it. If you need more professional help, do not be ashamed. Talk to a counselor or doctor about your feelings and get the help you need.
So what about you? Do you lose your patience with kids? Tell us how you learned to stop yelling at your kids!
I'd love to hear from you in the comments below! You can be more patient with kids!
Also, be sure to connect with our community of moms on Facebook and Instagram for more support and encouragement.
Read This Next: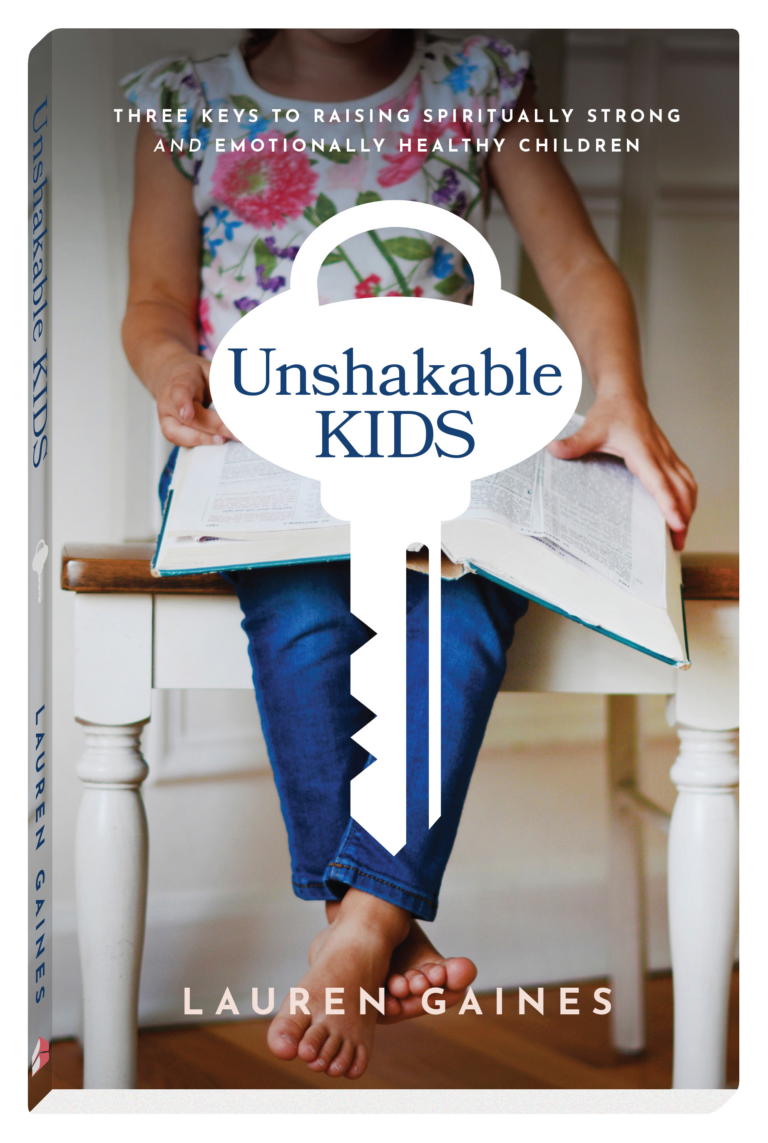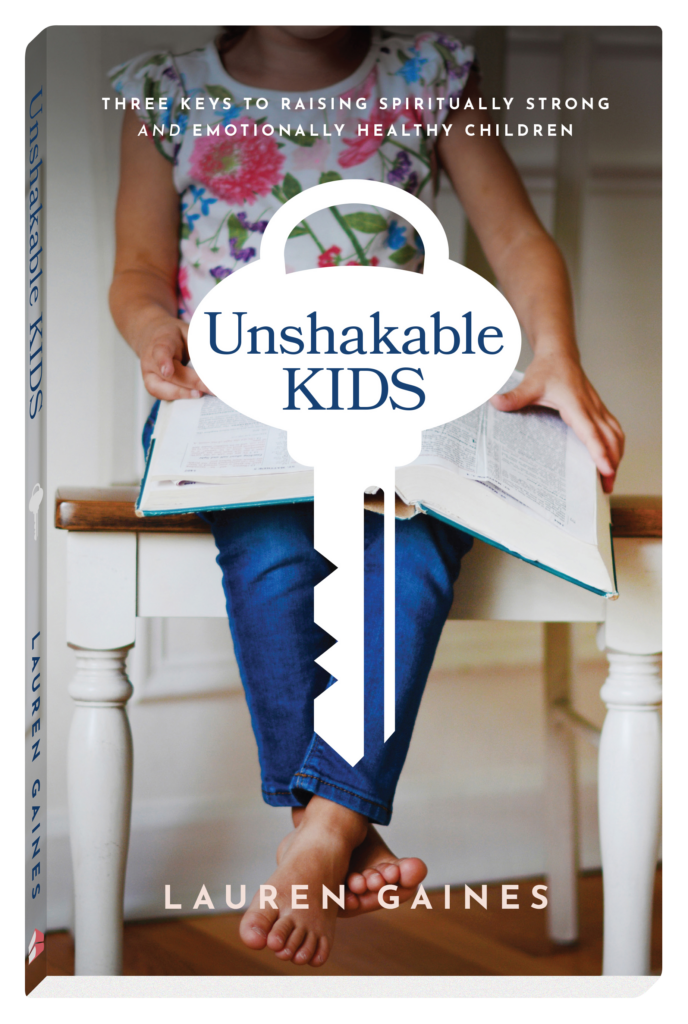 If you enjoyed this, you'll love Unshakable Kids!
"Our role as a guardian includes teaching our kids how to protect and guard their own hearts" You can raise strong kids, even in a broken world!