3 Meaningful Ways to Bring Peace to a Worried Mom's Heart
I didn't realize how much fear gripped my life until our daughter was born. Now I know all moms go through an adjustment period when they have their first child. It's normal. Having a child is a big deal and so many things change!
I just didn't realize how many things there were to worry about! One of my biggest fears was her nutrition.
"Is she getting enough milk? How do I know how much she is drinking? Am I even nursing right!?"
Sure breastfeeding was awkward at first, but I don't think I realized how great it was going until years later. My daughter was back at birth weight 6 days after she was born. This is incredible for a new mom. Yet I still worried.
Follow Inspired Motherhood on Instagram for Encouragement in Motherhood!
I worried about how much she ate for an entire year! I was too scared to diet and try to lose the pregnancy weight I gained in fear of my daughter not getting the milk she needed.
Looking back I wish I could have enjoyed this more and celebrated the victories instead of worrying about the what-ifs.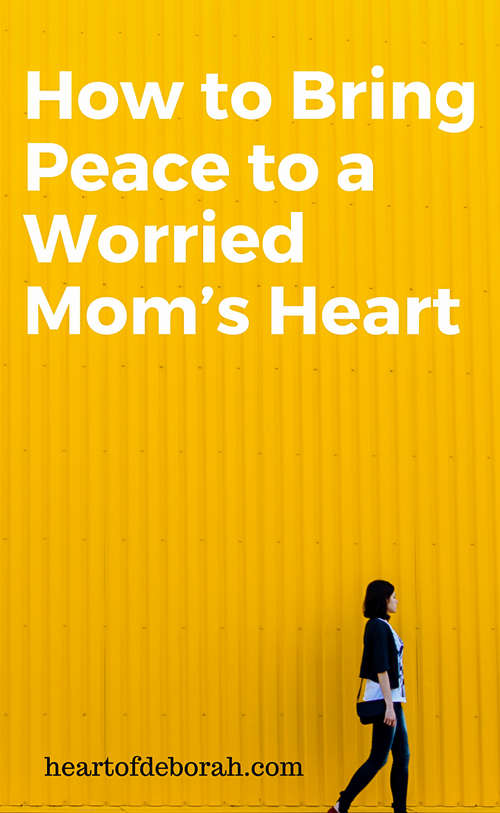 Now that my youngest is entering the toddler stage I'm flooded with a whole new set of worries. "How do I know what type of discipline is right for us? What if he grows up to be a brat?"
The fears never end. In each stage there is always something new to contemplate or worry about.
I got to the point where I couldn't live that way anymore. Tired of giving my life away to worry. I needed to learn how to let go and let God.
A side note: I have a background in psychology and anxiety disorders, postpartum depression, etc. are real. It's so important to get the help you need if you are facing this. Find a doctor and/or therapist you can trust, someone who can give you the medical care you need to feel better. 
So how can a mom who worries too much find peace? I'm going to share with you my journey in overcoming worry as a new mom.
First, Identity the Negative Thoughts
This may seem like a no brainer, but so often we don't even realize all the things we think about on a daily basis. Take a mental inventory of your thoughts. How often are they negative? How often are they positive? What do you worry about the most? After you identify your wrong thinking, find the root of the thought.
Second, What is the Root?
To get to the root I had to take a look at my situation and reflect. What was I REALLY worried about? Many times worry or fear is deeper than you initially think. For me, I realized I like to have control and being a new mom I felt totally out of control! I wanted to plan and prepare, but I quickly realized this was almost impossible with a newborn.
As I prayed God showed me different times in my life when fear was planted into my heart. I needed to remove these seeds. He also told me, and this wasn't the first time, you need to trust me.
Third, Ask God to Renew Your mind
After I recognized the root of my anxiety, it was time to change. But when your mind is so used to worrying as the default it's not as easy as saying "I want to change" and poof….like that it's gone. It's been a process and through it I've found peace in God's word. His Word is life giving.
Over the last year, I've asked Him to renew my mind and help me replace negative thoughts with His promises. He transformed my worried mom's heart into a heart of thanksgiving and peace.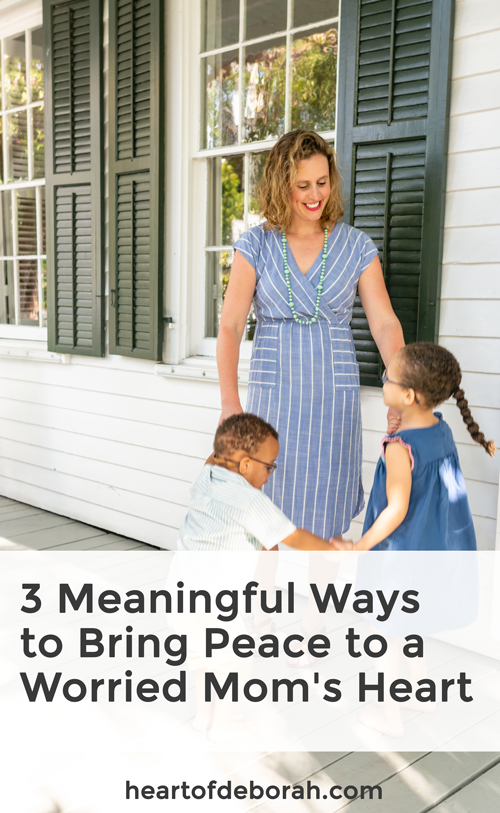 Slowly, I've felt a release from my worried heart. I've found scriptures to pray over my children (find more here) and scriptures when I'm feeling overwhelmed. I've learned to stand on His promises. Psalm 37:5 (NASB) reminds us "Commit your way to the Lord, Trust also in Him, and He will do it."
For me, my fear came down to trust. Did I trust God to watch over my our children? Did I truly believe that He loved me and cared deeply for my well being?
When I finally got that into my heart, it's been a work in progress, I found rest. Knowing that the God of the universe is covering me brings me peace.
A Prayer for the Worried Mom's Heart
When I was pregnant with my first child I made a list of scriptures to memorize for pregnancy and labor. Little did I know God had me memorize Psalm 121 for after pregnancy!
As a new mom I was paranoid of SIDS and I found myself feeling anxious about her at night. This is a prayer I prayed many nights!
Lord we thank you for who you are! You are the alpha and the omega, the beginning and the end. You are our protector. The keeper of my heart. Our rock and fortress. We praise you because you are always watching over ____ (child's name or your name). You will not let the sun harm us by day nor the moon by night. You never sleep or slumber therefore you are always watching over our lives. Help me to rest on Your promises and find peace in Your presence.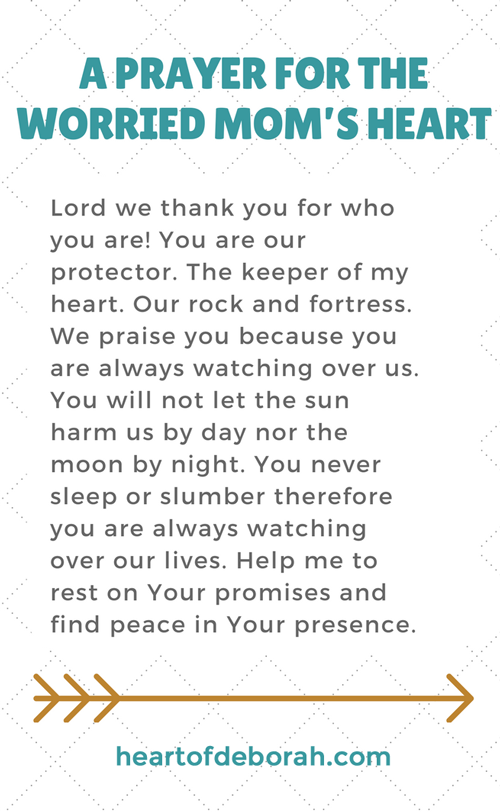 This prayer has aspects of psalm 121 and I prayed it over my daughter every night. As soon as I spoke the words out loud I felt a peace come over the room. No longer bound by fear.
Do you have anxious thoughts as a mom? How do transform a worried mom's heart?? I'd love to hear from you in the comments below. Also be sure to connect with our community on Instagram for more encouragement in motherhood.