No one prepared me for just how tired I would feel as a mom. I swam competitively in college and often felt physically exhausted from working out 3+ hours a day. Slightly different circumstances, but wow being a mom is exhausting. I didn't realize how much I loved sleep until I had kids!
As moms we are on call 24 hour a day, 7 days a week. It's a job that never ends. The physical exhaustion is real, but so is the emotional and spiritual fatigue. It's so easy to become the exhausted mom.
When I just can't do one more dish, wake up in the middle of the night one more time or calm down a screaming toddler AGAIN I need something to fall back on. Instead of losing my temper with the kids or taking out my frustration on my husband I'm learning to hit pause and refresh.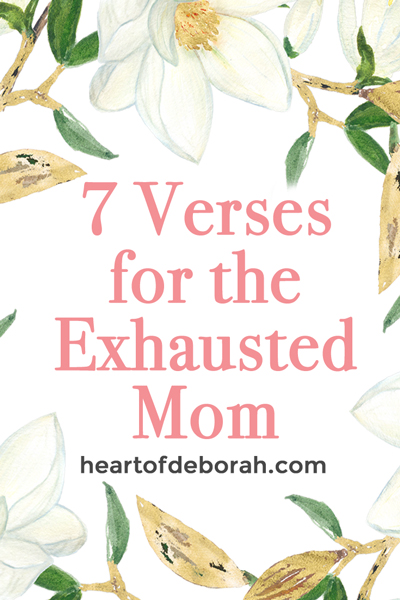 It's been a process, but I'm starting to recognize the signs of being tired. And it's okay to admit we need a break or that we are tired. That doesn't make us weak or bad moms. It makes us human.
This is when memorized scripture comes in handy! I need to remind myself of the truth, when I'm caught in the moment and headed for a downward spiral.
Are you an exhausted mom? I pray these 7 verses will encourage you and lift you up. Hang in there mama! You are doing a great job.
Click here to download a printable version of scriptures!
Scripture For Peace and Comfort
God is our refuge and strength,

A very present help in trouble. Psalm 46:1 (NKJV)
Hear my cry, O God;

Attend to my prayer.

From the end of the earth I will cry to You,

When my heart is overwhelmed;

Lead me to the rock that is higher than I. Psalm 61:1-2 (NKJV)
Have you never heard?

Have you never understood?

The

Lord

is the everlasting God,

the Creator of all the earth.

He never grows weak or weary.

No one can measure the depths of his understanding.

He gives power to the weak

and strength to the powerless.

Even youths will become weak and tired,

and young men will fall in exhaustion.

But those who trust in the

Lord

will find new strength.

They will soar high on wings like eagles.

They will run and not grow weary.

They will walk and not faint. Isaiah 40:28-31 (NLT)
My flesh and my heart fail;

But God is the strength of my heart and my portion forever. Psalm 73:26

(NKJV)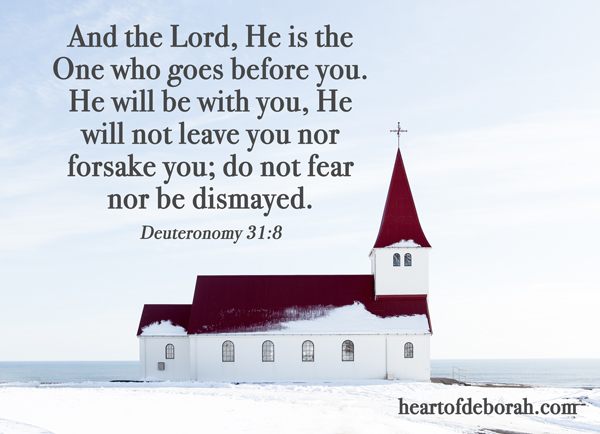 I wait quietly before God,

for my victory comes from him.

He alone is my rock and my salvation,

my fortress where I will never be shaken. Psalm 62\:1-2 (NLT)
The

Lord

is your keeper; The

Lord

is your shade at your right hand.

The sun shall not strike you by day,

Nor the moon by night. Psalm 121:5-6 (NKJV)
And the

Lord

, He is the One who goes before you. He will be with you, He will not leave you nor forsake you; do not fear nor be dismayed. Deuteronomy 31:8
Do you feel like an exhausted mom?
How do you encourage yourself when you are feeling overwhelmed? If you'd like to download and print these 7 scriptures click here for your free printable!