Motherhood has been the best journey I've been on in my life. It turned out to be so much more than I expected! But also so much harder than I imagined.
I faced new challenges and my faith, patience and perseverance were pushed to new limits.
I've found through the years prayer is my greatest weapon.
Are you looking for specific prayers for family? In this post I share 10 scriptures to pray over your family.
When it comes to family, one of the most powerful things I can do for my family members is pray for them!
Under the 10 Bible verses I share a short daily prayer for your family. You can use the short prayers I provided to pray by yourself or pray them together as a family.
Feel free to pray however the Holy Spirit leads you or use my guided prayers. Pray by yourself or have your whole family pray together each morning.
Let's open the floodgates of Heaven and pray these daily for our families!
At the end of this post can you download a printable with the 10 verses.
Looking for more inspiration? Follow us on Instagram for daily encouragement in motherhood!
*I'm also passionate about praying scripture over our children. See my favorite verses to speak over my kids here.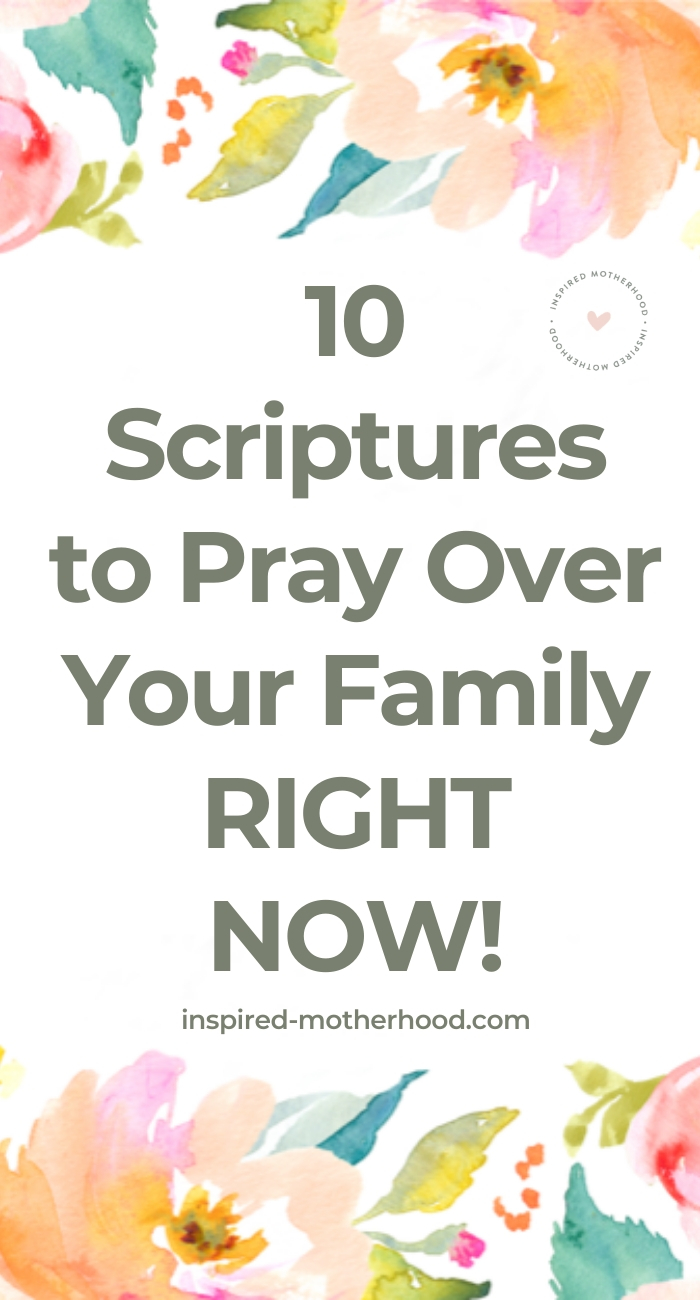 10 Scriptures to Pray Over Your Family
For Protection:
The Lord your God is with you, the Mighty Warrior who saves. He will take great delight in you; in his love he will no longer rebuke you, but will rejoice over you with singing. Zephaniah 3:17 NIV
Prayer: Thank you Lord that you are always watching over us. How amazing that you are rejoicing over us with singing right now. You are the mighty warrior who saves. May we rest in your love this day.
For Peace:
'May the Lord bless you and protect you. May the Lord smile on you and be gracious to you. May the Lord show you his favor and give you his peace.' Numbers 6:24-26 NLT
Prayer: Lord we thank you for your protection and favor. As we sit in your presence and focus our hearts on you may you give us your perfect peace. May we trust that no matter what, you will guide us, protect us and be gracious toward us.
For Compassion:
And become useful and helpful and kind to one another, tenderhearted (compassionate, understanding, loving-hearted), forgiving one another [readily and freely], as God in Christ forgave you. Ephesians 4:32 AMPC
Prayer: Dear Heavenly Father we thank you for your unending love. We pray that you would help us to be kind to one another, showing each other the love you've so generously shared with us. In our family may we treat each other with compassion and offer forgiveness in all situations.
For Unity:
Bear with each other and forgive one another if any of you has a grievance against someone. Forgive as the Lord forgave you. And over all these virtues put on love, which binds them all together in perfect unity. Colossians 3:13-14 NIV
Prayer: Lord our hearts desire is to live in harmony and unity with each other. Bind your love to our hearts so we can live in perfect unity together. Teach us to care for our family members and forgive others for their mistakes.
For Wisdom:
Don't turn your back on wisdom, for she will protect you. Love her, and she will guard you. Getting wisdom is the wisest thing you can do! And whatever else you do, develop good judgment. Proverbs 4:6-7 NLT
Prayer: Dear God, we need your wisdom. Help our family to develop good judgment and to chase after wisdom. Guide our steps and provide us with direction in all areas of our lives.
Family Prayers! Have the Whole Family Pray These Together
For Encouragement:
The faithful love of the Lord never ends! His mercies never cease. Great is his faithfulness; his mercies begin afresh each morning. Lamentations 3:22-23 NLT
Prayer: Lord we thank you for your faithfulness. Your love never ends and you are such a good, good Father. Thank you for your never ceasing mercies. We praise you for your love toward us.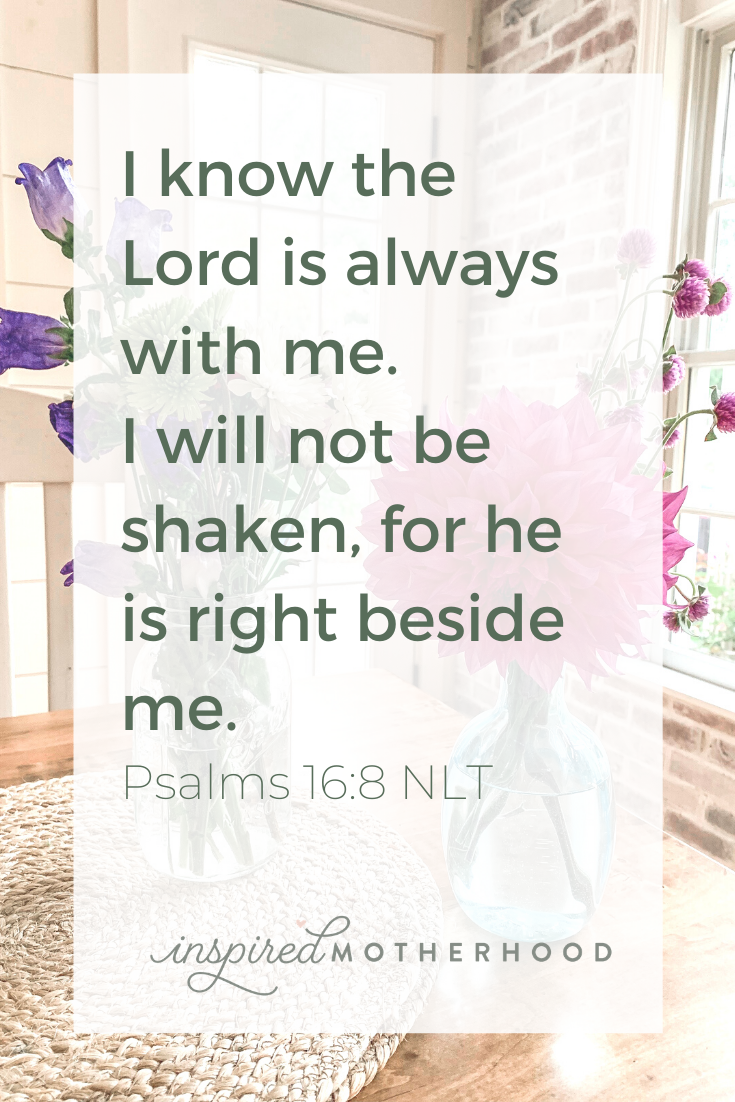 For Perservance:
I know the Lord is always with me. I will not be shaken, for he is right beside me. Psalms 16:8 NLT
Prayer: Dear Heavenly Father, we pray in the good times and in the bad that our family would stand on your promises. We will not be shaken because you are always with us. Remind each member of our family today that you are always with us.
For a Disciplined Life:
For the time being no discipline brings joy, but seems sad and painful; yet to those who have been trained by it, afterwards it yields the peaceful fruit of righteousness [right standing with God and a lifestyle and attitude that seeks conformity to God's will and purpose]. Hebrews 12:11 AMP
Prayer: God we thank you for the teachable moments. We pray as a family that we would seek wisdom and live a disciplined life. Guard our hearts from temptation and help us to live out your will and purposes for our lives.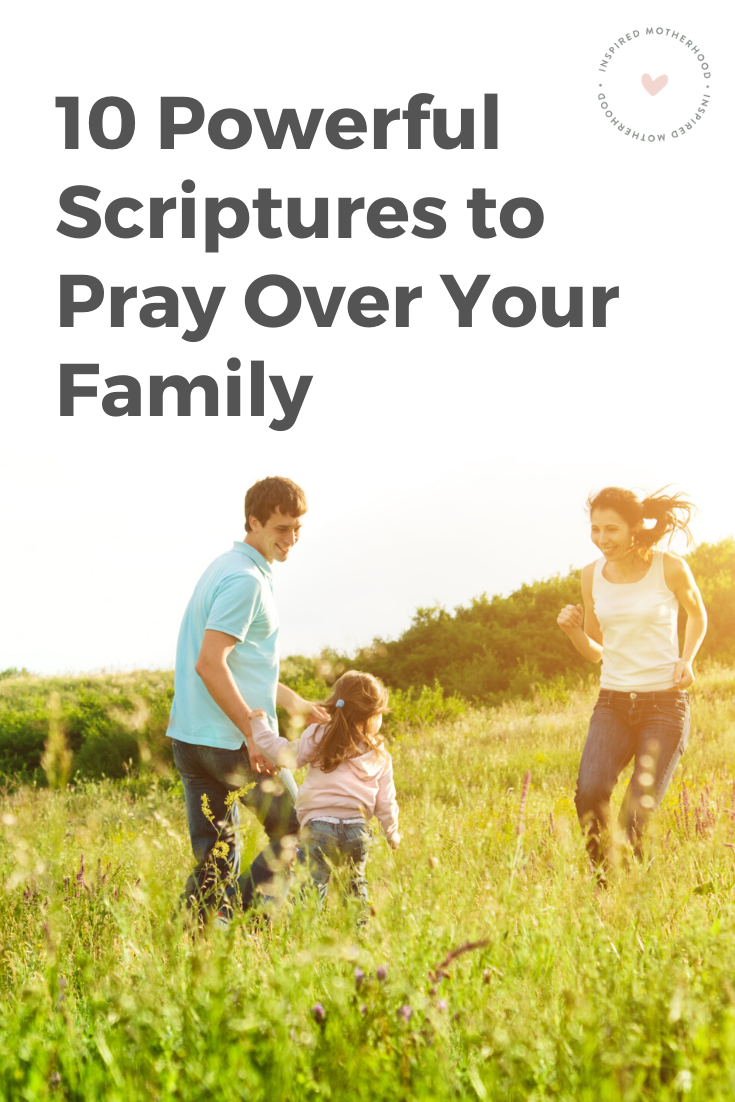 For Confident Hope:
I pray that God, the source of hope, will fill you completely with joy and peace because you trust in him. Then you will overflow with confident hope through the power of the Holy Spirit. Romans 15:13 NLT
Prayer: Lord, we rejoice today because you are our hope. You will never fail us and as we build our trust in you, you will completely fill us with joy and peace.
For Kindness:
Do not let any unwholesome talk come out of your mouths, but only what is helpful for building others up according to their needs, that it may benefits those who listen. Ephesians 4:29 NIV
Prayer: God help us to speak life to each other this day. May we be kind to our family and use words to build each other up. May we have a listening hear and respond to each other with compassionate hearts.
So there it is! 10 of my favorite scriptures to pray over your family.
Looking for more inspiration? Follow us on Instagram for daily encouragement in motherhood!