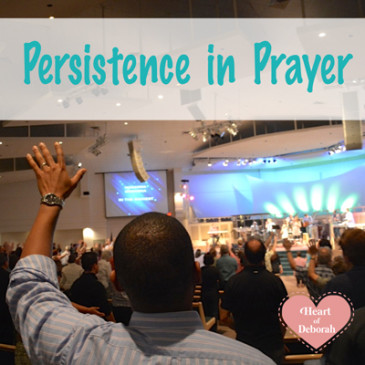 Recently I heard a pastor talk about being persistent in prayer and how God likes a complainer. A complainer? What? The pastor didn't mean someone who is ungrateful, crabby, and whinny. He meant someone who reminds God of His promises and comes boldly to God's throne asking for His favor. This morning I read Luke 18:1-8. It's the parable of the persistent widow.
Again I was reminded of persistence in prayer.
Essentially a widow in Luke 18 comes to a judge asking for help. At first the judge doesn't bother with the woman, but she is determined. Eventually he reasons, 'I don't care about God or people, but I will help this lady so she stops bugging me.' Jesus says in verse 7 (NKJV):
And shall God not avenge His own elect who cry out day and night to Him, though He bears long with them?
Is there something you are waiting for? A promise God has given you that hasn't been fulfilled? Remind him of the promise and call on His name! The Bible tells us it is the Father's good pleasure to give His children the kingdom (Luke 12:32). We are also told in Hebrews 4:16 (AMP):
Let us then fearlessly and confidently and boldly draw near to the throne of grace (the throne of God's unmerited favor to us sinners), that we may receive mercy [for our failures] and find grace to help in good time for every need [appropriate help and well-timed help, coming just when we need it].
Go boldly to His throne. Ask Him for your heart's desire! You may feel unworthy or as if you can't ask God for something because you don't deserve it, but the Bible tells us otherwise. Although we are all sinners we can call on His name and be saved, healed, delivered. My prayer is that you would find His favor and remind God of what He promised you. Tell Him you want His full blessing and I know you won't be disappointed!
Remember when Jacob wrestled with the angel and said he won't let go until God blessed him? Be bold, be courageous. Ask and you shall receive.