Finding Time to Live in the Moment
As a parent I'm sure you've heard the phrase "The days are long but the years are short." If I'm being honest that quote kind of drives me nuts. I understand the sentiment behind it, but actually enjoying everything about motherhood seems impossible. Are we striving for an unreachable idealistic goal?
Do we spend too much time worrying about making the most of each moment that we actually forget to live in the moment?
There are days when I love everything about my children and my journey in motherhood. Then inevitably there are days when I can't wait to be out the diaper phase or the sleepless night phase. And you know what? I'm okay with that.
There needs to be a balance. We shouldn't always be wishing for the next big thing and saying "I'll be happy when…" but at the same time it's okay to be honest and admit that not every phase of parenthood is fun.
Along this journey in motherhood I've found a few ways to practically live in the moment and embrace motherhood for all that it is. Sure there is not perfect formula to doing this 100% of the time, but we can be intentional about our thoughts and attitudes. This will make a huge difference in our homes.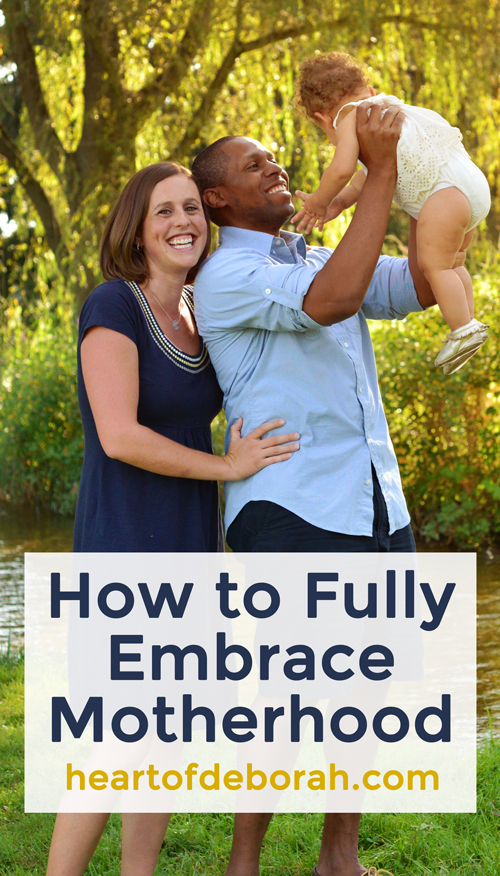 5 Ways to Live in the Moment
Stop Wrong Thinking: Are you aware of your thoughts? If you are anything like me, you have a million of them running through your head at any given time. Sometimes I'm not even aware of what I'm thinking. You may not realize it, but wrong thinking could be limiting you from living in the moment.
Are you constantly wishing for the next best thing? Or saying things like "I'll be happy when my kids go to school" or "If only we had ______ then our family would be happy." If yes, then it may be time to check your thoughts.
How are your thoughts impacting your mood? Attitude? Actions? Try to "catch" your wrong thinking before you go into a downward spiral. As soon as you notice yourself thinking negatively, turn your thoughts around and put a new thought (hopefully a positive one) in your mind. This leads me to point number two.
Turn your cellphone off: It's so easy to get wrapped up in social media. I understand it is part of today's culture and it's almost impossible to avoid (especially when you have a blog). However, there are times when social media puts a damper on my day.
When this happens I put my phone down and turn the computer off. I need to have boundaries for myself when it comes to social media. It's also refreshing to connect with people face to face! Don't let yourself fall into the social media comparison trap.
Practice Gratitude: When you practice gratitude you stop living in the ideal future and start living in the here and now. It's amazing how quickly this can turn my attitude around.
Try a gratitude journal. Each day when you wake up write down 3-5 things you are grateful for at the moment. It's an easy way to remember the small things and start your day being thankful for what's happening right now. Even if it's only I'm thankful for my cup of coffee.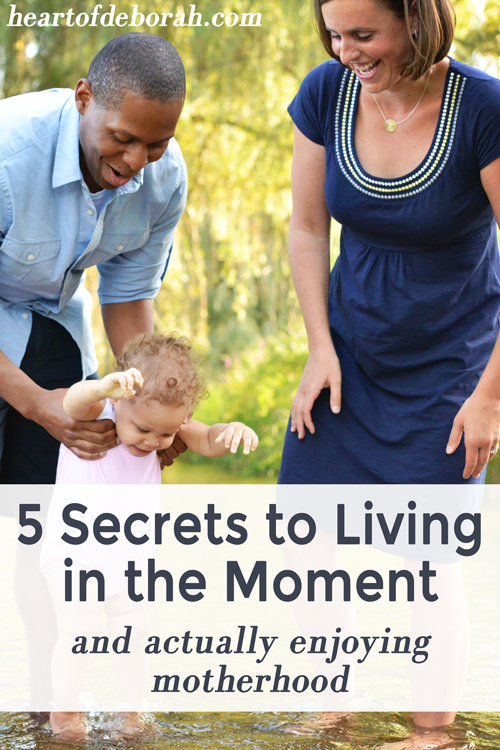 Do Something You Love: This seems like a no brainer, but I'm always surprised to find how often moms put themselves last on the to-do list. I love being a mother, but I'm so much more than that! I try to incorporate at least one of my favorite things to do into my daily schedule.
As a stay at home mom I know it can be difficult to find the time. Try scheduling it, write it down. Even if it's only for 15 minutes. When I find time to do things I love, I find I am more available to my children. I'm present and happy because I filled my tank during "me time."
Read the Word: God's word is a lamp unto our feet (Psalm 119:105). He will guide you in all things and show you the direction you need to go. Only God can give you unspeakable joy and fill you up completely.
Remind yourself of His faithfulness, unending love, and incredible mercy by reading the Bible everyday. I definitely notice a difference in my attitude and feelings when I'm not grounded in His word. When I know who I am in Christ I am a more effective, loving and present mom, wife, friend.
It's not easy and it will take work but we don't have to live life always wishing for more or the next best thing. We can fully embrace life RIGHT NOW! Try adding one of these ideas into your routine and see what happens.
So how about you, do you struggle to live in the moment? How do you find ways to encourage yourself when motherhood gets tough? I'd love to connect with you on Instagram and hear your thoughts below!
How do you live in the moment?