Finding Time for Devotions – A New Mom's Perspective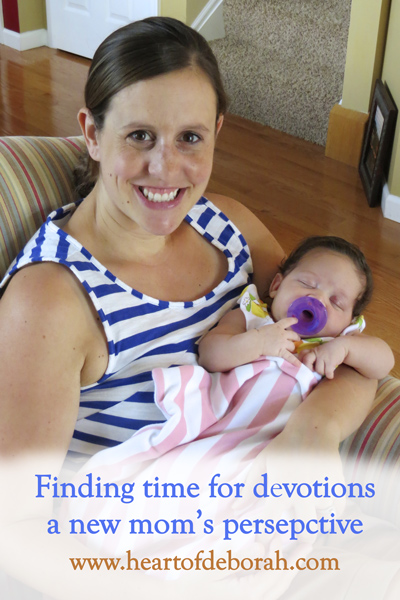 As a new mom I've found it increasingly difficult to sit down and read God's word. Before Izzy I would read, journal, worship before or after work. Now it seems my 'work' lasts all day long! I have to admit I sleep in until the very second Izzy wakes up (she is my alarm clock). Once she is awake the craziness begins. By the time she takes her morning nap I've forgotten all about quiet time and I quickly rush around to get everything checked off my to do list.Then I started adding 'quiet time' to my to do list, but I soon found that I was rushing to do quiet time and quickly checking it off my list.
So how do you keep your time with God fresh, new and exciting? How can you stay consistent without it becoming a mundane routine?
I don't have the perfect answer, but here is what I've found so far…
Mix it up!

This helps keep it fresh and interesting. Some days I pray, other days I sing/worship, do a word study in the Bible, watch a sermon online, follow a reading plan, etc.
Follow the leading of the Holy Spirit.

If you feel God is leading you to serve or to read a certain passage of scripture, do it! My father in law told me about a time when he felt like God was telling him to take a picnic with Him. He said it was one of the most precious times in his faith! He sang, talked to Jesus, read the Bible. The Holy Spirit may lead you to do something unexpected, but who knows what God has in store for you if you follow his leading!
Find a quiet place without distractions.

Have you ever heard of a prayer closet? Create a comfortable place without any distractions (no cellphones, TV, etc.) and meet God in that place on a regular basis.
What have you found helpful to find time for devotions during the busy seasons in your life?