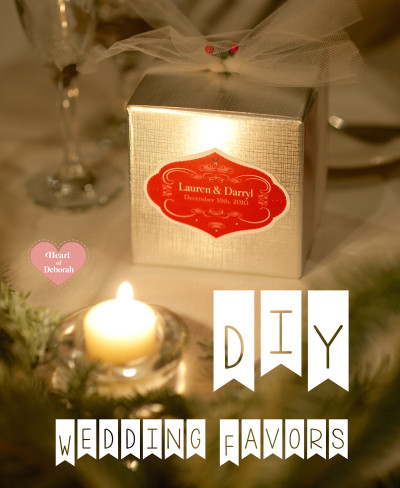 One way we saved money for our wedding was by making our own wedding favors. We got married in December. At first I didn't want a 'Christmas' wedding, but after we picked red and silver as our colors I decided to embrace it! The theme of the day was rustic charm with accents of Christmas.
One day while shopping at Hobby Lobby and seeing Christmas ornaments 50% off I decided an ornament would be the perfect favor!
I picked out an assortment of Christmas ornaments ranging from 50 cents to $1.50 per ornament. Next we found cute boxes to put the ornaments in. Have you heard of Uline? They have a ton of affordable options for gift boxes! Check it out. We picked out a small silver box and purchased sparkly tissue paper to line the box.
Next, the design. I searched the internet and found one of the best resources for DIY wedding ideas! Wedding chicks has gorgeous free printables for personal use. I found the perfect design and then took it into photoshop. I adjusted the colors and I added my own text (our names and wedding date).
Then I printed out 6 designs on a page and left a small white border when I was cutting them out. I did this with time to spare so each night I would cut out a few designs as I watched TV.
I used Saunders UHU glue sticks to bond the design to the box. Seriously these glue sticks are amazing and not one of the designs peeled or moved! I love tulle so we decided this would be the perfect way to wrap up the box.
$$ Saving Tips
Save money by using your favors to add to the decor. I loved how our silver boxes looked on the tables.
Try to buy things in bulk.
Ask friends for help! My mom, grandmother, and aunts helped with putting together favors and tying the bows.
Use natural resources! We used greens as part of our table decorations and the best part is you can cut them for free.
A few more pictures from our christmas wedding:

Photo credits = Josh Finsel and Amber Breiner Photography
What DIY tips do you have for weddings?