WOW! Creative Way for Kids to Stay in Touch With Long-Distance Family
Long-distance family relationships can be hard.
When our oldest daughter was born we lived 1.5 hours away from both sides of our family. Because of my husband's busy work schedule we weren't able to see our families as often as we'd like.
Of course this made me sad. It's not easy when kids live far away from family!
We value family time and although we couldn't spend face to face time with grandparents we wanted to make sure our toddler knew who her family was.
So we got creative. Now that we have 3 kids (our youngest being 10 months old), I've pulled out this awesome activity again.
Currently we are physically closer to family than before, but still many of our loved family members live states away.
Long-distance family relationships can work! With the right tools your kids can build community with family who live miles away.
Here is one tool to help your kids recognize family members. It was a stepping stone for our family. When the kids were young we used this tool and as they've grown we've added more ways to stay in touch.
At the end of this post there are 3 bonus tips to stay connected with family when they live far away.
Years ago we created this toddler face recognition activity. It's so easy and so effective. Essentially it's a matching game with family members pictures.
This post contains affiliate links.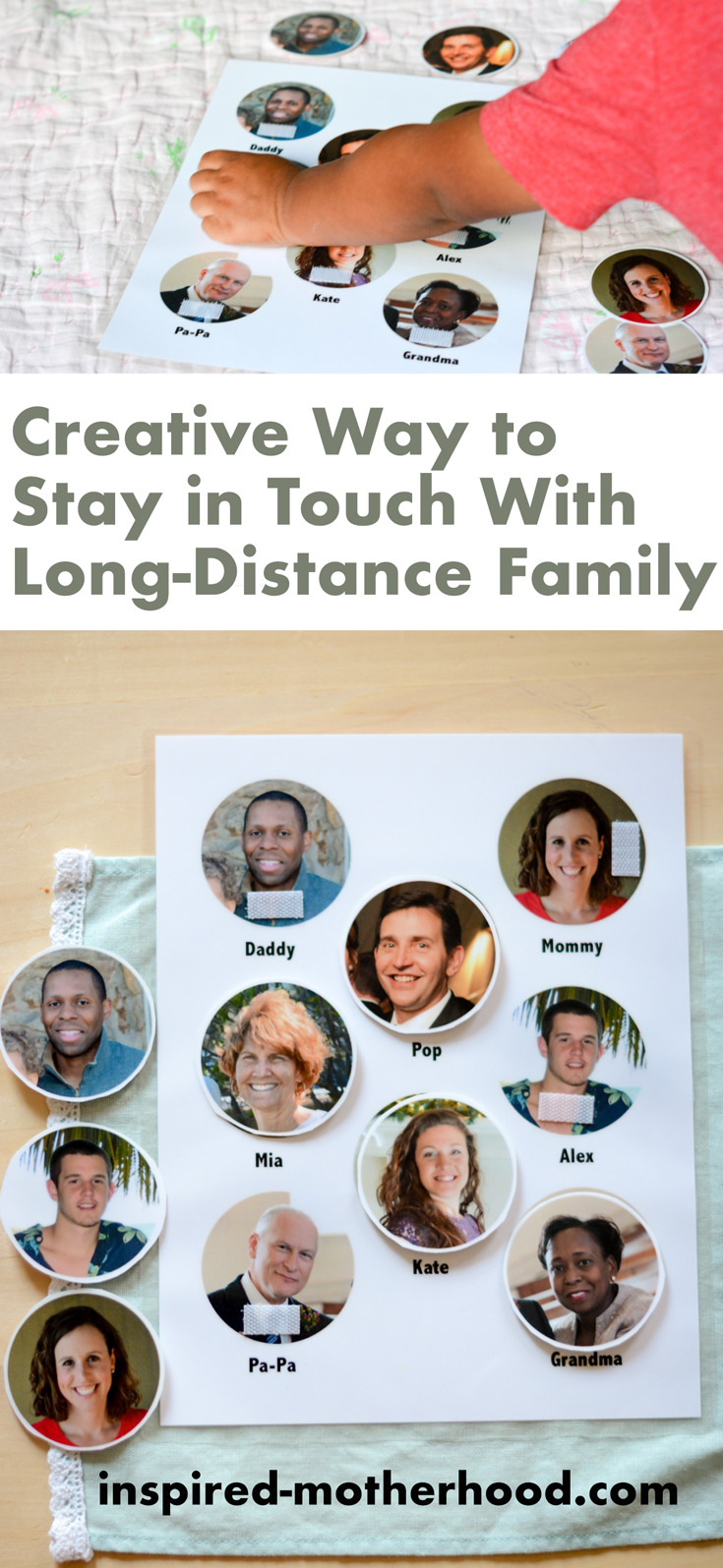 Directions for Family Face Recognition Activity
In order to make your own customized face and name recognition activity you will need the following supplies:
2 printed 8.5 x 11 papers with family members photos
Laminator
Scotch Multi-Purpose Fasteners
Scissors
Directions:
First I created the document with the pictures and names in Microsoft word. Then I saved the file to my flash drive and drove to Staples. We were able to get the pictures printed and laminated for under $5.
Alternatively if you have a laminator you can easily laminate the printed papers at home.
After we got home I cut out the pictures from one of the laminated sheets.
Next, it was time to add the velcro. I cut the scotch fastener in half so it wasn't as big and it wouldn't cover the faces (you can also use these dots which require no cutting).
I attached the velcro to back of the cut out photos and we were finished.
It is kind of like a puzzle because our toddler has to look at the faces and see where the match is on the original board. Then when she places the picture on the right spot I say the name of the person.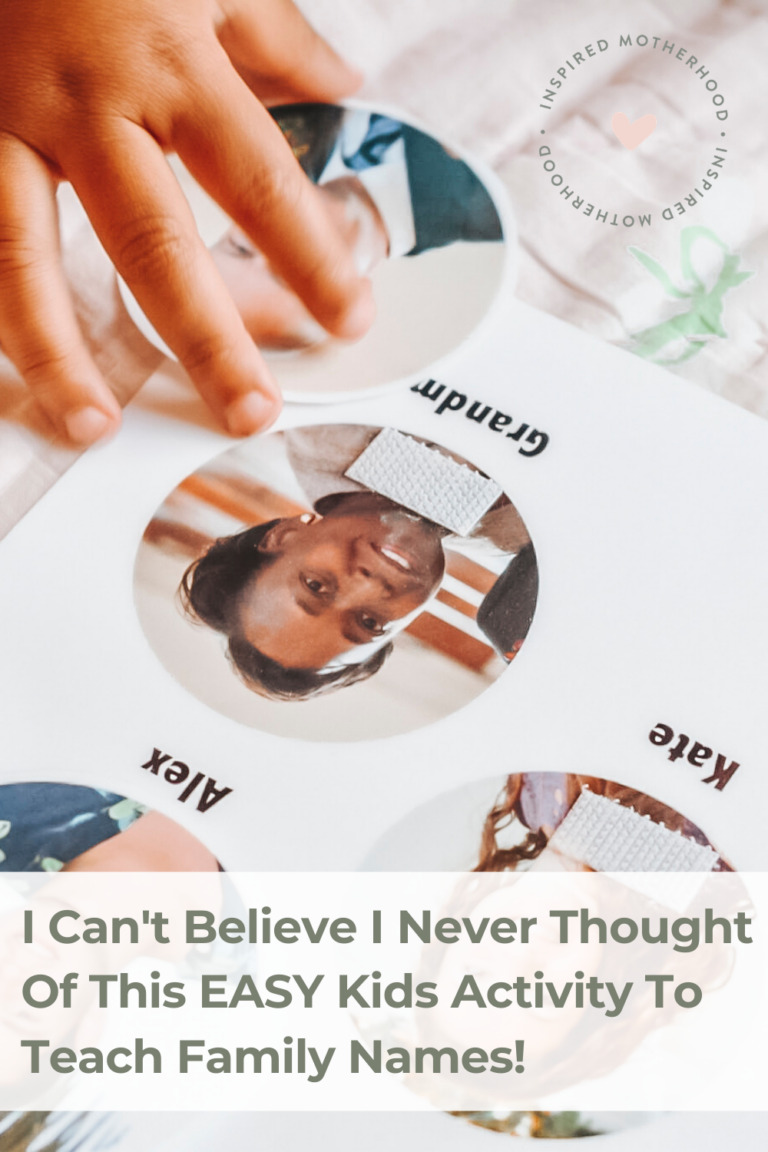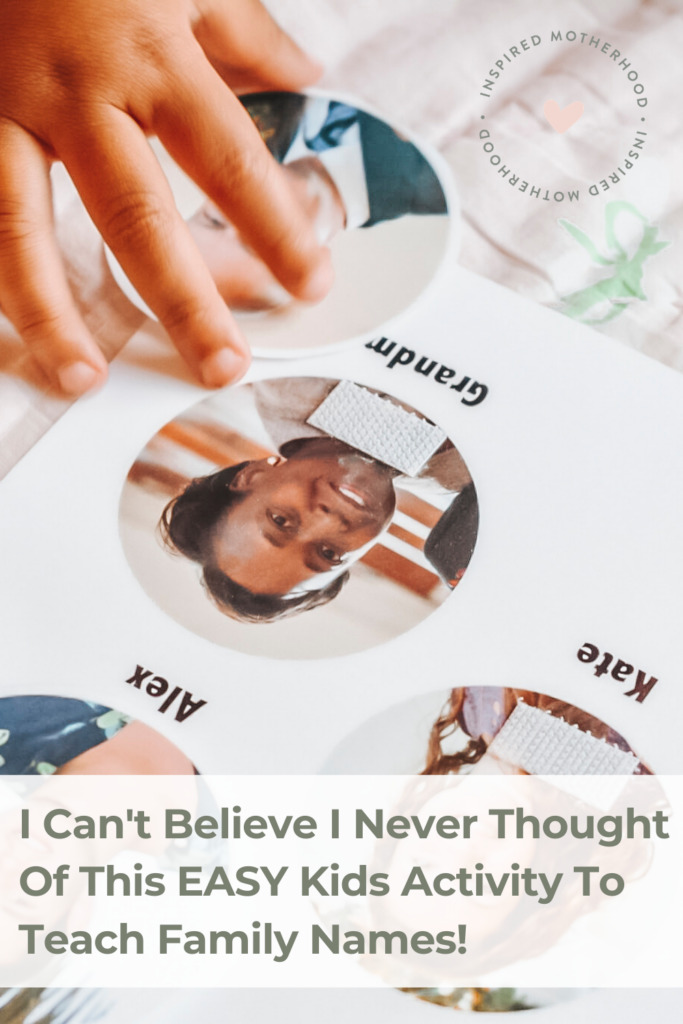 We've used this name recognition activity with all our children!
It's a fun way to learn more about family members and our kids really seem to enjoy pointing out their grandparents.
Bonus Tips on Connecting With Family Who Live Far Away
#1 FaceTime is an incredible tool.
Our kids love FaceTiming their cousin and grandparents. Though it's easy to get out of the habit of doing this. If you want to be intentional about connecting with long-distance family set a time each week to FaceTime and catch up. Your kids will absolutely love it!
#2 Write Letters
This may seem old fashioned, but there is something personal and special about writing letters to others. Our kids are just starting to be able to put sentences on paper together by themselves.
Before they could write out a card, they LOVED drawing photos or making crafts for aunties, uncles and grandparents.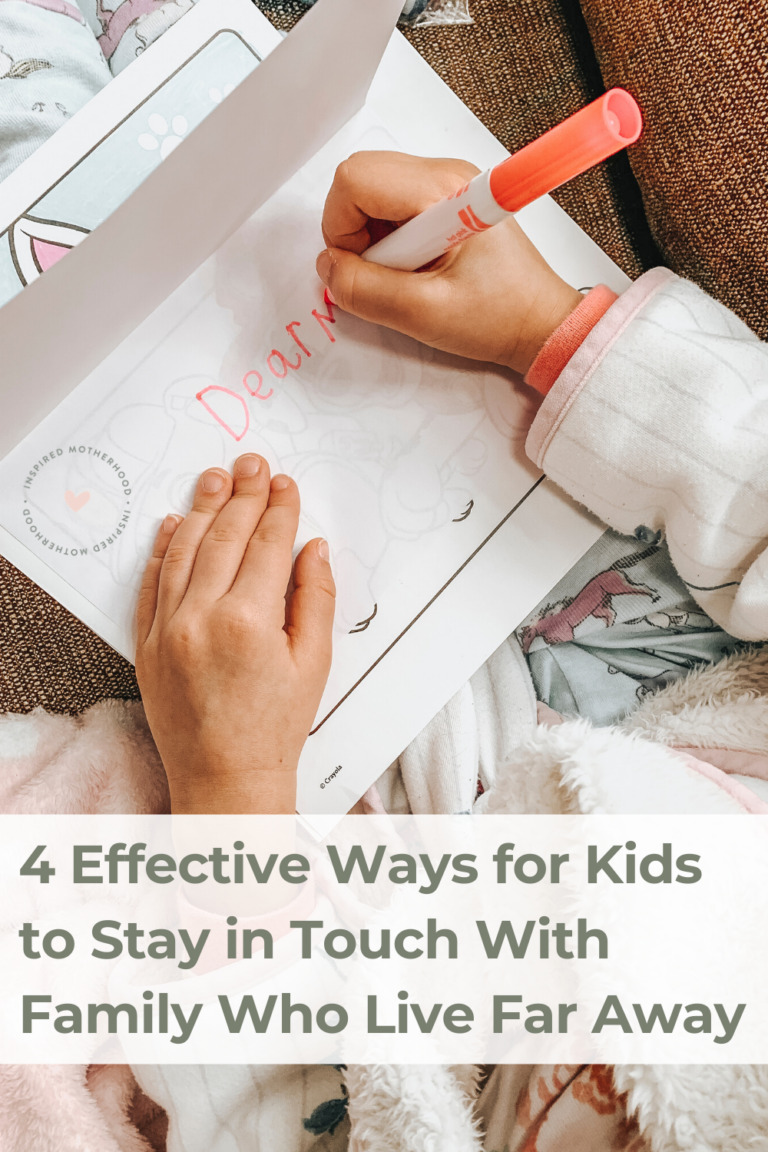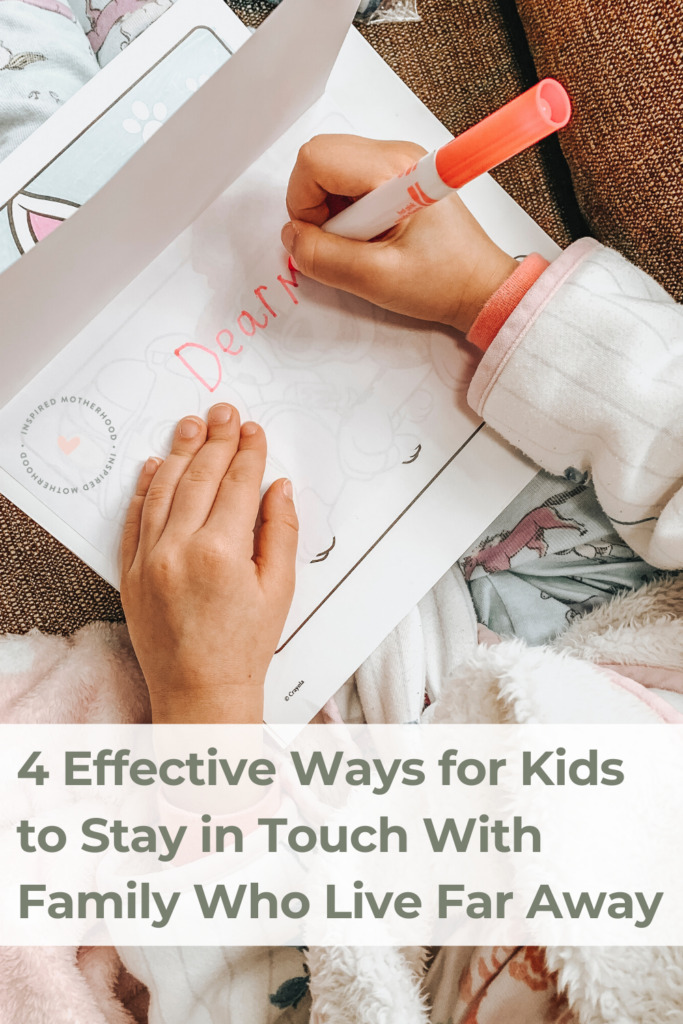 #3 Talk About Your Family
One of the reasons this toddler activity works is because you talk about your family. My in-laws live 3 hours away, but our kids talk about them on a daily basis.
They are in our conversations, thoughts, prayers. When something big happens at school or home you can often hear one of our kids saying "I want to call Mia or text grandma that XYZ happened."
This doesn't happen by chance. We are intentional about including long distance family members in our daily lives.
Whether it's sending weekly videos, looking at photos around the house or writing letters to our family they are not forgotten in our hearts.
Do You Have Long-Distance Family?
How do you stay in touch? We'd love to hear your wisdom and tips in the comments below.
You may also like 7 Tricks to Help Big Kids Bond EASILY With New Baby Sibling or 5 Secrets to Encourage a Loving Sibling Relationship
Be sure to connect with Inspired Motherhood on Facebook for more encouragement in motherhood.