Create your a blessings jar for your family or make one as a unique DIY Gift. There are so many benefits to counting your blessings. Make one today and increase the joy in your life.
The gist of a DIY Blessings Jar
So how do you make one? It's very simple. Find your favorite jar, bag, glass, whatever and decorate it to your liking. I found this awesome old honey jar at Goodwill for .97 cents. I printed out the word 'blessings' on scrapbook paper. Then I glued the paper to the burlap and the burlap to the jar. For final touches I added some felt rolled flowers and tulle. Here is the
tutorial
I used to make the rolled flowers.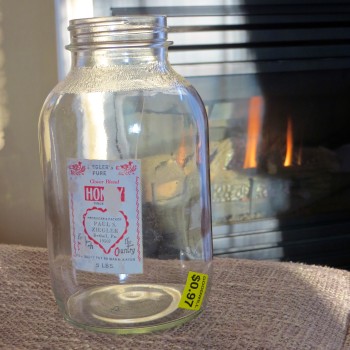 Once your jar is finished, add slips of paper throughout the year. We are planning on writing down the promises that God has fulfilled, examples of His favor, ways in which we felt God's presence, how we felt him move in a situation we were praying about, etc. Then on New Years Day's we will open up the full blessings jar and be reminded of all that God has done for us!
God blesses us in so many ways, but we are often forgetful of His mercies & kindness. Remember the Israelites forgetting all God had done for them? Deuteronomy 6:12 states – "Be careful not to forget the Lord, who rescued you from slavery in the land of Egypt." So in order to do this we are making a blessings jar.
Other Things to Consider
Another blogger decided to make these as a gift for her friends! What a unique idea and fun way to share thankfulness with those around you.
Finally, Lyubomirsky and Layous published an article in Association for Psychological Science titled

How do Simple Positive Activities Increase Well Being

? Essentially they found that you don't need to rely on self-help books to increase your happiness. You can do this by making simple intentional changes in your thoughts and behaviors.
So what simple changes do you want to make today?
Can a blessings jar help you increase your happiness?