Secrets to Keeping a Clean House
For years, even before kids, I struggled to keep an organized home. I knew an organized house made me feel calm and peaceful, but we couldn't get rid of the clutter.
When we first got married my husband was in medical school and I was in graduate school. We always had papers, books, notes, etc. spread out all over the kitchen island and dining room table.
I often thought "I can't keep my house clean! What is wrong with me?!" "What secrets to keeping a clean house am I missing!?"
I also speculated "When we have kids and I'm home all the time. We will be more organized because I'll have more time."
What a joke! My naive pre-mom self thought the clutter came from two people working full-time (and having jobs with a lot of paperwork).
Sure there were periods where we couldn't take it any more and we'd throw stuff away to re-organize. But soon enough it would get really messy again and we'd spend hours cleaning and getting it all organized.
I keep thinking "It will be different when we have kids and I'm a stay at home mom."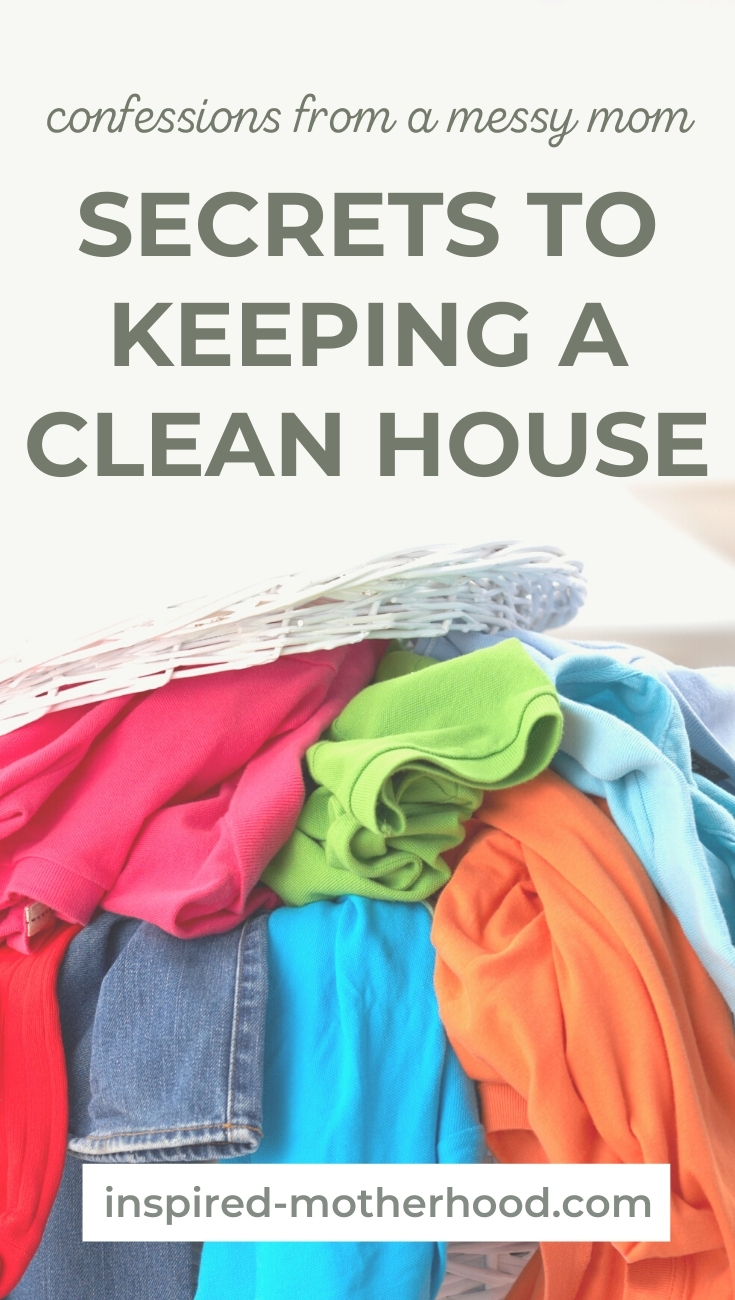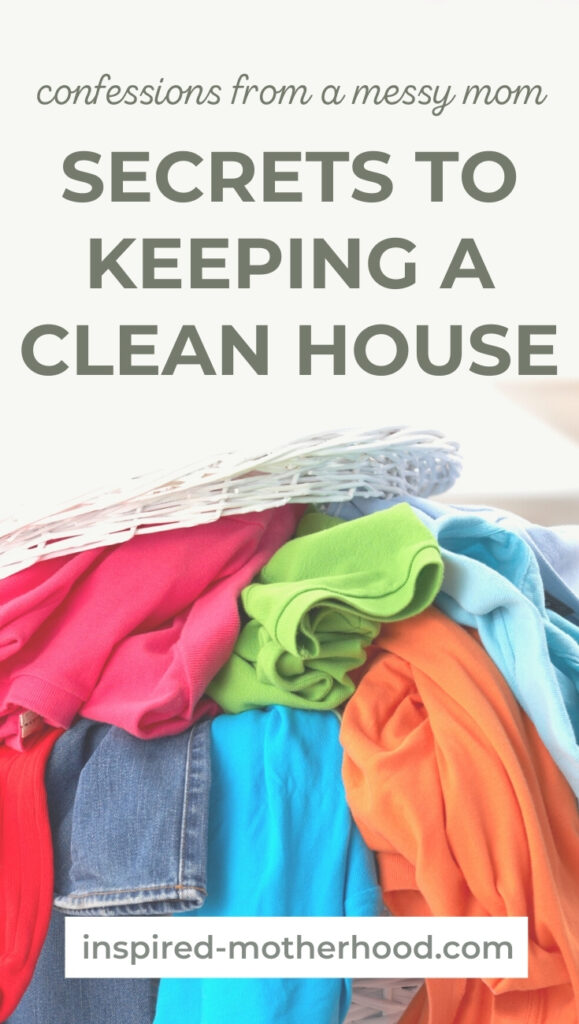 Well guess what? We had kids and it wasn't different.
The laundry was piling up faster with a baby and I was tired.
I still didn't do it. I'd choose to scroll through Facebook instead of folding laundry. I'd choose to binge on Netflix during nap time instead of straightening up. "I need this break." "I deserve this break." I gave myself permission to indulge.
Then I would get stressed. Right before my husband would get home I'd frantically try to clean up. Or before a friend came over I would quickly re-organize. I know moms often joke about this! It's "normal" right?
A couple months ago a friend posted a video on Facebook talking about the secrets to keeping a clean house and the advice women give to each other. Often times we encourage each other to take a break:
"It's normal to have a messy house."
"Your kids are only little once."
"You deserve a break."
"So don't do it. The dishes can wait."
Then my friend went through the Proverbs 31 woman. "She gets up while it is still night…she sets about her work vigorously…her lamp does not go out at night…" My heart was immediately convicted.
Now I don't want to diminish self-care. It is important as a mom. When you are at the end of your rope that is when you may do things you later regret and lose your patience. Finding rest isn't just important. It's essential.
But we can't let the busyness of life be an excuse for our self-indulgence.
There needs to be a balance. That is why I love this quote: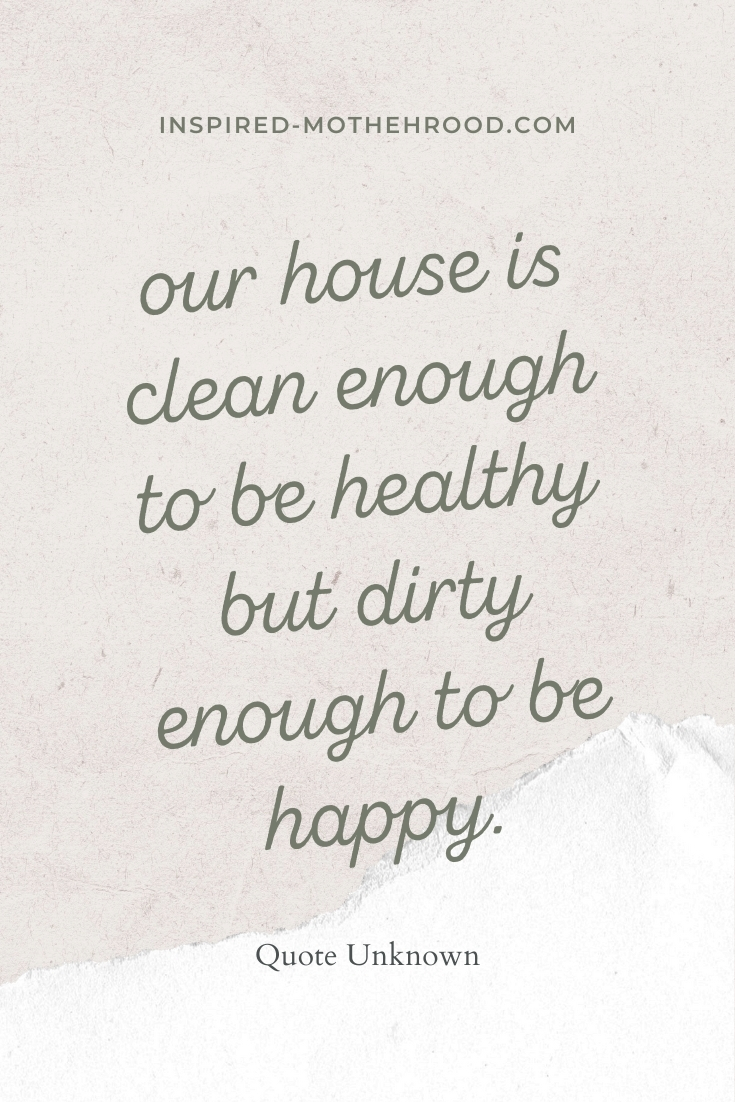 I'm not saying our houses need to be spotless 100% of the time. That's not realistic. On the other hand, I know a clutter free home makes me feel better emotionally so I need to make housework a priority.
So you want to know the first secret to keeping a clean house?
Instead of always putting it off and saying "It can wait. I'll do it later." You do it now or schedule it in. Because let's be honest ladies, the later never comes!
If I desire a clean house then I need to straighten up every day. I've learned there is no secret formula to keeping an organized house.
I remember a colleague telling me once, if it only takes 2 minute to do, do it now. So when you finish lunch, put your dish into the dishwasher right away. It doesn't even take 2 minutes!
The Second Secret…
Another trick for keeping an organized house? Create a cleaning routine, even write it out so you know what needs to be done each day. There are things you can do to make life easier. For example, doing laundry every day instead of waiting for it to pile it and be out of control.
We also try to clean up toys twice a day. Once before nap time and again before bedtime. It sounds silly, but when the whole family helps out it seems so much easier! I shouldn't be in charge of everyone's stuff! Especially with kids being home more because of remote learning and more families homeschooling I know many parents are asking "when will my house ever be clean!?"
Children need to get into the habit of cleaning up. It's an important life skill. And if you are looking for more tips on how to keep your home sane and organized while you have kids learning at home read here.
Get your family involved. The burden shouldn't just be on you!
Follow Inspired Motherhood on Instagram for daily encouragement in motherhood.
The Final Secret
Get rid of "stuff!" It's true, I have a problem with consuming too many things. The more things you have, the more you have to put away each day. We've slowly been going through each room in the house and purging. It feels so good!
Don't try to do it all at once or you will be overwhelmed and give up. I also find it helpful to do this with my husband. We keep each other accountable and only keep what is necessary.
This is one of my tips for building a happy home. More clutter equals more stress. So get rid of it!!
Lastly, remember friends even if you have all the tips and tricks…when it comes down to it you need to do the work daily to keep it truly clutter free.
Especially when you have young kids you may not be able to deep clean your home every month. That's okay!
But you need to ask yourself:
Do you desire a clutter free home?
Does a clean house make you feel better?
If the answer is yes, then figure out how you can make housekeeping a priority in your daily schedule.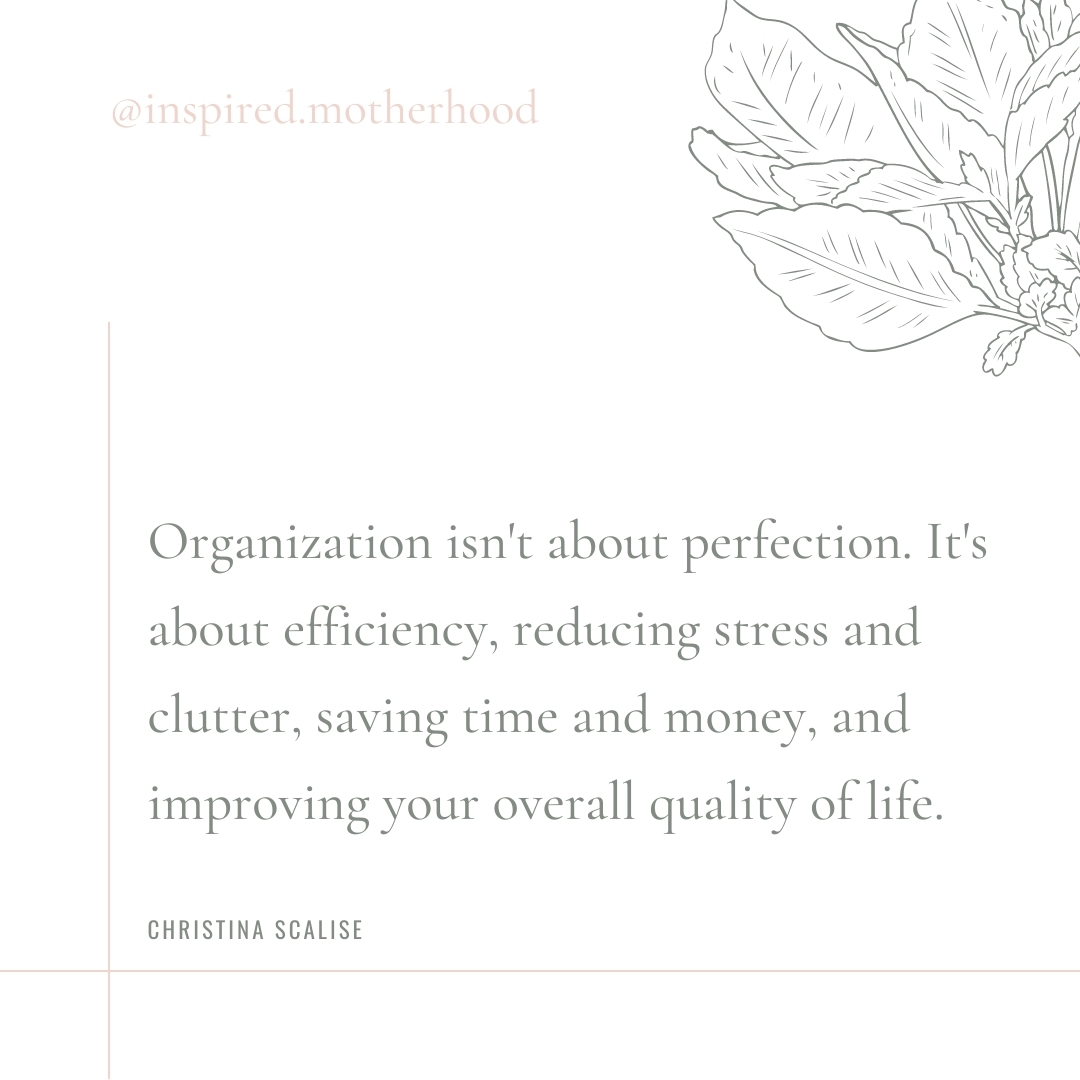 The days when I am motivated and just do it first before I indulge in social media, my favorite TV show or crafting project I notice a difference. It feels so good to come down each morning to a clean kitchen table and island. When the house is organized our family functions better.
I understand this post may sound a little harsh. I'm definitely not claiming to have a mess free house at all times. Life happens and that's okay. Instead of stressing about it, we need to give ourselves a little grace.
But on the other hand, instead of always making excuses and wondering why my house is filled with clutter, I've come to realize how important daily housekeeping really is!
Is this something you struggle with? Do you have secrets to keeping a clean house? I'd love to hear from you in the comments below.
How do you find a balance in keeping an organized home and not obsessing over every crumb or paper?
Looking for more inspiration? Follow Inspired Motherhood on Instagram for daily encouragement in motherhood.
Read This Next: