Summer Schedule For Kids That Will Inspire You!
Summer Schedule For Kids!
Summer is almost here and kids everywhere are thrilled. Every kid loves the freedom of summer. But I know I'm not the only mom who has had a panicked moment thinking "how am I going to keep my kids happy the whole summer!?" 😬
I'm all about letting kids get bored and giving them space to develop their imaginations.
But when too many summer days are spent in our pajamas we start to lose our minds!
Over the years, I've noticed when we find that balance between freedom and structured play our family thrives.
If we have too much open-ended time without structure we don't know what to do with ourselves. Kids follow a parent's lead so…
I created a summer schedule for kids that will help structure our days.
Keep reading to find out how to get our sample summer schedule (and one you can PRINT) along with a PRINTABLE cheat sheet for easy kid's activities to fill in that open playtime.
This post may contain affiliate links.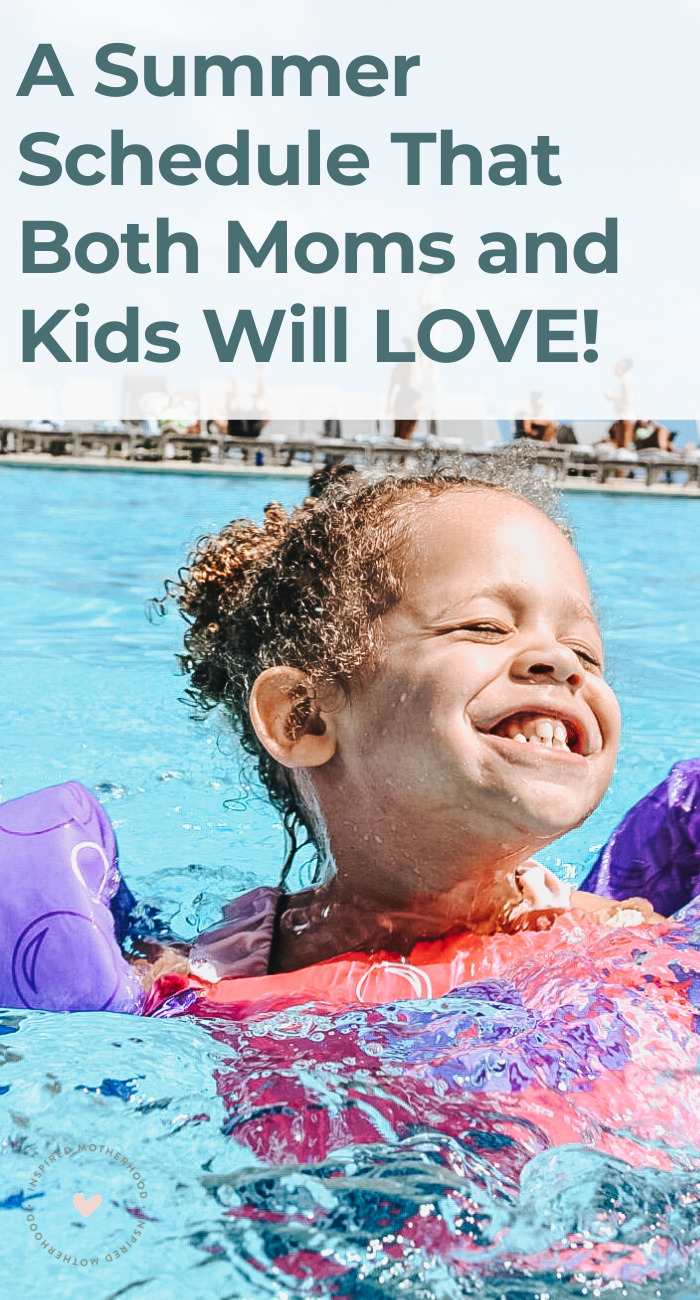 Before we get to our schedule, I want to talk about balance. It's kind of freeing to have nothing on the calendar. Some days "scheduled" in where we can stay in our pajamas are needed.
But again I know myself. We won't do well if we have a completely unstructured summer. All of us like order and our family thrives on it.
What Happens When Our Schedule is Wide Open
So this is why I decided to create a sample summer schedule for young children. It's kind of like writing a to-do list. It feels easier to get things done when you write them down.
The same thing applies here. I find peace and balance when I write out a plan! As our kids have gotten older I've asked for their input as well. Are there certain activities, camps, and day trips they'd like to add to our summer?
Anticipation builds when we sit down and come up with a plan for the time off from school. This is also a great time to set some ground rules. For example, this year the kids are going to have two chores they must complete BEFORE any screen time.
If we start this at the beginning of the summer break, it will be a lot easier to stay consistent. Trying to change the "rules" in the middle of the summer is harder (though not impossible).
You'll notice in our schedule we have a nap and/or quiet time.
But what if your kids don't nap anymore?
You can still use this schedule! For our older kids who don't nap we have a "quiet time" each day. The kids play outside or in the playroom. They have to do quiet activities and the biggest rule is they can't bug mommy (unless they are hurt or have to poop!).
Generally, this goes well. Especially if I set the boundary right away.
Want to know a secret for a good "quiet time?"
One of the best tools we've discovered for summer quiet activities is books on tape! It's a great relaxing activity for kids and they are entertained without screen time. Our older kids love being able to use the CD player by themselves. They feel important AND it's entertaining.
Books on tape are a win-win for everyone.
We buy most of our books on tape online, though we've rented some from the local library. During quiet time our kids can also use their leap frog leap start (essentially another version of books on tape). Another option is the Yoto Mini, it plays audiobook cards and you can even record your own story with blank cards.
Of course sometimes during our "quiet time" the kids ask for screens. So how do we handle screen time in the summer?
How to Handle Screen Time
My kids usually watch TV as I'm prepping dinner. They each get to pick a show so that's about an hour's worth of "screen time." Though in the summer I'll admit some days I'm a little more relaxed.
If it's super rainy outside and the kids are going crazy we watch a movie together in the morning. But generally, I've found it helpful to have a set time for screens.
Then they know when it begins and when it ends. Having clear boundaries eliminates some of the arguments.
Now that we've got over some of the details here is an example of our summer schedule for preschool (and kindergarten) aged kids:
Our Summer Schedule For Kids
In our schedule, I planned our days by the hour. It seemed easiest for our family and it flowed naturally with our regular school year schedule.
You can see some things like nap time lasts two blocks so two hours (approximately from 1-3 pm). See our sample here: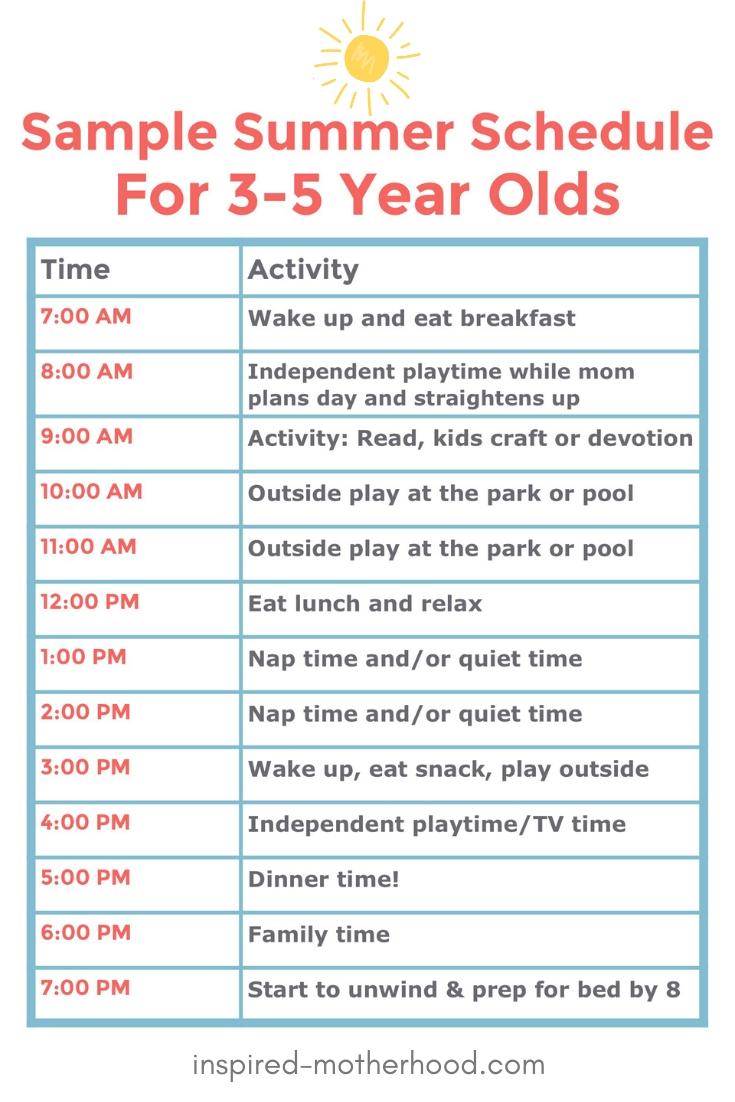 How to Create Your Own Schedule
If the clock stresses you out, try writing an order of events instead of assigning a time value to everything. You can use your to-do list to structure yourself instead of timing everything out. Find what works for you!
Learn how to download your own customizable copy at the end of this post!
You can use ours as an example. It's up to you if you want to follow your schedule exactly or more loosely.
FINALLY, I've come up with EASY kids activities that you can add to your schedule. My kids sometimes get bored of the same old thing, so I keep a list of fun and easy summer kids activities on our fridge.
Then if we get "stuck" and don't know what to do we can pick something from the list.
Find the list of over 30 simple summer activities for kids with little to no prep required here.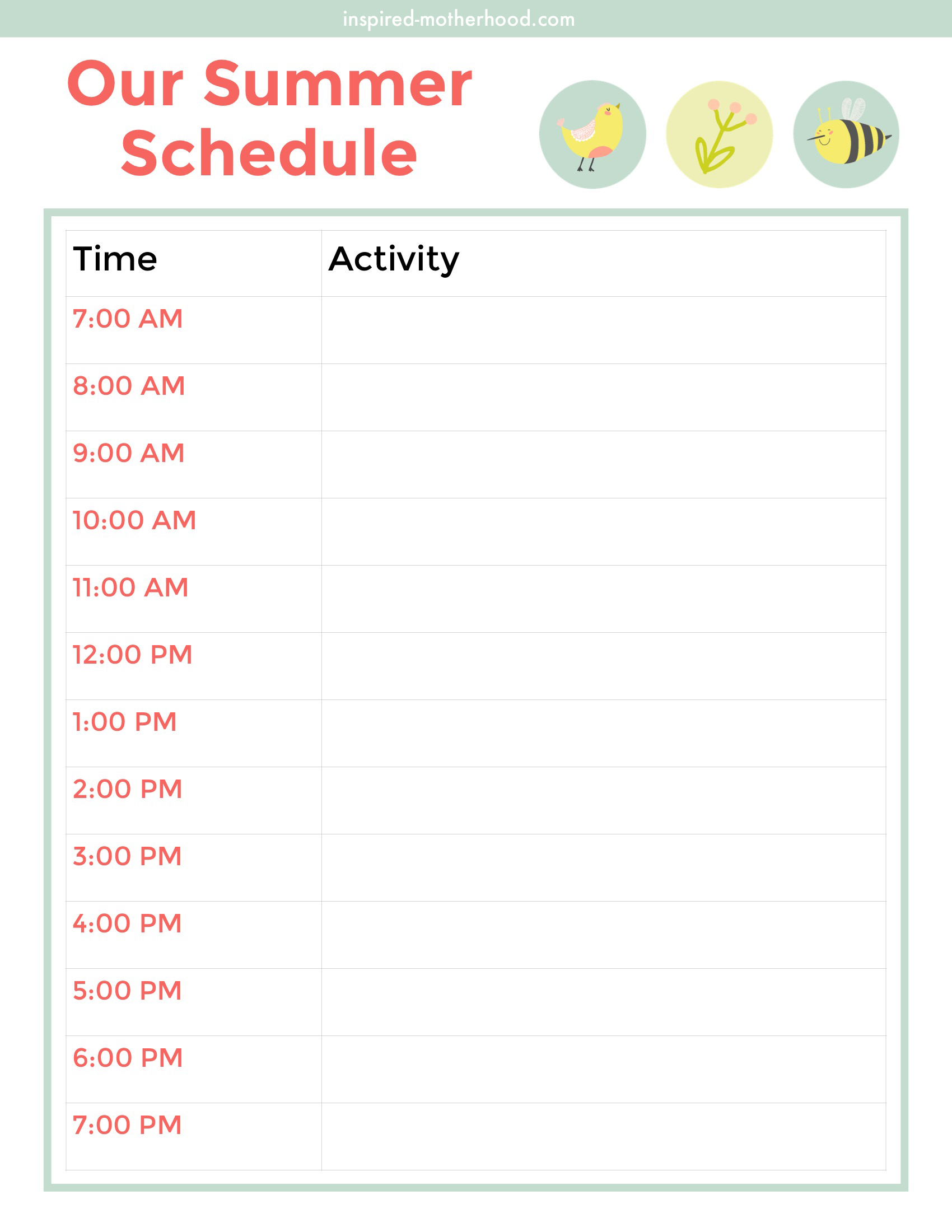 So use our schedule or print out the blank copy to create your own!
Use this list of kids activities to help you fill in some of that open play or independent play time.
We also have a list of activities older and younger siblings can play together.
Sign up for our newsletter below to access your blank summer schedule. Download the schedule, print it out and laminate it so you can write it out each day.
In the email you will also receive a copy of our sample summer schedule. Feel free to use that for your family instead of writing your own!
BONUS: You'll receive a printable copy of these easy summer activities. Print it out and keep it handy for a day when your kids moan "I'M BORED. What can I do!?"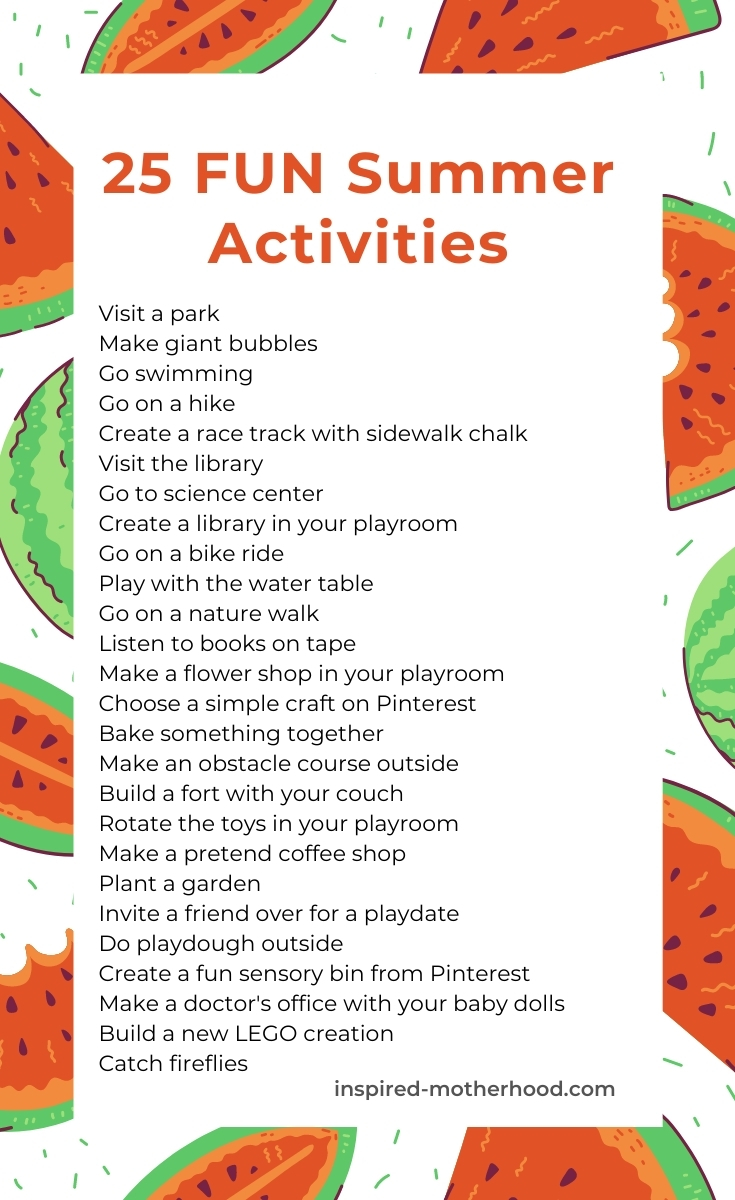 Now I'd love to hear from you! Do you have a summer schedule for kids? Do you require your children to do chores or activities before you allow TV time?
Share with us in the comments below.
Read This Next: