The 7 Cutest 4th of July Crafts & Activities for Kids!
We officially have the red, white and blue bug in our house! We've been having so much fun celebrating the USA and creating 4th of July crafts together.
Now that Izzy is older we have explained to her why we celebrate July Fourth and it's been so much fun getting in the patriotic spirit.
Today I want to share 7 easy ways to help your kids celebrate the 4th of July or any patriotic holiday for that matter. I hope you can find new and fun ways to celebrate our country and go crazy over the red, white and blue!
7 Ways to Celebrate the 4th of July With Crafts & Activities
Make a patriotic treat:
We love fresh fruit in the summer and creating a red, white and blue dessert is a fun way to get excited about the 4th.
There are a lot of delicious desserts you can make with this, but this year we decided to stick to a healthy fruit and yogurt parfait with plain yogurt, blueberries, strawberries, coconut flakes, shredded almonds, and a drizzle of honey.
Other years we have made an American flag snack tray with white pretzels, strawberries and blueberries. The kids thought it was the best thing ever and it was SO easy to make.
This post contains affiliate links for products we love.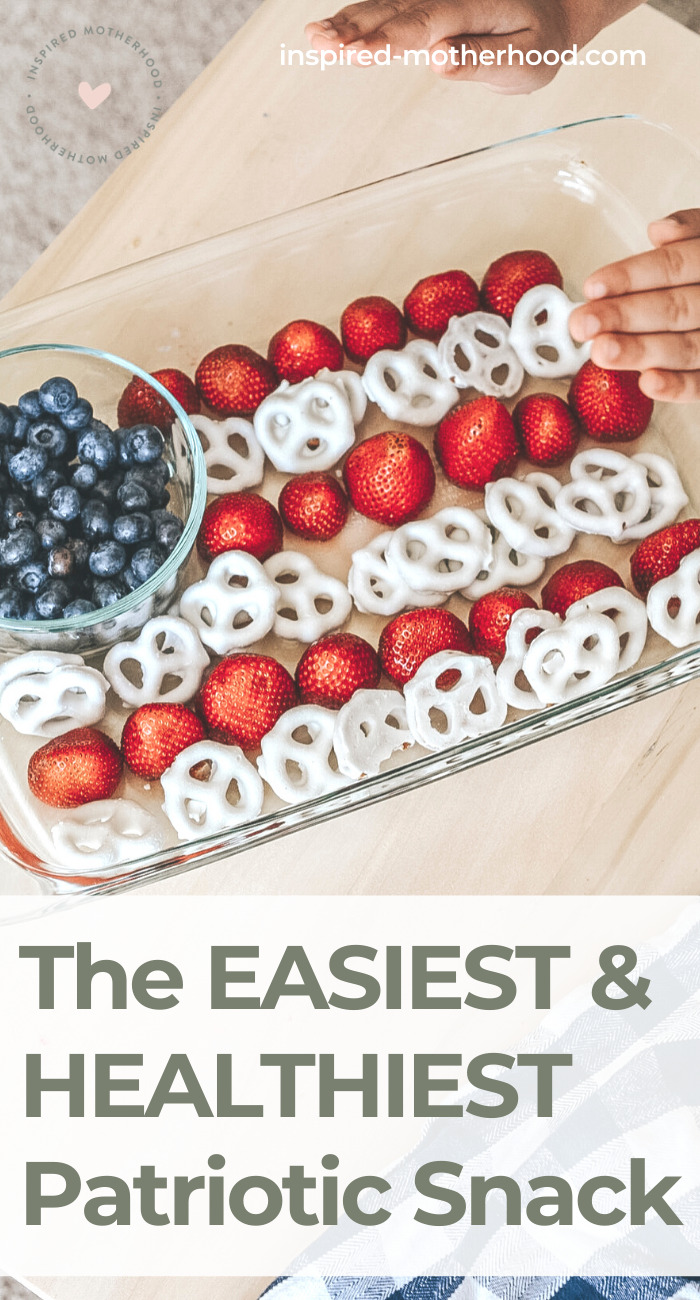 Finally, we also love our frozen yogurt blueberries recipe in the summer. Check out our Patriotic Holidays board on Pinterest for more easy treat ideas.
Craft an American flag:
There are so many awesome 4th of July crafts out there. This year we created a American flag with our favorite watercolor transfer method.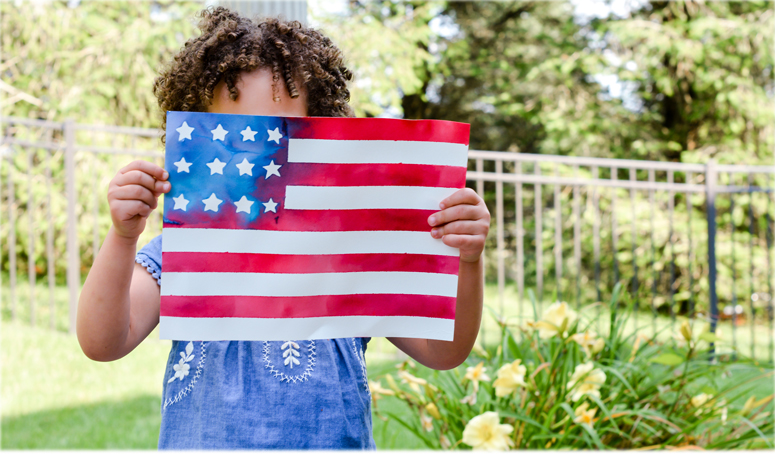 See the flag in the photo above? Izzy made it all by herself! Find out how to make one with your kids here. It's a great way to introduce kid's to Independence Day and help kids celebrate 4th of July!
RELATED: Make Your Own ULTIMATE Obstacle Course For Kids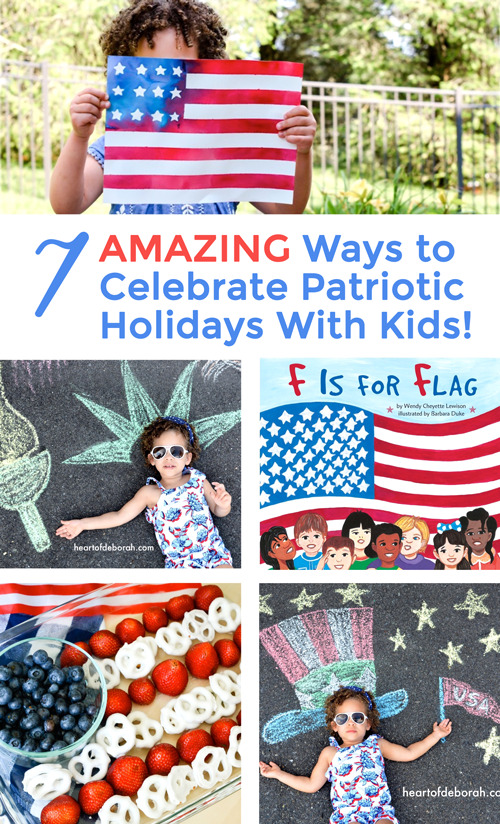 Make a firework craft:
This simple firework craft from Christina's Adventures is a perfect and easy way to decorate for July 4th. It doesn't take a lot of time or effort and it's adorable! We are going to make one with Izzy and I know she will love it.
Create sidewalk chalk art:
We love coloring with chalk! My dad is an awesome artist and he made these Uncle Sam and Statue of Liberty designs for Izzy to take pictures with.
She pretended to be waving a flag and holding up the torch. How cute is this!?
Be creative and don't forget your red, white and blue chalk.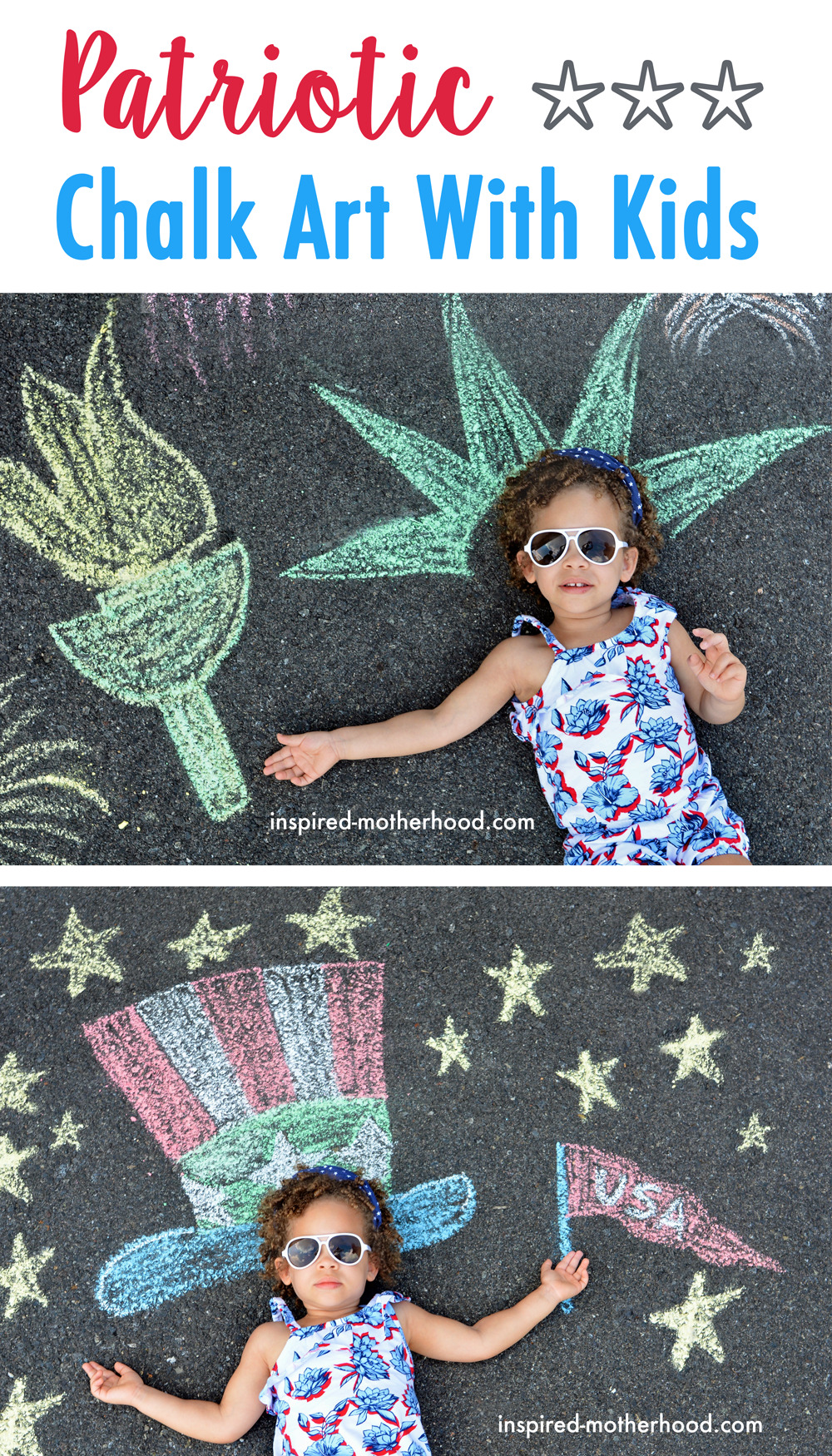 Read a book about America:
Reading with our kids is our favorite part of bedtime. We love finding books for different seasons, events, holidays, etc.
Check out some patriotic books at your local library to show your kids why we celebrate our country on this day. Here are two of our favorites. The Flag We Love and F is for Flag.
Have a small parade:
Growing up I remember having a small parade with my cousins on the 4th of July. We had drums, bells, cymbals and flags and we marched around my grandparents yard. We sang patriotic songs like these and carried around a boombox.
I definitely want to do this as Izzy and IJ get older. This year Izzy decided she wanted to wave the flag as we sang songs outside.
RELATED: 30 EASY Summer Activities for Kids (Little to No Prep Required)
Dress up in red, white & blue:
Get festive by dressing up in red, white and blue! Find clothes you already have or shop at any children's store.
There are so many great options for getting into the patriotic theme. The best part? You can wear the red, white and blue all summer long.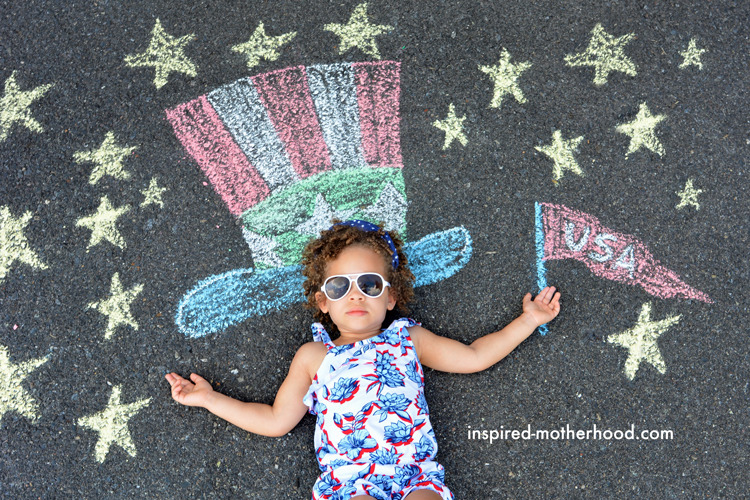 If you make any of these crafts we'd love to see your work! Be sure to use #InspiredMotherhood or tag us @inspired.motherhood on Facebook and Instagram. I'll repost some of my favorites.
Now I'd love to hear from you. How do you get into the spirit on 4th of July? Share with us in the comments below!
How do your kids celebrate 4th of July?