Why I Am a Stay at Home Mom
"What do you do?"
"I'm a stay at home mom."
"Ohh I could NEVER do that! What do you think you'll do when the kids get older?"
I've had this conversation numerous times. I'm not sure exactly what it is, but I'm often questioned as to why I am a stay at home mom.
Isn't it hard? Don't you get bored? What do you do all day?
These are all innocent questions, but with each question slowly the value of a SAHM seems to decrease. It's not a glamorous job. Yet when we make these remarks we focus on the potential downsides of being a SAHM instead of reflecting on the blessings and benefits of staying at home.
Believe it or not you can find purpose when you stay at home.
So why am I a stay at home mom? As a young girl I wanted to be JUST LIKE MY MOM. I couldn't wait for the day where I had my own children.
RELATED: The Best Way to Find Your Purpose as a SAHM
See my mom was an awesome stay at home mom. She made it look easy and enjoyable! I believe I desired this as a young girl because I so appreciated and respected what my mom did.
I thought it was the highest calling, admirable and the best way to live as an adult woman. Then somewhere along the lines I started doubting this…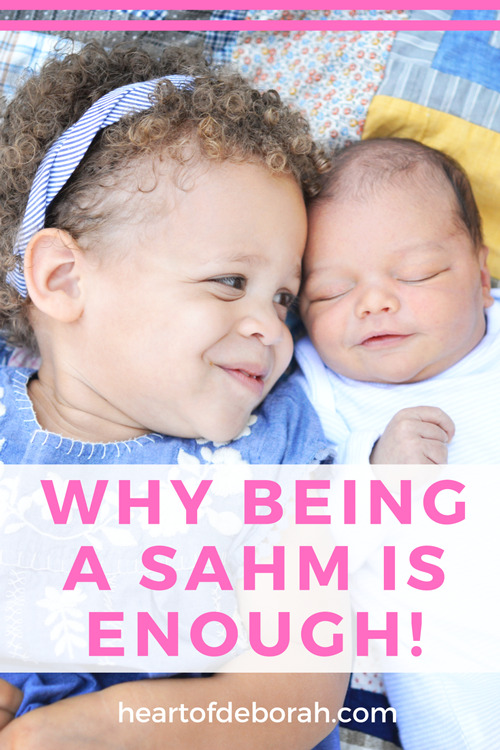 Let me start from the beginning. I feel truly blessed that I am able to make the decision if I want to work or stay at home. I know not everyone has a choice. When our daughter was first born we decided it would be best for me to stay at home for her first year. Then as time went on I continued to stay at home and we were able to financially make this work.
Do I sometimes wish I had a break? Yes.
Do I wish I had more adult interaction? Yes.
Do I desire some "me" time without anyone asking me for help? Of course!
Motherhood isn't easy! Whether you work or stay at home, you will face challenges. I'm not sure there is a perfect answer for finding satisfaction in child rearing… I wouldn't trade my "job" as a stay at home mom for the world yet sometimes I feel pressure from society to do more.
I often find myself saying "I'm just a stay a home mom…" As if being a stay at home mom isn't good enough.
Why does society make you feel inferior if you don't do it all?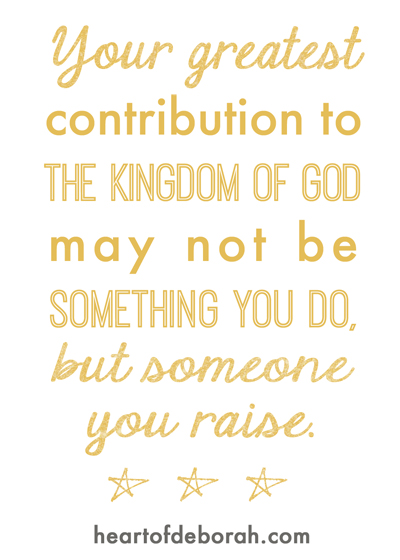 We need to stop with the "you are not enough" stuff! You are enough! Whether you work at an office or at home, no matter what you do, you are enough. God created you for a purpose. You were chosen for this.
Now do I think you should feel guilty if you don't stay at home or if you financially need to work to make ends meet? Certainly not. I'm not judging either choice, to stay at home or to work.
RELATED: 7 Verses of Encouragement for the Exhausted Mom
I just want to share my thoughts as a stay at home mom because I'm tired of hearing moms say they aren't doing enough. We need to see that raising young children, keeping an orderly house (somewhat) and creating a positive atmosphere in our home is ENOUGH.
Even if you feel you haven't accomplished anything all day. You have. I love this quote by Andy Stanley "Your greatest contribution to the kingdom of God may not be something you do, but someone you raise."
In life, there will be good days and bad days. There are seasons for everything. Don't let your "job" define you. Whether you work at an office or at home, no matter what you do, you are enough. God created you for a purpose.
Why are you a stay at home mom?