Why We Don't Tell Our Kids About Santa
Ohhh Santa. He's holly, jolly and best of all he gives us presents!! So, are we the worst parents ever for not promoting Santa this Christmas? Before you call me a grinch keep reading!
When we were expecting our first child, someone asked, "What will you do about Santa? Will you tell your children who he is?"
Truthfully, I hadn't thought about it! I reflected and realized that neither my husband nor I had particularly negative experiences with Santa growing up. Both of us couldn't even remember when we found out he wasn't real.
Even though we weren't emotionally scared by it, we felt uneasy about promoting Santa.
So why wouldn't we tell our kids about Santa? There are a few reasons for our decision.
Why We Don't Do Santa in Our House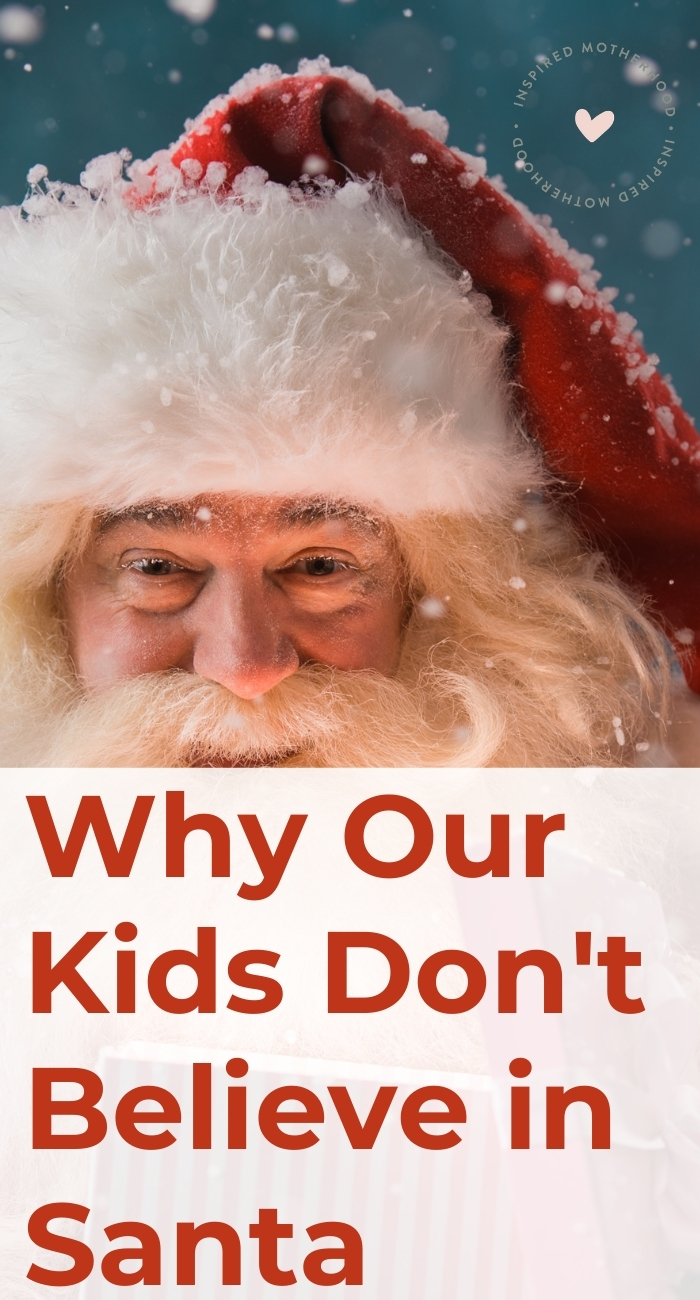 First, we want Christmas to be about something other than receiving presents. 
Christmas is so much more than opening gifts on Christmas morning. Don't get me wrong, I love finding the perfect gift and seeing smiles on my family's faces when they open it!
But we don't want to feed into the "it's all about me" attitude. We're trying to avoid the "What am I getting this year!?"
Worried you may miss out on some of the magic of Christmas? Don't fret! You can still have a magical holiday even if you don't promote Satna. We have Christmas traditions that the kids look forward to every year.
Leaving Santa out of the picture does not leave magic out of the season.
READ: 10 Family Christmas Traditions to Start This Year!
A big reason we leave Santa out is because we want the focus to be on Jesus. It's so easy to forget the true meaning of Christmas and get wrapped up in consumerism.
Feeling like we need "more" to enjoy the day even happens to me as an adult. However, when I focus on the "more," I miss the true wonder of God's love. Instead of looking heavenward, my mind focuses on temporary things. Things that ultimately will not satisfy my soul.
We pray our children will come to know Jesus as their personal Lord and Savior. And this starts with us. If we don't share His love with them, how will they know it?
The magic of Christmas is not in the presents but in His presence.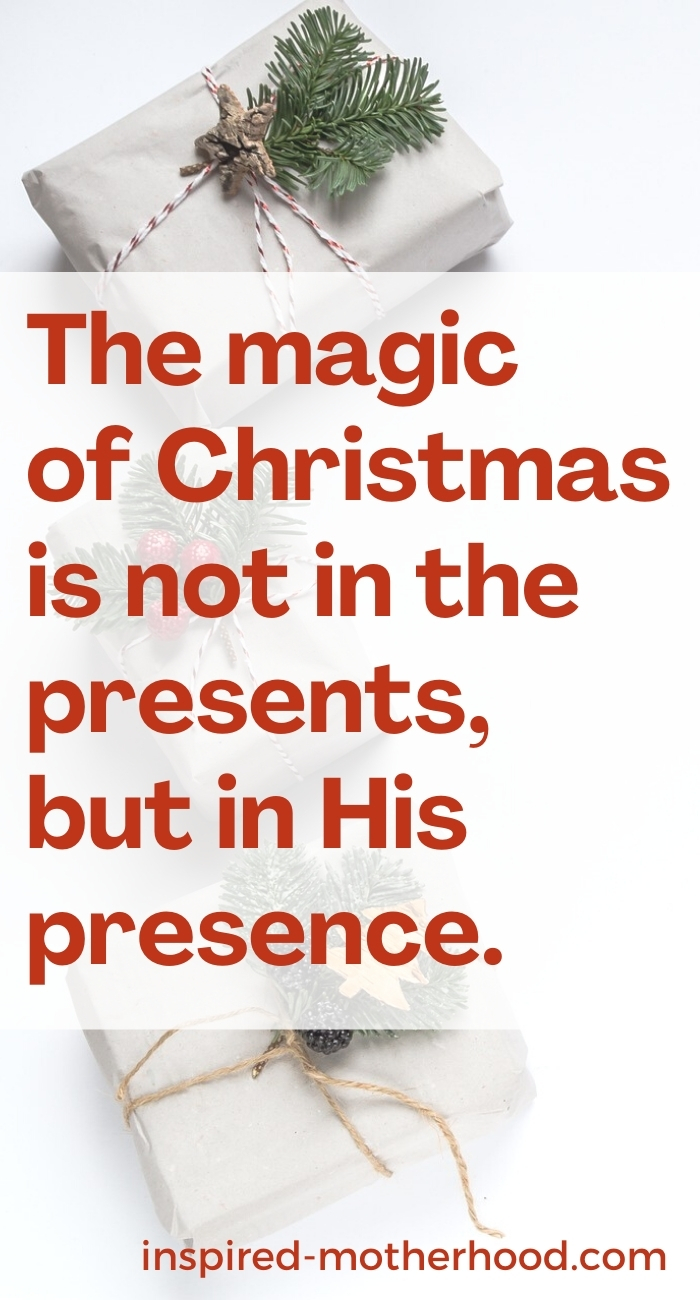 To wrap it up, this may sound silly, but we don't want some imaginary character getting credit for our love and presents!
And plus, our kids enjoy wrapping gifts for other family members. When you get them involved in the gift-giving process, they understand what a joy it is to bless someone else!
Botton line: I don't like the idea of lying to our kids and having them find out one day the very thing they loved about Christmas isn't real.
Why We Don't Tell Our Kids About Santa
Even without Santa, Christmas is still magical, and our kids are still SUPER excited about the day.
Believe it or not, you can have a wonderful Christmas without Elf on the Shelf or Jolly Old St. Nick. 
This post contains affiliates links.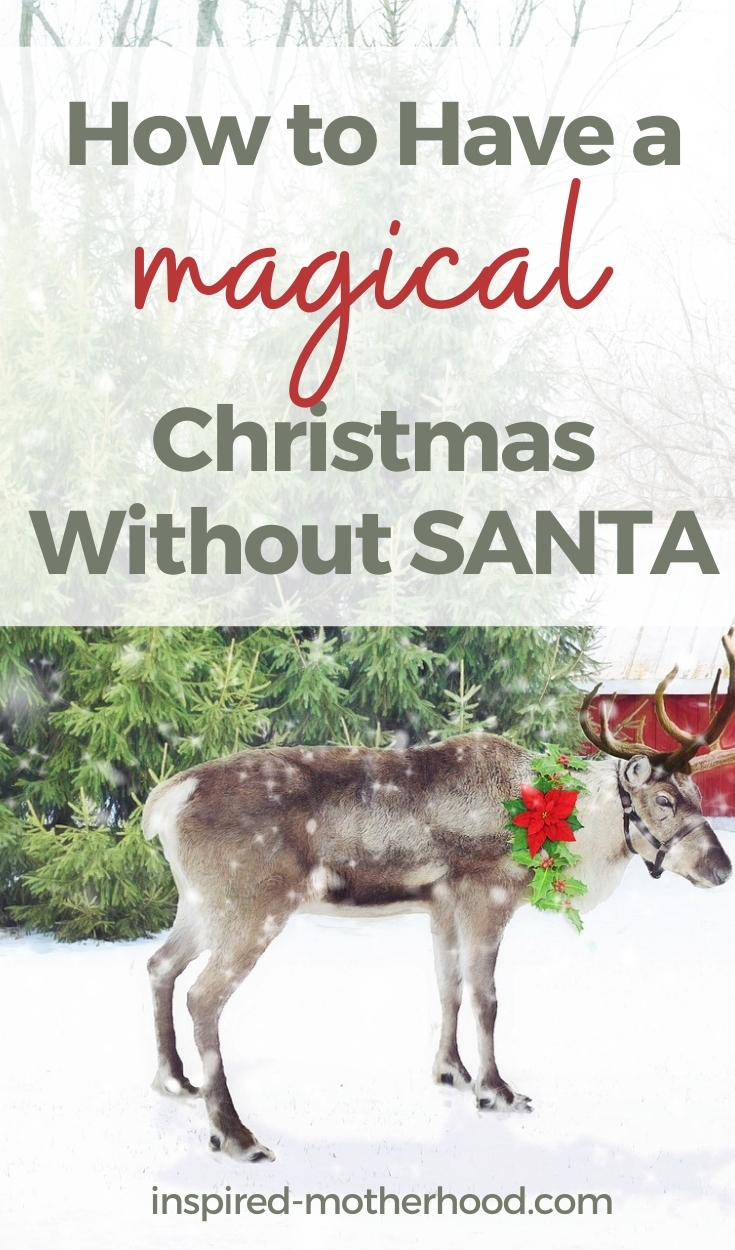 Now, our kids still know who Santa is. It's inevitable that one day they will hear of him.
In case you're wondering, our kids know who Santa is…a fictional character. We aren't entirely eliminating Santa and aren't judging people who believe in Santa. We also try not to ruin the magic for other families.
We've read books that describe St. Nick and how "Santa" came to be. One of the books is called The Legend of St. Nicholas: A Story of Christmas Giving. Another one is called Saint Nicholas: The Real Story of the Christmas Legend.
I'm thankful that my friend asked how we would handle Santa. It gave us time to thoughtfully consider it before our kids grew up. We decided as a family to intentionally shift our focus to Jesus' birthday on Christmas, and we don't regret it.
So, do you tell your kids about Santa? How do you share Christmas's true meaning with your kids? Let us know in the comments below!